I know the good folks over at UVI pretty well, and even I had no idea the breadth of scope the Keysuite series was going to cover. Now in its third chapter, Keysuite Electric is a collection focused on the (mostly) physical electric instruments of the 60s and 70s. We're talking Clavs, Rhodes, Wurlys, and the like. WIth an acoustic package and a digital package, Keysuite Electric aims to 'round off the collection' and give the modern keyboardist everything they need to cover any keyboard based part. With the first 2 collections being very well received, I was anxious to check out this third.
A Sweet Suite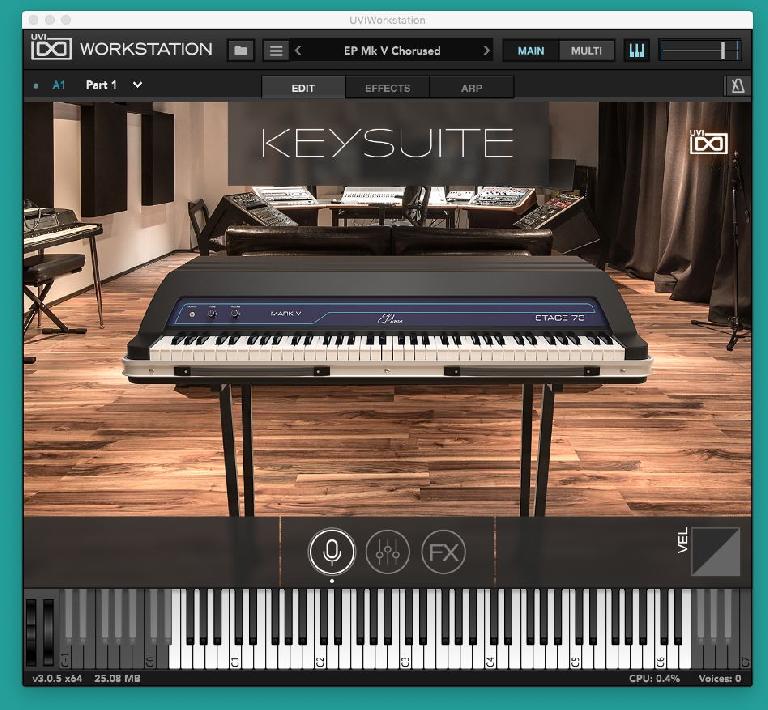 Keysuite Electric is made up of 7 categories of instruments. Tines, Reeds, Clavs, Electric Pianos, Analog Keys, Electro Acoustic, and Bass. Within these categories, there are a multitude of instruments from various generations. All categories have the 'ideal' version that most folks use (like the Mark V Rhodes in the Tines category), but UVI has also included some really cool historic iterations of each of these instruments for us to utilize. Sure, I expected a W200 to be in the 'reeds' category, but having iterations from the 140 to the 270 available allows you to really have a breadth of character to pick from.
The Library Itself
Keysuite Electric runs in the free UVI workstation OR in the (not free) Falcon plugin. The library size is 14 gigs, compressed in a lossless format (down from its original sample size of 62 gigabytes in wav format). There are over 50,000 samples that make up the library, and you get 3 activations per purchase. The number of activations is something I can't stress as user friendly enough - you don't have to worry about moving licenses from desktop to laptop for live use, and 3 is more than enough to have this same library on a work, home studio, and mobile computer all at once. I can't think of another 'consumer focused' copy protection policy than what UVI utilizes.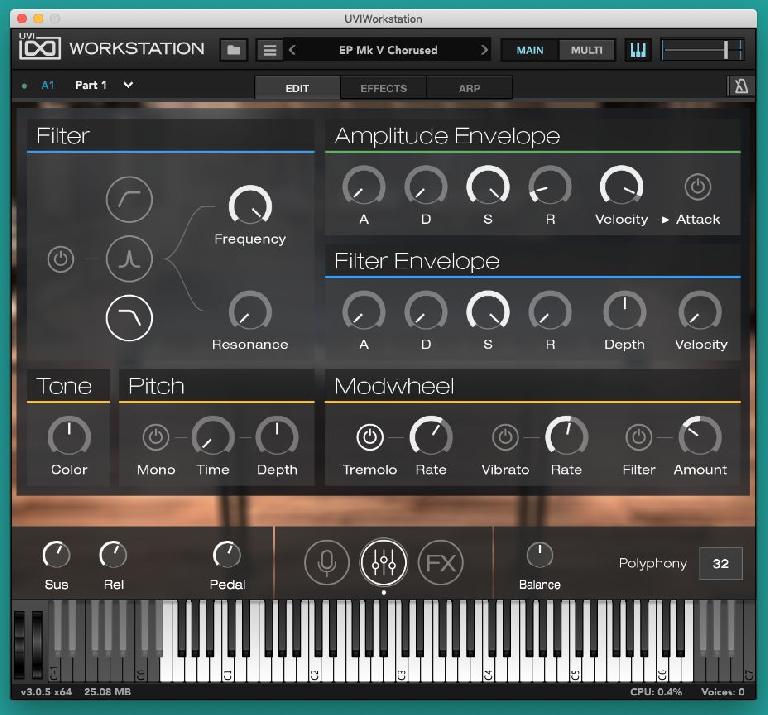 At 14 gigabytes for this much content, the individual instruments really use up a ridiculously efficient amount of resources. Loading up the Mark 5 Rhodes only takes up 25 megabytes of RAM and 0.4% of CPU on a 2013 Mac Pro. You read that right. You can absolutely run these instruments with confidence and on modest hardware without having to worry about eating up your entire computer's power.
I've asked the engineers at UVI how the hell they make the instruments sound this good for this little of a CPU/RAM cost and they always just smile at me and say, "We're good at what we do". In all seriousness, UVI seems to have stumbled upon the 'perfect mix' of lossless compression, smart scripting, fast disk streaming, and impeccable/efficient sample technique. This 'secret sauce' pays out in spades for us, the users. Check out some of these sound clips:

Rhodes
Phased Clav
Wurly
RMI
The Rhodes just sparkles and it's insane to compare these to libraries that are 10 times the size and twice the cost. I think they sound absolutely fantastic. The Wurly could be my favorite representation of a Wurlitzer outside of the 'real thing' (and I had an entire classroom full of the 'real thing' early on in my music education career).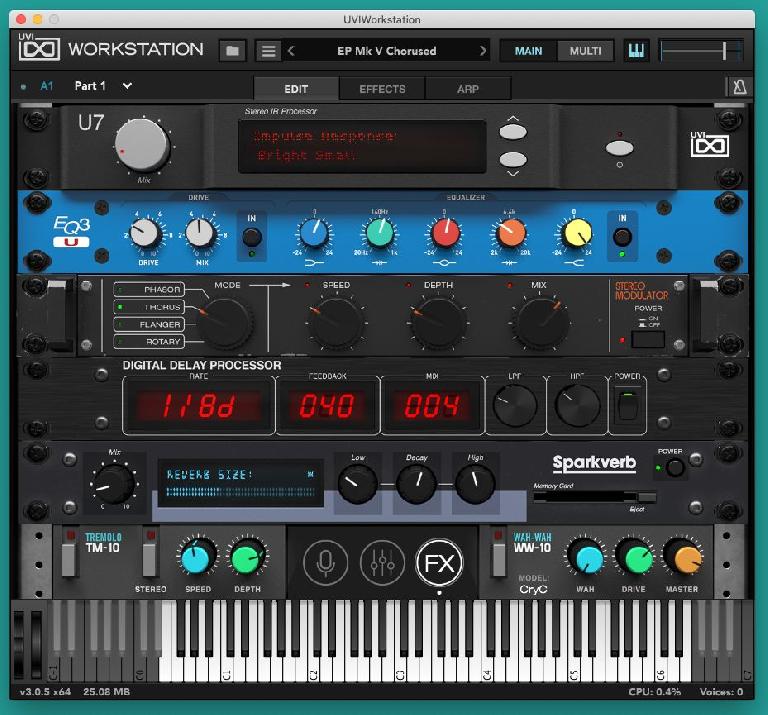 Many of the instruments have alternative mic and pickup positions, all selectable and mixable from the front page. The FX engine is fairly similar to the other Keysuite libraries, with the exception being the added Wah effect (WW-10). There are multiple models of Wah to choose from, and it's (of course) mappable to a pedal or modulation wheel.
Conclusion
Most things these days come in trilogies, no? If Keysuite Electric is the final chapter in the Keysuite trilogy, then UVI has gone out with an 'Avengers Endgame' level finish. This instrument is absolutely stunning to listen to, fun to play, and easy to get great sounds out of. Two very big thumbs up.
Price: $149
Pros: Stunning sound, Wurlitzer is particularly inspiring. Great library of instruments to choose from. Robust FX. Every essential electro-mechanical sound a gigging keyboardist needs.
Cons: I'd love to see a Keysuite 'bundle' where you can buy all 3 at a discount!
Website: http://www.uvi.net
Learn keyboard skills with pro video training: https://ask.audio/academy?nleloc=new-releases