To say that I have been anxiously waiting for something like Key Suite Acoustic from UVI is a massive understatement. It might be more accurate to say I have been pining for a piano/keyboard focused collection from UVI for years - well, that day has finally come. I loaded up Key Suite Acoustic into the free UVI Workstation with bated breath, and crossed my fingers with hope that I wouldn't be let down.
It's What's Inside That Counts
Key Suite Acoustic has a 13GB footprint (using lossless encoding, it was 55 gigs in WAV format originally) to deliver a collection of grand, upright, plucked string, percussive, and historic pianos in a package that is incredibly friendly on your hard drive, CPU, and memory bank.
Fortepiano
From Steinways to Faziolis, all of your favorite grands are represented, along with a 'hybrid custom'. The custom grand can best be thought of as a 'Frankenstein' (sorry, UVI marketing folks!) grand that the mad geniuses at UVI put together using parts from Yamaha, Steinway, and Bösendorfer pianos. The hybrid was recorded with 3 sets of mics and is really an incredibly unique piano that is full and powerful, but can cut through a mix with ease.
The upright pianos were particularly beautiful sounding. I usually shy away from virtual uprights, they just never seem to hold up in the mix and get that 'intimate' sound you're looking for when you're sitting facing the sound board directly. The German Upright Grand in Key Suite Acoustic, however, really nails it. It took me back to my first piano lessons in the living room of my childhood home in Yonkers.
Grand piano
Upright
Rotary
Shimmering Bells
The chromatic keyboard percussion really had a shine to it as well, I particularly enjoyed the Papageno Bells. The sound really seemed to sail right out of my monitors, and the sustain was beautiful. The harpsichord, an often neglected instrument when it comes to 'sample love' was given *lots* of love in this collection. From customized string configurations to enabling the mutes on the larger set, this instrument is really the 'final word' in virtual plucked strings.

Papageno bells
Harpsichord
The Technical Nitty Gritty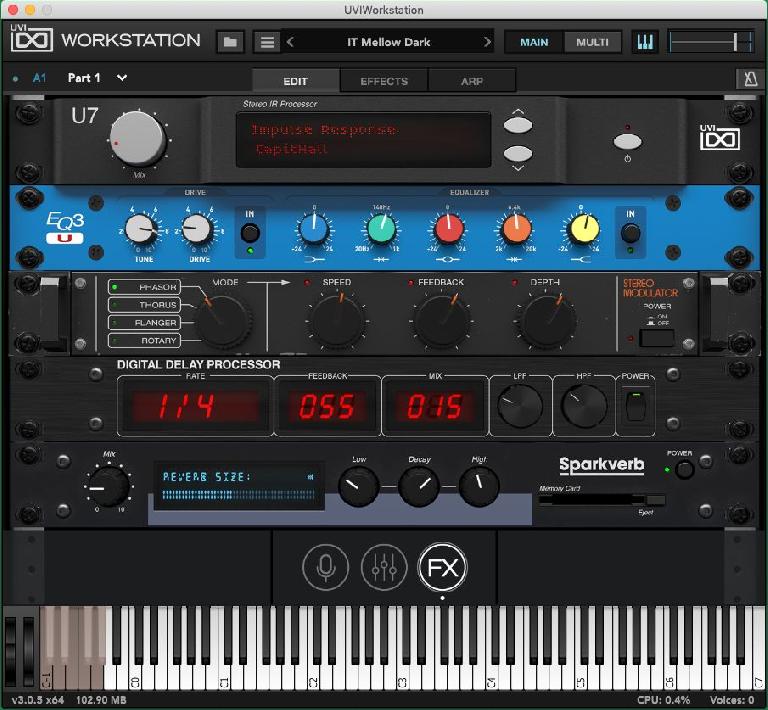 One of the reasons I've been so keen on UVI putting together a collection like this is their approach to sampling and programming in general. UVI Workstation and Falcon (the two host plugins that can load these libraries) are truly rock solid, responsive, and computer friendly. Their instruments are known for taking up significantly less computer resources than their competitors, and Key Suite Acoustic is no different. They somehow manage to cram an entire collection of 5 grands, 6 uprights, and 9 'period' keyboards into 13GB - the size of a single piano library for many similar instruments.
I really can't fathom how they keep pulling this off and maintain the sound quality they do. UVI Workstation remains responsive, snappy, and reliable even on less robust computer hardware. I never feel like it's 'on the edge' of crashing like I do with other instruments, and the sound is really impeccable. Key Suite Acoustic was absolutely everything I was hoping for and more. Fantastic keyboards, high customization, low pressure on the computer, and rock solid reliability.
Price: $149 promo price / $199 regular
Pros: Excellent selection of pianos, beautiful samples that really sing, unbelievably small 13GB footprint for such a large collection of instruments, fun collection of historic instruments.
Cons: I can't really find any. This collection absolutely holds its ground with instruments 3x the size and double the cost.
Website: www.uvi.net
Learn more about keyboard skills: https://ask.audio/academy?nleloc=new-releases