UVI has quite the pedigree when it comes to making virtual instruments for your computer so it's perhaps no surprise that the developer has branched out into the iOS world. BeatHawk ($4.99 / £3.99) for iPad (2 and higher, though an iPad 4 or better is suggested for a smoother ride) is an 800 MB sampling and programming app that aims to let you get straight to music-making without blinding you with science. But can it live up to this claim?
Beat It Up
UVI bills BeatHawk as a production studio, but it's more of a sampling groovebox since it doesn't really track audio in the conventional sense. That's not to do it down however, as it has plenty of functionality. At its heart is a sound engine derived from the excellent desktop UVI Engine and you get a great selection of high-quality sounds and samples with your modest initial purchase of the app. These are split into drums, loops and instruments and you can swap sounds on individual pads or load whole kits. Additional themed sample collections are available to buy as in-app purchases for a small extra charge, which lets you buy only the types of sounds you really want.
You can import your own samples too of course as well as recording via the iPad's mic or a connected sound in device, and multiple technologies are supported for triggering and routing signal inside the app. There's support for CoreMIDI so you can connect a hardware input device or sequence over Wi-Fi from a computer, inter-app audio, Audiobus, AudioCopy and WIST so connecting other apps is easy.
Sample Stretching
You can edit any samples in the editor section, setting start and end points, editing ADSR sliders to control the shape of the sound and setting individual gain, pan, pitch, HP and LP filter and reverb and delay for each sound. The effects have global controls in the Preferences section. Samples can be stretched using the onboard algorithm but a few more editing tools like normalization and fades would be nice: perhaps these will be added in time. The time stretching works really nicely and changing a project's tempo in real time causes loops to follow, when stretch has been activated for that sample.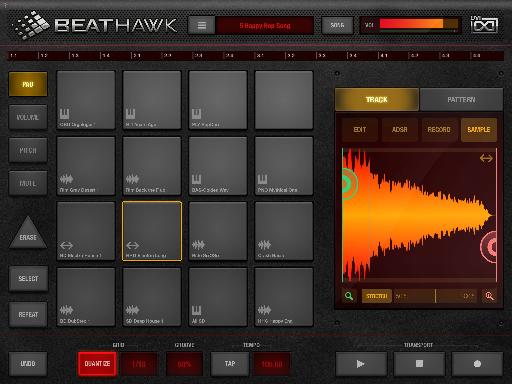 Sample editing and effects are available inside the app.
You can easily build patterns and there's configurable quantization with swing that seems to work really well, pulling performances into time without sounding too mechanical. You can of course copy and paste patterns between slots to build them up and edit them, and there are some good performance tools available. The workflow is slick and flipping into Song mode lets you build up whole songs by dragging and dropping patterns. This is implemented in a very friendly way and will soon become second nature when you use it. As well as exporting a mixdown you can also export stems and a MIDI file, which is something more developers should allow since it makes it far easier to continue working in a desktop DAW, whichever one you may use.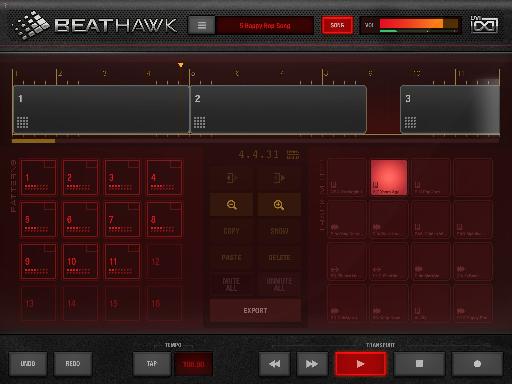 Build your patterns into a song with surprising ease.
Mighty Like a Hawk
BeatHawk is a fun and powerful mobile groovebox with some excellent sounds. Add more via in-app purchases or record or import your own, then loop and stretch them and program your patterns together into a song. It's very accessible but also a steal at the price, and a great way to make tracks.
Price: $4.99 US / £3.99 GBP
Pros: Great bundled sounds. Import or record and edit your own samples. Great audio stretching. Easy to program. Export stems and MIDI. Clever song sequencing tools. Good connectivity.
Cons: More advanced sample editing tools would be nice.
Web: http://www.uvi.net/beathawk