UVI recently updated their awesome mobile studio/beat machine, BeatHawk, to 2.0. And in doing so added some serious new features. Does this bring the sophomore iOS app up to the level of the intense iOS competition that's out there? Let's find out!
Fruit of a Different Sort…
There's no small similarity between BeatHawk and FL Studio and the pattern-based approach with a final song mode to put everything together finally has a little bit of pulp on it to boot. But even early in, I find myself loving BeatHawk in ways I never enjoyed some of its possible inspiration.
Since the last time I jumped in to BeatHawk, a few things have been added in the 2.0 release that have really got me excited. The biggest being Ableton Link! Being able to achieve near perfect synchronization over WIFI makes Beat Hawk a brilliant Ableton companion, as it's chock full of really enjoyable sound content, and the virtual drum pads go a long way towards making your iPad, and now iPhone, feel like an instrument and not just another travel friendly gadget trying to be a musical device.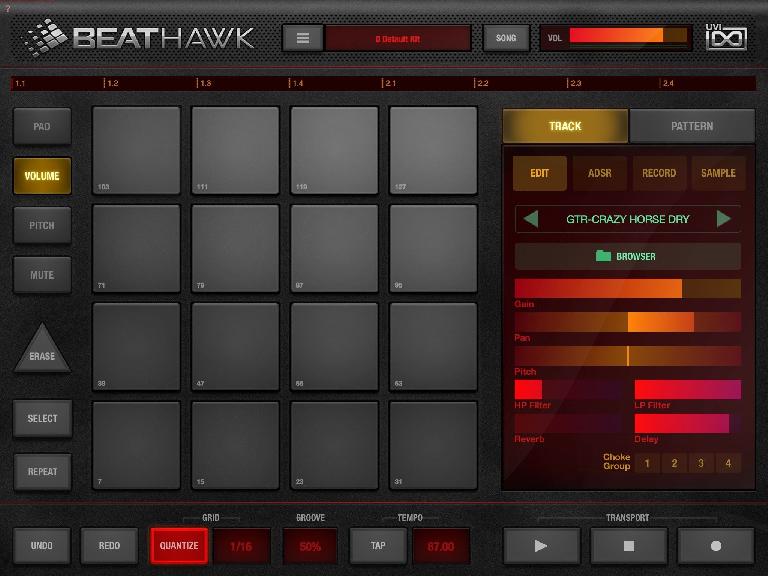 Love Them Pads!
In the main screen of BeatHawk you get 16 black pads that have been well engineered for play and editing. The right side Track and Pattern editors offer quick, no-nonsense access to important performance features and effects and make it very easy to get a sweet sound out of any of either the factory sounds or samples you make on your own. This is the part where BeatHawk really won me over. I love recording my own samples with this app, and how easy it makes it to integrate those samples, as well as effect them. BeatHawk, like many apps, offers some in-app purchases for new sound packs, aside from the EDM and Hip-Hop collection that come for free. But they don't lock you to using their sounds. You can make your own samples til the cows come home.
Pitch Mode gives you two Korg-like keyboards, for low and high octaves. And especially with their included Hypersaw Pad, I had a very fun and big jam session right out of the gate. Volume mode finally helped me get an expressively dynamic pattern out of my pad. In this mode you can trigger many different levels of velocity hits on to one pad, giving your hi-hats, snares, kicks and more, texture and additional groove.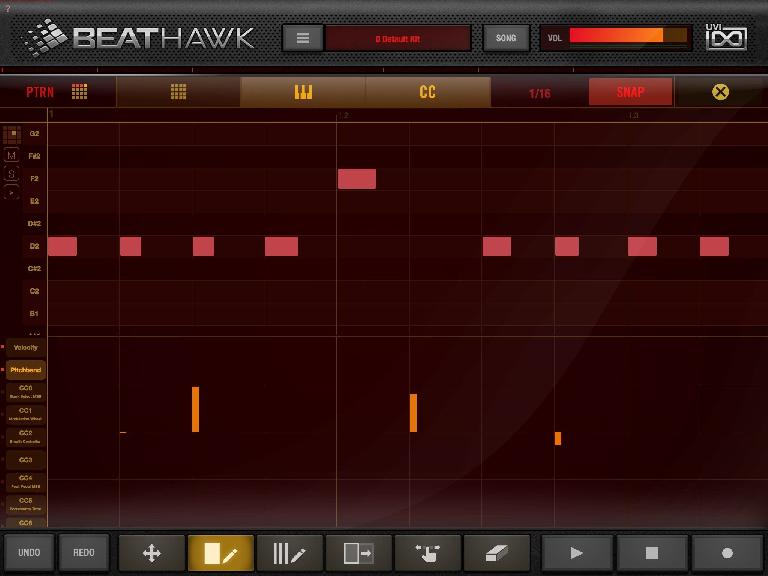 Step Editing
The Step Editor is fully featured and offers a range of basic editing tools that take a little getting used to. If you're using a case for your iPad or Phone, you'll probably find yourself pulling the screen off so you can get a little more control. Editing delicacy aside, it's a full featured grid, with a Snap and heavy drag select capabilities. I do wish that the Auto-Quantize and Snap feature were separate, as this got a little annoying when I wanted to maintain a 1/4 grid snap inside the Step Editor while recording a 8th note quantization in the main screen of BeatHawk. Apparently the internal grid and auto-quantize are linked.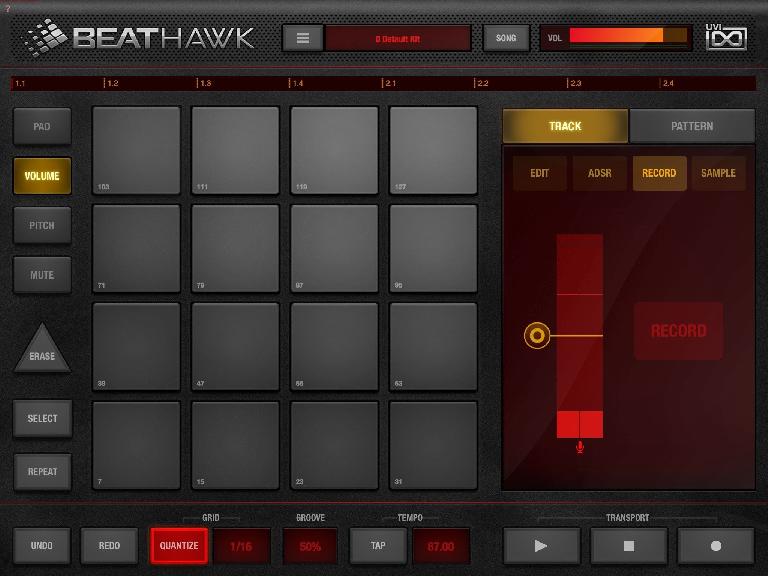 Conclusion
BeatHawk is a solid tool for both song and loop creation that has a really nice assortment of included patches/sounds and drums that will definitely have your head moving to the beat. With Ableton Link, it's a huge amount of fun, and I definitely think it's going to be included in some of my future sessions. Editing can be a little cumbersome at times but the overall package is really solid.
Price: $9.99
Pros: Big sounding patches. Fun beat creation. The song mode is very inventive and as an Ableton Link slave, it's a very worthy companion. Sweet pitch mode!
Cons: Step editor can be a little clumsy sometimes.