Electric Piano is likely a sound that I'm apt to use more than any other. My favorite style of music to play in is funk, fusion, and jam band type tunes; and you won't find a more definitive keyboard patch in those styles than the good ol' Fender Rhodes. When I found out I'd be having a go at UVI's latest release in the EP category, Attack EP88, I was absolutely thrilled. Once I had a listen, I went from thrilled to ecstatic.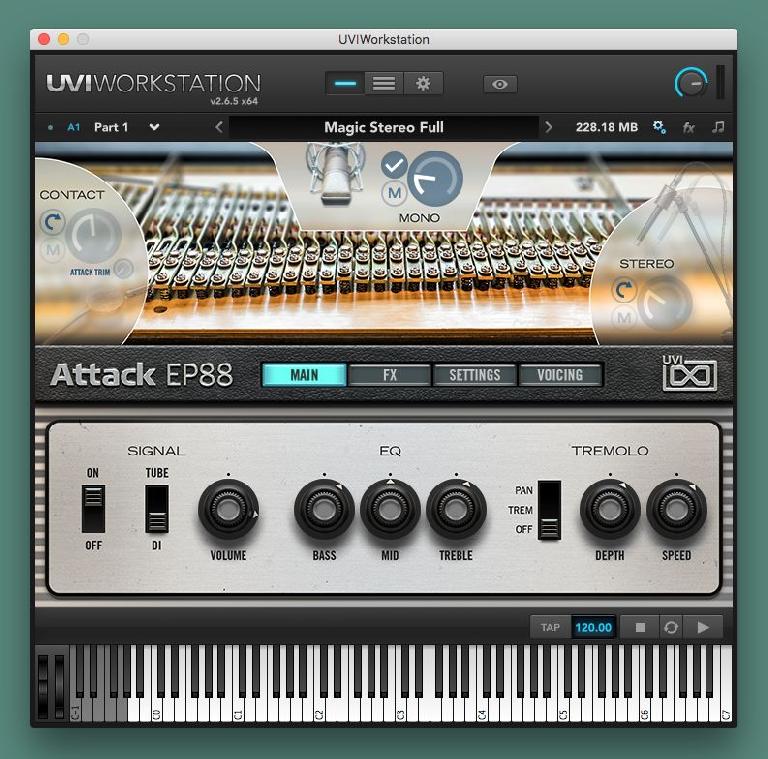 Tack Sharp
On paper, a tack piano might sound a bit extreme. The core of the concept is that you prepare an electric (or acoustic) piano by adding a metal device such as a brass tack to the hammers. This metallic piece allows the hammers to strike metal on metal, giving an extremely sharp attack to the tonal character of the instrument. Interestingly enough, it doesn't make it sound much like a traditional 'prepared piano' (where you basically empty your junk drawer into a piano, yikes!). You just wind up with a very accentuated attack phase of the sound that can really cut through a dense mix of instruments.
What Have You Done?
What UVI has done with Attack EP88 is really inspiring. They've taken a Rhodes Mark 1, completely restored it, added a brass tack to each hammer, and then sampled it comprehensively. Attack EP88 finally gives you the amount of control that you have over a boutique piano sample library, but with the often overlooked electric piano as a sample source. You can select from multiple mic positions, mono mode, pedal up/down, round robin, you name it!
This staggering amount of control allows you to craft an extremely wide variety of sounds with AEP88. Here are 4 examples I whipped up quickly using minimal (or no) tweaking to some of my favorite factory presets.
Here's the standard full sound. Notice that it still very much sounds like Rhodes, but the attack of each note really cuts through. It doesn't sound stringy or metallic, just an EP that can really punch through a mix.
By altering the mic positions and adding a few of the high-quality effects, you can build a sound that is truly haunting. You can really hear the tack on the hammer with this patch, but it's also got a lot of ambiance creating a really cool attack/pad combination.
Combining the FX, tuning and voicing menus, and the mic positions can even make this physical EP sample set sound digitally generated. This is a DX-inspired patch. I love the FX pedals in AEP88!
Just because this library is named 'Attack' doesn't mean it can't be subtle—far from it! This library has some great 'softer' patches that can be used for ballads and such. You can bet that although the patch is softer, you can pull off some subtle runs that won't get lost, but also won't crowd your mix.
Roundup
Attack EP88 has a lot going for it. It's a sample library that treats its source with reverence. The effect pedal simulations are top notch, the flexibility and control given to the user is second to none, and the price is just right. If you're looking to take your Electric Piano sounds seriously, look no further than Attack EP88.