Long before Covid and the world of quarantine, musicians had already been seeking out unique ways to collaborate remotely. While many strides have been made in the way of fully synchronous rehearsal (from JamKazam to Jack) most pros know that we just aren't there yet in terms of commercial viability. What is intriguing and that we didn't see coming, however, was a somewhat 'interim step' provided by the folks at Upbeat. I checked out UpbeatMusicApp for the last few months and I am completely surprised by what I was able to do with it.
Feeling Upbeat
So what does this thing do? In a nutshell, Upbeat combines Zoom with a suite of tools for musicians like metronomes and tuners. For that alone, those of you that teach lessons remotely might consider using it. Add a splash of recording capability on top of that, the ability to upload and use backing tracks, and finish off with an algorithm that creates virtual performances 'on the fly' in the browser as you work and you're honing in on the idea.
Each musician clicks on a link and goes to a 'room' that the creator made. From there, you've got a standard Zoom setup with your oh-so-common boxes for participants. The room creator can pre-upload a backing track that everyone can use, or musicians can simply agree upon a tempo and play along with a metronome. There is a setup button that triggers a routine that helps calibrate audio/video device latency that is simple enough for my 6th graders to figure out. After getting set up, musicians can click the 'record' button and everyone is sent into their own private 'virtual recording booth'.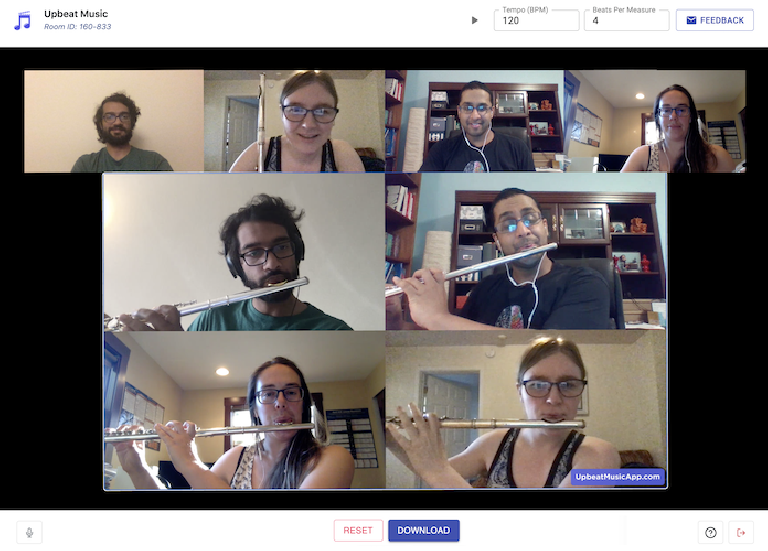 It's pretty fun in practice. You can still see everyone somewhat 'greyed out' a bit in the background as they record, but each musician only hears themselves. You play or sing along to the backing track or simply perform with the metronome, however you've decided to do it. Once each participant is done, a montage is create within seconds. Each participant can now see everyone's videos all at once, all perfectly synchronized (as long as you did the setup correctly). It's simple, and it's so much more than 'virtual performances'. You can use this to quickly rehearse and work on sections of music. Teachers can upload accompaniment tracks and provide simple ways for students to play back music. Collaborators can try out ideas, work out harmonies, the possibilities are endless.
In Practice
After working with Upbeat for 2 months with a variety of professional musicians and younger students, I can absolutely say that this app is the real deal. It only runs in Chrome for now, but it can work on a Chromebook with no fancy hardware. I used a high-end audio interface, but I had students submit recordings with everything from laptop microphones to AirPods and the results were great. Everyone has to use headphones when recording, but that's the only hardware limitation. Other than that, you don't need anything expensive to participate.
I very much enjoyed my time with UpbeatMusicApp and I most definitely plan to keep on using it. While I have the studio and ability to create virtual performances of high quality on my own, this makes the task an absolute snap. The pricing model is fair, and if you're looking to rehearse remotely or create a virtual concert there really isn't a simpler way out there.
Price: Free basic account / $9.99 basic account / $19.99 pro unlimited account
Pros: Virtual concerts with nearly zero effort, no pro gear required, simple setup, the closest you can get to synchronous rehearsal online without needing an engineering degree, fun, suite of rehearsal tools for musicians is worth it even if you never make a concert
Cons: This is very new tech, there are still a few bugs here and there. Chrome browser only.