"I've got to admit, it's getting better. It's getting better all the time." These are the words that go through my head each time we get a new UAD software update from Universal Audio. I will also be the first to admit, I'm at the geek level where I notice just how close we are to 10.0 and I wonder what amazing things the good folks at UA have in store for us for such a historic occasion… but I digress. Version 9.9 is here, we've got 2 new plugins to try out and 2 feature updates that I've been absolutely begging for finally implemented.
Fixes First
When I popped up the version history and release notes for this update I took a glance around my room for hidden microphones. It felt very much like this update was made just for me.
One of my favorite features of the Console software is that you can configure the scribble strips and hide the inputs as needed. I'm happy my UAD system has a bajillion inputs and outputs, but on a daily basis I use quite a few less than are actually there. I'm in the habit of hiding the inputs I don't need and then 'un-hiding' them later on.
That behavior is going to go by the wayside because now when you save a 'Console session' it will remember which inputs and outputs you'd like to show and hide. For those of us who put a lot of hours in a busy project studio this is welcome news. When I'm doing voice over for video work and only want to see a single microphone show up in Console, now it will automatically based on my saved session file. When I have my full band over and we want to livestream to our social media audience and have everything running through sick EQs, compressors, and reverbs - voila! All of the inputs will show up when I load up that saved Console session file.
Not only will the inputs show and hide with the session, I can confirm that the input labels on the scribble strips will also save on a 'per session' basis. This way, if I name input 1 'vocal mic' for my voice over sessions, it will automatically rename to 'acoustic guitar' for my band sessions when I need it to. This will save so much time, and it just takes one of the best things about the best software console interface and makes it way better. Two big thumbs up.
Squeeze Box

The Tube Tech CL 1B MkII plugin is the software version of a really iconic hardware optical compressor. Tube Tech makes some really high-end boutique processors, and to have that sound at your fingertips at a fraction of the cost is still something I'm grateful to UA for every day. This plugin is designed by Softube, and utilizes their component modeling tech to assure laser like accuracy with the hardware unit. The emulation is also fully endorsed by Tube-Tech, so you can be comfy knowing it has their stamp of approval.
I've used the Tube Tech PE1C a few times, but never the compressor. I was excited to pull it up for the first time. This unit is the 'first call' for may producers of modern pop. The interface is pretty simple to wrap your head around, with the top row containing output volume, ratio, threshold, and meter control. The bottom row houses the attack, release, style, and parallel compression knobs. There is also a side chain low cut switch that will restrict the low end from pounding your compression threshold. The parallel knob allows you to 'blend in' the compression.
This is handy if you want to pull back a bit on the dynamic restriction and allow the original source to shine through a bit. This could be set up in the past with a standard compression plugin through setting up some buses, routing your dry and compressed sounds to different places on your mixing board and then adjusting the volume accordingly. To have it available to you in a simple knob is wonderfully convenient and time-saving. It will make you think about using it more, for sure!
I found the Tube Tech to be wonderfully restrained on the vocal track I dropped it on. It did a great job of evening out without 'hyper-compressing' and pulling the life out of a track. This will absolutely be my new default compressor for lead vocals. It's quick to dial in and is a scalpel rather than a hatchet.
Chamber Of Secrets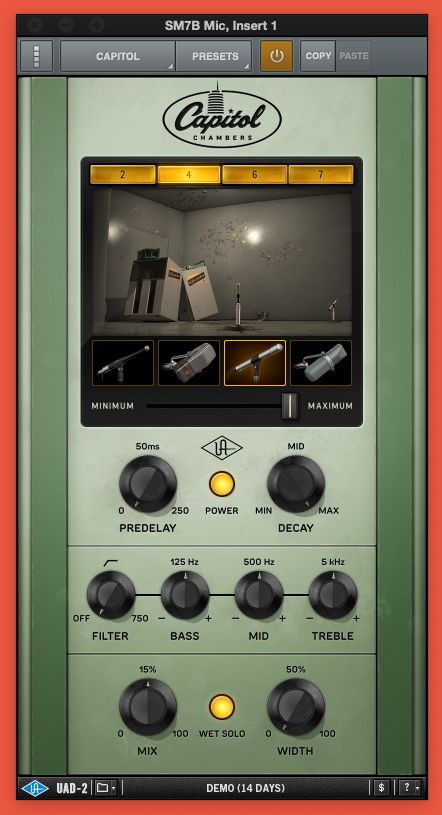 I'm not going to be coy about this - I absolutely love the sound of this plugin. This collection of echo chambers located beneath Capitol Studios is both historic and useful at the same time. The ambience easily sounds more realistic than any reverb or echo plugin I have ever tried. Putting this plugin on a vocal track made it absolutely shimmer. After using it only a few times, I knew I would never be content with another reverb again.
As in all things, there is a cost - and not just a financial one. The Capitol Chambers plugin eats up a whopping 73.9% DSP of one of your cores. I referenced the DSP chart at uaudio.com to see if it was the highest DSP reverb UA made and I found… it's the highest DSP plugin that Universal Audio makes. Is it worth most of a single DSP chip? Yes. Absolutely yes. A million times, yes. I'm sure the 6 core units are going to start flying off the shelves when people try this reverb. It's that good.
Conclusion
Version 9.9 was a grand slam, in my opinion. Those 2 fixes might sound small, but for audio pros that spend a lot of time working with UA Console, they are game changing. Version 9.9 also delivered the absolute best sounding ambiance / room / echo / reverb plugin I have ever experienced. You get a free demo of both plugins for 14 days, and I highly suggest you try them.