A Fine Lineage
Designed by Softube for the Universal Audio UAD-2/Apollo platform, it captures the sound of a classic 100-watt 1959 Plexi Super Lead. Taking it a step further, they worked with renowned engineer Tony Platt—who recorded AC/DC's Back in Black and Highway to Hell. Together, the team recorded and modeled a 1967 'golden unit' amp from Marshalls own reference series museum, right down to the component level.
It Takes Two
Of course, to record a great sounding 'plexi' head, you'll need a cabinet. Platt, along with Marshalls own Chris George chose a straight 16-ohm 1960BHW 4X12 with low-watt Celestion G12H-30's (low watt speaker break up easier than their higher watt counterparts). As for the mics, they went with three sets of them using three mics each, with two close and a room. They include Neumann U67 and U87, AKG C12, Josephson E22, Coles 4038, Sennheiser E609 and good old Shure SM57. They are referred to in the plug in as FET, Valve and Dynamic, and can be accessed by opening the plug-in's side panel.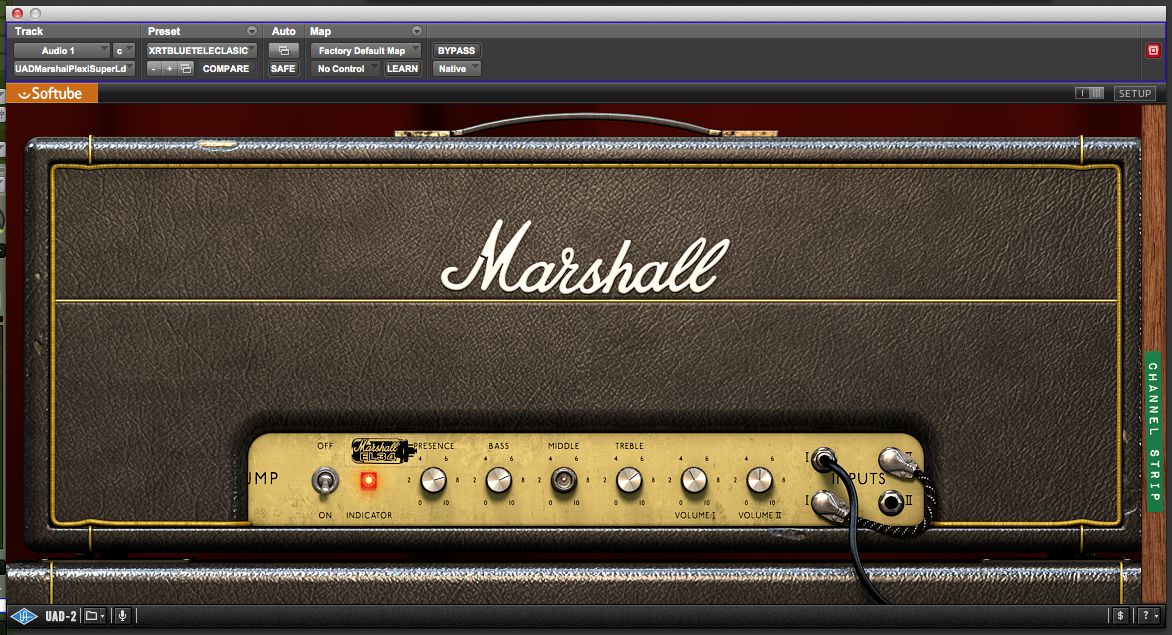 Marshall Plexi Super Lead 1959 Amp Plug-In.
Up Front
The thing about using a Marshall Plexi is that they are easy. You've got an On/Off, Presence, Bass, Middle, Treble, Volume I , Volume II and Patch Switching inputs. That's it!

I'm sure you all know what Treble, Middle and Bass knobs do. The Presence knob increases treble 'edge', Volume I controls the level of Input 1, which has an overall brighter sound and Volume II controls the level of the darker Input II.
Flick of the Switch
Many different tones can be had by patching the variety of inputs. There are four of them; Input I top is bright with high gain, Input I bottom has low gain, Input II top is dark high gain and bottom is dark low gain. By clicking on the inputs, you can select your input, then run through the variety of patching choices until you come across the combo you want. You just have to keep clicking through them (it's not a drag and drop).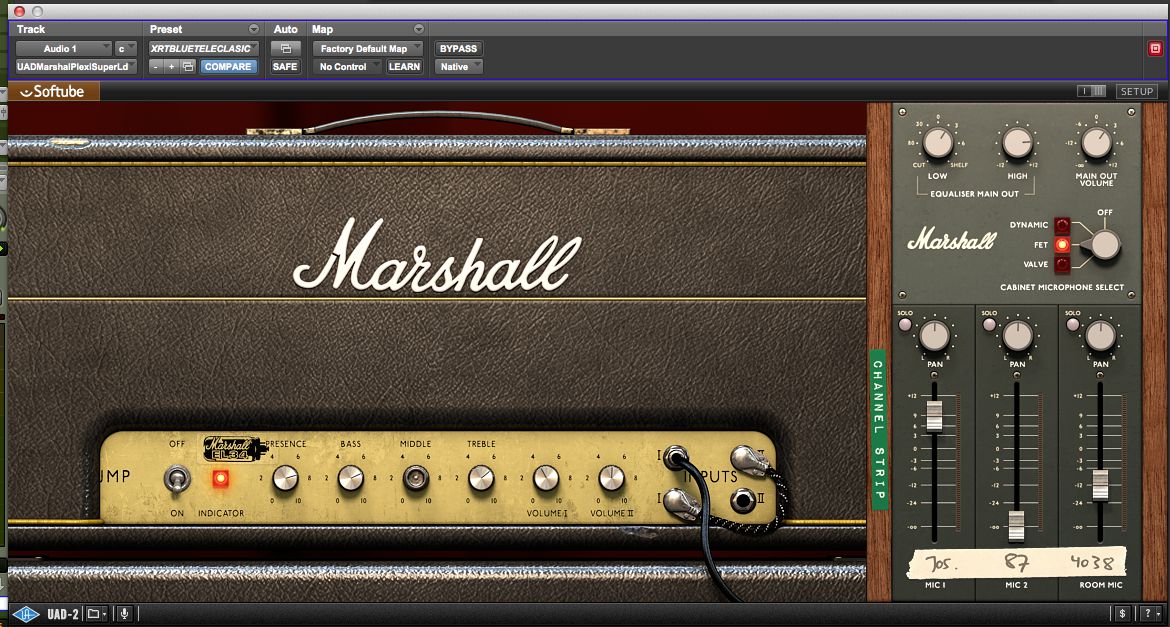 Marshall Plexi Super Lead 1959 Amp with channel strip.
On the Side
By opening the Channel Strip (on the right side), there's an EQ Main out for Lows and Highs, a Main Out Volume (up to +12dB), Cabinet Microphone Select (Dynamic, FET, Valve), and each of the Mic 1, Mic 2 and Room Mic has a fader, solo and pan options (when running the preferred mono to stereo). You can also turn the cabinet completely off with the OFF switch, allowing you to use any other plug in cabinet you have.
Here's two audio clips:
Clip 1, Input 1 top slightly heavy:
Clip 2 Inpput 1 bottom, cleaner with EP34 Echoplex:
In Use
As I mentioned, I opened the plug-in up and went to check my sound. Using a Telecaster with Rio Grande BBQ Buckers, I hit a chord and was like 'whoa baby'! Right out of the box, I knew we had a winner. It was thick but present, and it sounded—dare I say it—real.

One of the first things I check with amp simulations is the 'sponge factor', which to me is the ability to break the sound up playing lighter or harder. This actually had that feel where as you dig into your strings, the breakup of the amp and cabinet increases. Not only does that help sonically in the character of the overall sound, but it helps in the all-important inspiration factor. You just want to play this bad boy.
I like the fact that I can cut back off the Volume knobs and get a light, clean sound, or push them to get heavier. I use Volume I for the bright edgy tone, and Volume II to thicken it up, as it's a 'bassier' channel.
Another important aspect is that it retains the sound of your guitar. Some amps, especially those with distortion, just output fuzz. Even when changing pickup positions, for example going to the neck for a more blues tone, you still hear your instrument. That is another sign of a great amp.
My favorite classic Plexi tone is plugging into Input I top with the patch going from Input 1 bottom to Input II top. This is my go-to sound for rock or edgy blues. I then go into the Channel Strip and turn up Mic 1 (U67), turn off mic 2 (U67) and use a touch of Room Mic (C12). That's the perfect tone for my blue tele and Les Paul Custom. But this little guy can stay clean too, especially with a nice Strat plugged in.
The Marshall Plexi Super Lead 1959 rocks. As far as I've found, this is the go-to amp plug in for the classic Marshall tone. It's that simple.

Price: $199 USD
Pros: One of, if not the, best Marshall plug-in available. A wide variety of convincing Marshall sounds from clean to mean. Maintains the sound of your guitar and pickups. Ability to mix and match mics.
Cons: I would like to be able to move the mics around on the cabinet to offer even more tones.
Web: http://www.uaudio.com/store/guitar-bass/marshall-plexi.html