Review: Universal Audio Arrow
UAD's Arrow is finally here - a Thunderbolt 3, bus-powered audio interface with DSP and access to the company's world of plug-ins. Matt Vanacoro couldn't wait to get started with it.
If you're a producer or musician who has gone deep into the Universal Audio Apollo system, you've likely been waiting for this day for a long time. The dream of a truly portable UAD system that is bus powered has been on my mind for quite a while, and I'm very excited that day is finally here. I was cautiously optimistic that the Arrow would live up to what I had built up in my mind as the first bus powered interface from UA. I spent 2 weeks with one and here's what I discovered.
The Build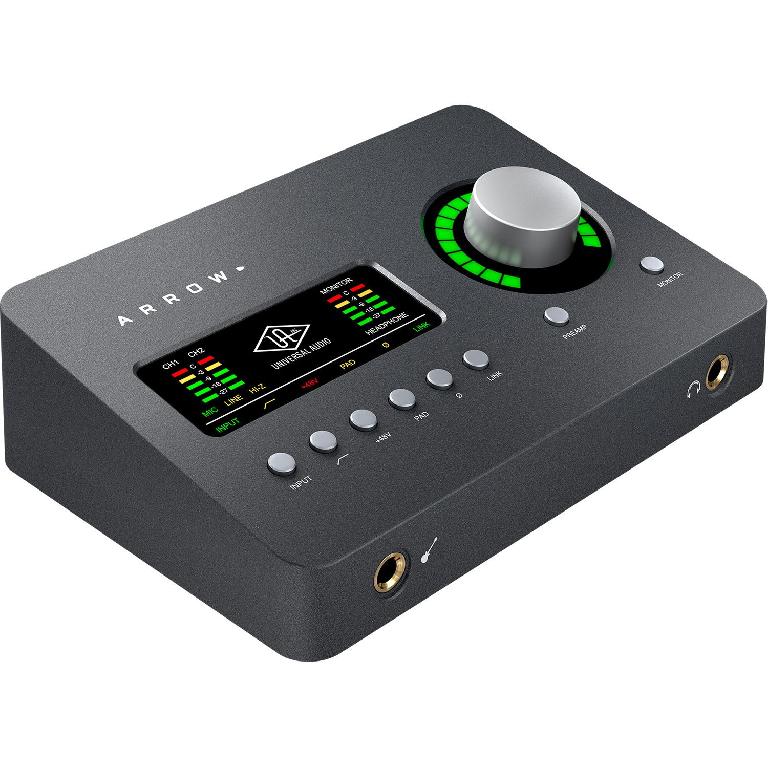 The Arrow is a surprisingly light interface, although not at the expense of build quality. It feels sturdy and for a mobile interface, that's pretty important. I feel perfectly comfortable tossing the Arrow into my computer bag and hitting the road to work outside the studio. The large rotary knob is significantly smaller than on the Twin, but it retains the LED functionality around it for visual feedback.
The I/O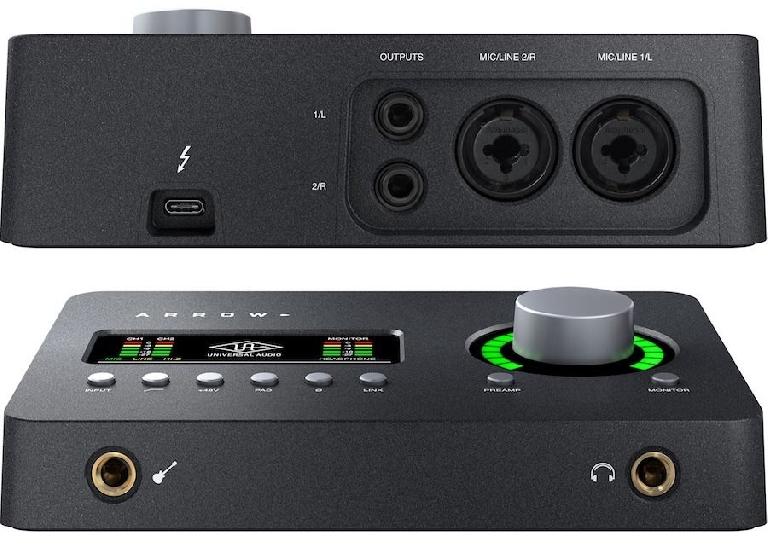 There are 2 XLR-1/4" combo jacks on the rear of the arrow with 2 Unison mic preamps. There is a stereo L/R output on 1/4" jacks, as well as a single headphone jack on the front. The Thunderbolt 3 port is located on the back, and there is no port for a power adapter. This baby is meant to be powered by the computer. You'll want to call some attention to this, because the general public is still a little hazy on the difference between Thunderbolt 3 and USB-C. The connectors are visually the same, but the Arrow must be plugged into a Thunderbolt 3 port in order to function properly.
The Software
The Arrow utilizes the same console software package that you'll find on the Apollo series. The plugins are the same, although with a single solo core you'll have to be a little more efficient than you're used to if you're coming from a quad core or (gulp) multiple quad core devices. The routing is dead simple, and the Arrow itself is small enough to put on the top of a keyboard controller. By utilizing Console and virtual buses, you can route UAD plugins into your software setup and get some pretty sweet effects in an 'outboard style' with your live keyboard rig if you want! This has been something of a big one on my wish list, so it's nice to know I now have a reliable bus powered interface that can also handle some of my most used studio plugins.
The Sum Of All Parts
In use, the Arrow lived up to all of my expectations. The Unison mic preamps are definitely more detailed and versatile than your typical mobile interface has access to. The software is incredibly efficient and has been refined over a number of years and versions. The physical build is compact, yet sturdy. I'm a huge fan of what the Arrow has brought to the table, and I'm interested to see where UAD goes with this. Once again, UAD has not only entered a market, but helped to define it at the same time. The Arrow is a fantastic audio interface and hopefully the start of something truly great.
Price: $499
Pros: Compact design, bus power, consistent software with larger desktop interfaces, diverse plugin library, excellent sound and preamps.
Cons: Only available in solo core at this time. I would have gladly paid a bit more for a duo or quad core!
Web: www.uaudio.com