Review: Universal Audio Apollo X6
With upgraded clocking and converters, 6-core DSP for UAD's plugins and upcoming 5.1 surround monitoring, could the UAD X6 be the interface of Matt Vanacoro's dreams?
As USB-C and Thunderbolt 3 started to populate the Apple store and beyond, I'm sure we all knew that the Apollo series would eventually adapt and overcome. What many of us didn't expect is that the latest entry into the Apollo universe would add 50% more processing power and deliver a one-two punch of conversion and clocking upgrades to boot. I got my hands on the latest coveted interface from UA and put it through the paces.
The Ins And Outs
Thunderbolt 3 is truly a welcome addition to the UA interface lineup. It's clearly the future of connectivity for both Macs and PCs, and it's already on just about every new machine coming out of both Cupertino and Redmond. The good news is that if your main audio beast doesn't have TB3 (side eye at the 2013 trashcan Mac Pro in my studio) that's ok, the Apollo X series lives comfortably in both worlds. I hooked it up to my 'old' Mac Pro with the Apple Thunderbolt 2-3 adapter and it worked flawlessly. Surprisingly, I could even daisy chain other Thunderbolt 2 devices using a second dongle, and everything was recognized perfectly (although I am not sure I'd have the same luck on the PC side).

Connecting to my 2017 MacBook Pro was a breeze. Using my spare TB3 cable (they still don't include one in the box… grrr…) I was able to get up and running immediately. I may be pipe-dreaming here, but wouldn't it be cool if the day came where my Apollo could charge my MacBook over that TB3 cable? Ahhh, to dream…
New Stuff
Back in reality, I was anxious to check out the new features UA packed into the Apollo X. Obviously the two extra cores of DSP are incredibly welcome, and I can confirm that it is really nice to be able to load up as many plugins as you like with wanton abandon. Paired up with my Twin Quad I now had a staggering 10 cores of DSP at my disposal (well, 14 if you count my 8p which I did also put in the chain just for a few minutes to see what would happen). Loading up processor efficient versions quickly became a thing of the past, and I instantly grew 'used to' putting Fairchilds, Neve EQs, and Lexicon reverbs anywhere I wanted to. If this is how the 'better half' lives, sign me up. The powered plugins allow me to really keep the load off of my (admittedly aging) CPU and I am thankful for it.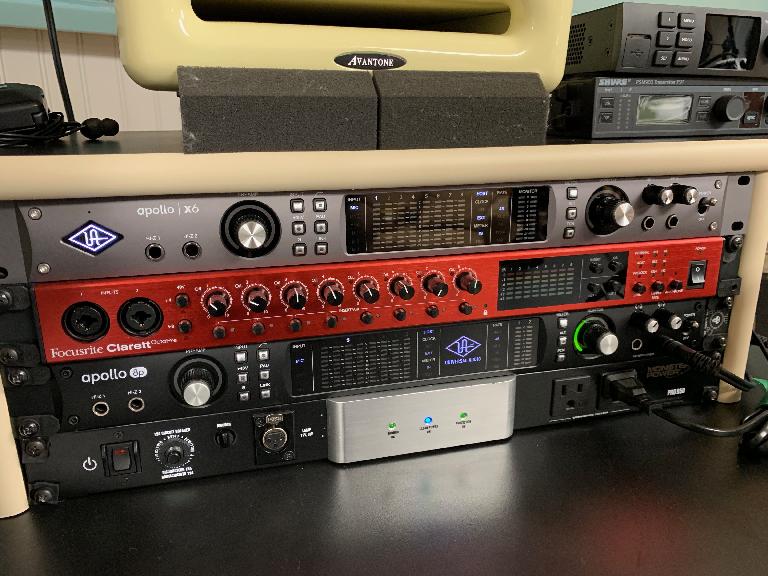 The clocking and A/D - D/A converter updates really intrigued me. Last year, I was fortunate enough to work with Black Lion Audio and do a 'shootout' of sorts with my Apollo 8p. They upgraded the clocking and A/D converters and I have to say, the difference was quite noticeable. I wasn't sure how much benefit I would get out of it (the Apollo was a pretty darn good sounding interface already) but in a blind test with another engineer, both of us could identify the modified Apollo every single time. We both agreed the sound was more detailed in the high end upon playback, and retained an 'artifact-free' sound at a wider dynamic range.

The clocking and converter updates on the Apollo X put the interface in league with other interfaces that have had boutique modification. The X6 sounds really fantastic when playing back tracks, and there is definitely a lovely wide sound field that is detailed and clear. Honestly, it's hard to pin down why the Apollo X6 sounds so good to a single feature, it really is the 'sum of its parts' that make it work so well.

The added DSP allows you to run a decent number of plugins at a higher sample rate than you could before. The improved connectivity allows for less latency and more bandwidth for your audio, encouraging you to record at higher sample rates and bit depths. The 24dBu of headroom expands upon how much space you have to connect with other studio gear. When you add all of these together, they just converge and allow you to record in better quality with less latency and more confidence. The end result is more accurate music recorded in a workflow you can really count on.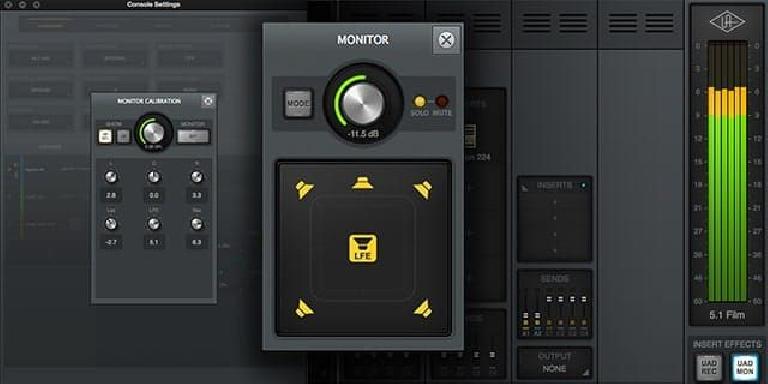 UA has also expanded the number of interfaces in the series to 4, and this allows for people to choose a rack mount interface that only has 2 preamps. For those of you with a host of boutique pres this is welcome news, as you don't wind up paying for something you won't really use. If you want 8 of the Unison enabled preamps, you can get them. If you don't need any, you can go that route too. Choice is always good for the consumer.
Conclusion
It's no secret that I love UA gear, but I'll be honest - there are years I don't upgrade. This will NOT be one of those years. Their gear really does hold its value and that makes it easy to skip out on getting the 'latest and greatest' sometimes. With the Apollo X series, UA has really created an interface that sounds better, lets you work confidently in higher resolution, and offers more diversity of your choice of I/O. There's a lot to love here, and the X series is a worthy interface for anyone who wants their music to sound fantastic.