In a veritable sea of audio interfaces and new ways to get sound in and out of your computer, it can be difficult for a single device to stand out from the crowd. Universal Audio has been on the forefront of high-end studio gear since their founder Bill Putnam got busy inventing the modern recording console, the multi-band EQ, the vocal booth and the use of artificial reverb in a commercial recording.
Today, Universal Audio is widely known for their pedigree of preamps and compressors, as well as their plug-in emulations of the most coveted audio hardware in history. The UAD plug-in system has been embraced by producers, musicians and studio engineers everywhere. Universal Audio gave plug-in users a reason to rejoice when they pioneered the Apollo—a multichannel audio interface that also hosted their incredible library of 'powered' plug-ins. With its built-in UAD-2 DUO or QUAD (depending on the model), the original Apollo can run an incredibly high amount of power-hungry plug-ins and your computer won't slow down a bit.
Recently, UA released the Apollo Twin. It's a desktop version of their groundbreaking audio interface and DSP plug-in accelerator. I spent a few days with it, ran it through its paces and I'm ready to share with you what I found (hint: I want one, and I think you will too).
The I/O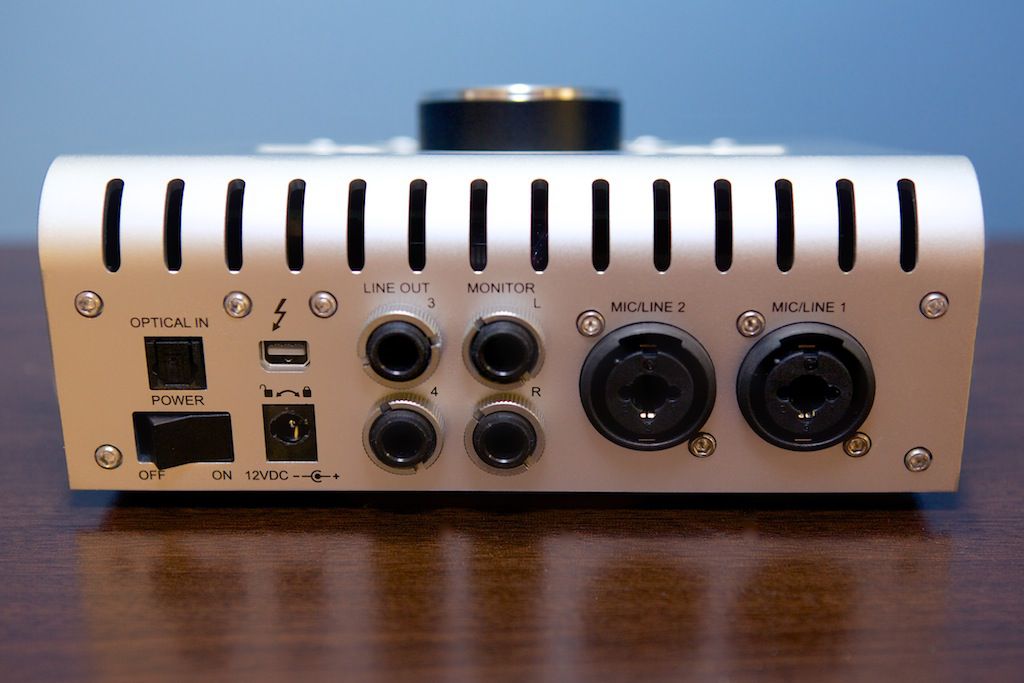 Those two mic preamps are a WHOLE lot more exciting than they look. Wait until you hear what they can do!
The Apollo is geared towards the mobile user or desktop production studio. Its I/O section may look modest, but it packs a whole lot of punch hidden away in that small footprint. There are two XLR Mic/Line combo jacks and 4 1/4" analog outputs. The Twin also features an optical input, which will allow you to add up to 8 channels with a compatible mic preamp with digital output (I used the Universal Audio 4-710d).
On the front, you'll find a high-impedance instrument input that is also mapped to input channel 1. A headphone jack is conveniently located on the front panel as well. The optical input can also be configured to accept S/PDIF as well as ADAT. There is a connector on the back for connection to a Thunderbolt port.
The Look and Feel
There's no doubt that Universal Audio was going for form as well as function here. This unit is extremely well laid out. There are hardware buttons for adjusting features of the mic preamps such as preamp selection, low pass filter, phantom power, input pad, phase invert and input link. There is a large multipurpose knob that can function in many ways, including adjusting both your master output and your headphone mix.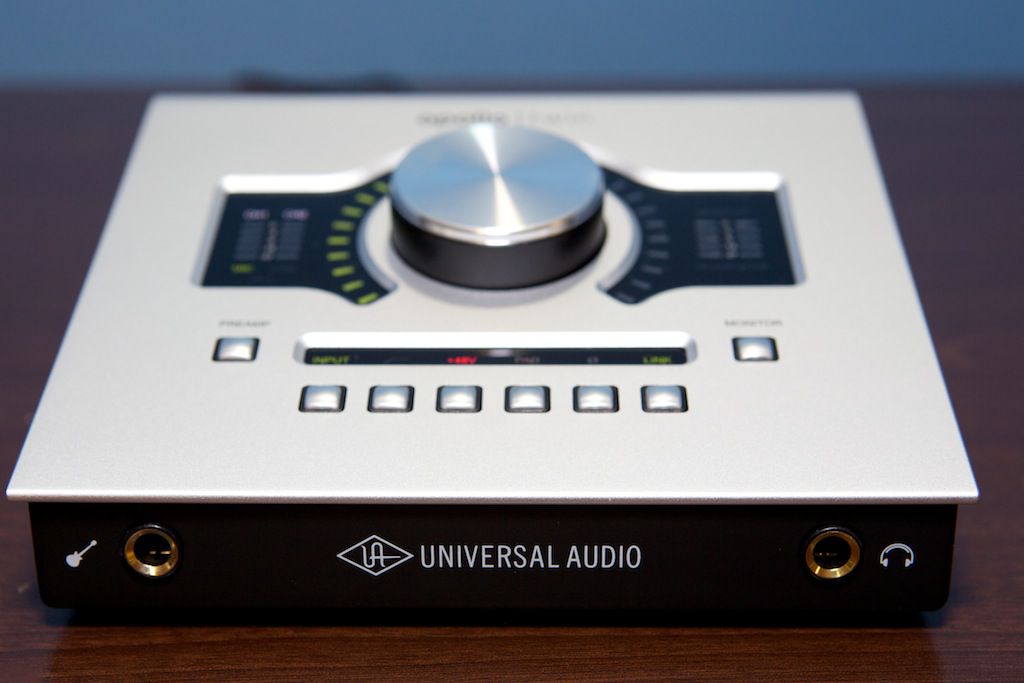 Even the power plug locks into place to avoid accidental removal. They thought of everything!
Now that the 'official' stats are out of the way, let's get informal for a minute. This thing is sexy. The sleek brushed metal feel of the knob and chassis just begs to be touched. It feels very inviting, and you're going to want to clear your desk of objects around it that just aren't good looking enough to be next to it. You may think I'm going overboard a bit here, but to be truthful photos just don't do it justice. The build quality is superb, the knobs and buttons are all incredibly sturdy with just the right amount of resistance. It looks and feels wonderfully professional.
There will be folks that wish it was Thunderbolt bus-powered, but you have to remember—the unit has an entire computer nestled inside of it that is handling the DSP of your plug-ins. I'm willing to plug it in for access to a huge library of plug-ins that are powered by the device and not my computer.
The Sound
When working with the Apollo Twin, you can feel confident knowing you are using a pair of Universal Audio preamps. This is the same company that gave us the 610, the 710, the LA-2A and so on. They know how to make preamps, and the Twin is no exception. Even without using the built-in UAD modelling plug-ins, these preamps are warm, clear, and extremely musical. They sound absolutely wonderful and better than I am used to for preamps that are built into an audio interface.
The Hi-Z instrument input also sounded great, and I didn't run into any of the gain staging issues that you can typically find with an audio interface that doesn't have impedance matching inputs.
The Software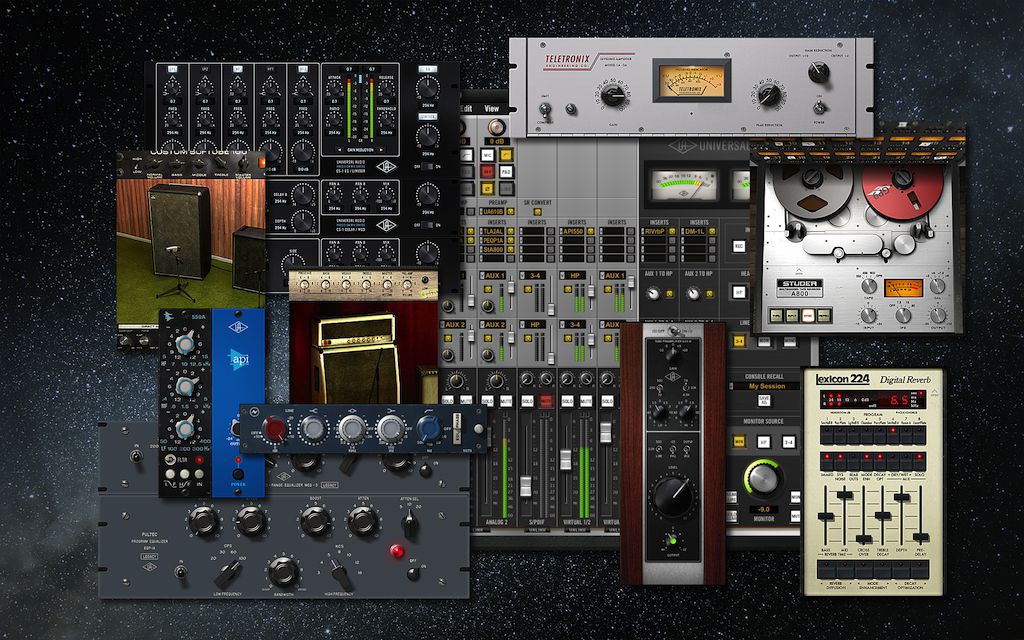 The UAD plug-in library is diverse, high quality and now includes models of preamps.
You can't really evaluate the Twin without including a look at the software. Even if you're already familiar with the UAD accelerated plug-in library, they've pulled out some new tricks for the launch of the Apollo Twin.
The Twin has 2 digitally controlled mic preamps. In the past, 'digitally controlled mic preamps' most often meant you could control the input level and that's about it. Well, times have changed. UA has broken new ground with their Unison mic preamp technology that is built into every Apollo interface. The Unison system is an amazing analog/digital integration system that allows bi-directional control between Apollo's physical hardware and the UAD software mic preamp models.
What this means, is that you can now load up plug-ins that simulate a mic preamp and the hardware will respond just like that mic preamp. Analog impedance, gain stage sweet spots, and component-level circuit behaviors are just some of the parameters that the UAD plug-ins can now access on the Apollo Twin's interface. If you want to simulate a UA 610-B Tube Preamp and EQ, the computer no longer will 'guess' at what adjusting the input impedance would sound like. The computer will actually talk to the Apollo Twin's preamps and adjust the impedance. This allows for incredibly accurate emulations of classic, sought-after preamps.
In Practice
The first thing I did after unboxing the Apollo Twin (which was a pleasure - the packaging was very 'Apple-like' in its presentation) was set up a mic, load up a preamp emulation and record a simple acoustic guitar rhythm. I chose the UA 610-A because I know the sound of that preamp fairly well and have one in my studio.
I was blown away by the difference between recording with the Unison mic preamp simulation. The sound was clearer, had that tube 'sparkle' that I've come to love when recording my acoustic through the 610 and did not sound 'over-compensated'. I've found many 'tube amp' simulation plug-ins to be really just eq profiles that boost around 600 kHz and 2-4 kHz to make it 'feel' like you used a tube amp during the recording. This often results in an annoyingly bright sound. I was most impressed by the subtlety that UA has applied here. This mic pre emulation doesn't punch you in the face with 'tube-ness'. The preamps sound great with nothing on them, and they can sound even better at the right settings with the preamp emulations turned on.
Audio Sample: 00:00 to 00:09 is the preamp alone, 00:10 - 00:20 is the preamp with the 610-A tube preamp emulation turned on.
Conclusions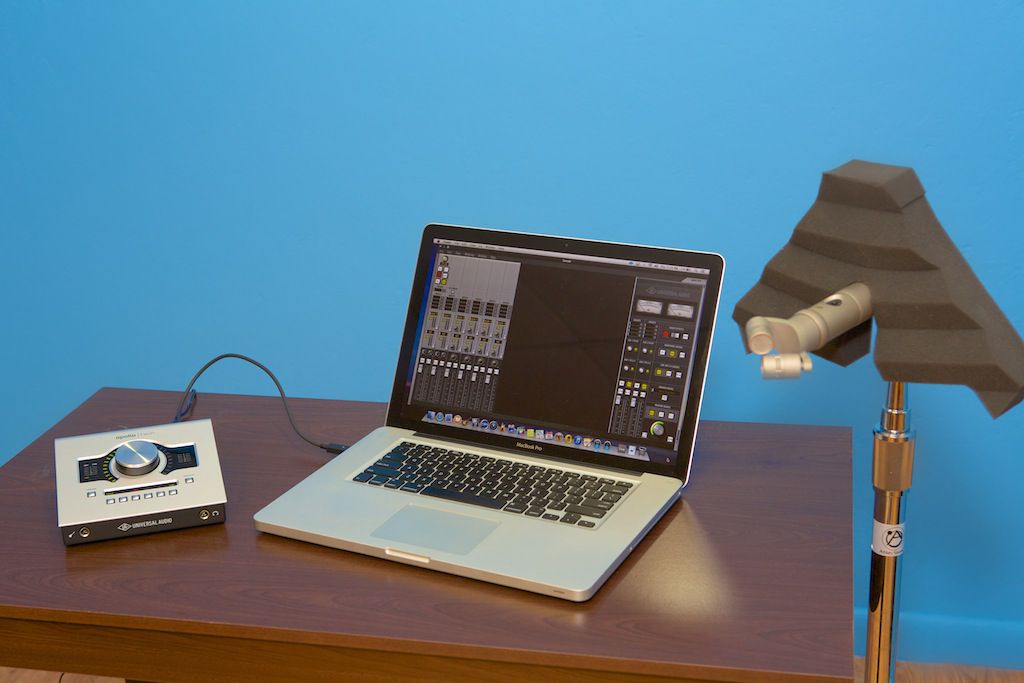 You don't need a huge space or rack of gear to get a 'downtown' sound with the Twin! You can get incredible results with emulations of amazing classic gear with just this setup.
After spending a couple of days with the Twin, it has become apparent that Universal Audio has created a really high quality piece of gear that they care a lot about. Everything about the Twin feels, looks and sounds wonderful. Those of us who have embraced the UAD plug-ins finally have our mobile solution to take those amazing plug-ins with us on the go.
Price: $699 for the Single-processor SOLO and $899 for the dual-processor DUO
Pros:
Take the power of the UAD powered plug-ins with you on the go

New Unison mic preamp emulations

The 2 XLR mic preamps are very high quality

Quality build and sleek look

Hardware buttons to access important preamp features

Locking power cable (seriously, why don't all mobile units have this?)

Cons: None we can think of!