Umlaut Audio has built a reputation for creating excellent atmospheric and rhythmic engines with their Kontakt instruments. The latest offering from Umlaut, Umlaut Motors, is a loop-based production station built to help you construct catchy looped breaks with efficiency and style. I gave it a run to see how it handled in a project with a tight deadline.
Starting Up The Engine
Umlaut Motors is a collection of loops, pulses and cinematic rhythmic atmospheres. The loops are triggered with a single note, although you do have the option of controlling the 2 layers that comprise each preset individually. A snapshot typically uses 2 loops with an option of 3 variations per loop. Each variation gets a touch more rhythmically 'busy' as you increase your selection.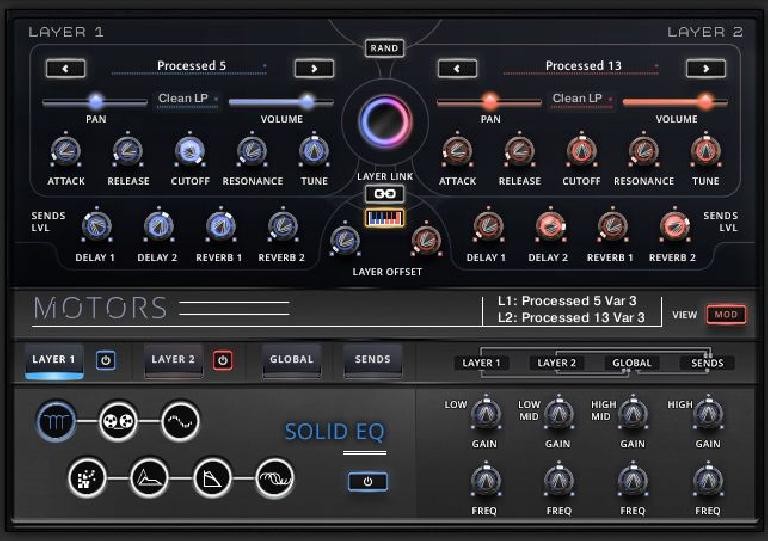 The loops themselves are organized into a very simple-to-browse collection. The library is broken up into three main categories: simple, complex, and experimental. The loops are automatically tempo sync'ed upon opening a snapshot, and they are already mapped pitch-wise across the keyboard. You can select variations using three different keyswitches, and they are noted both on the screen and on the Komplete Kontrol keyboard if you are using one.
You can exercise a bit of independent control over the 2 layers and have a more complex variation playing on your first while engaging 16th notes on your second. There is also the option of linking and unlinking the layers so that they do not play together. This is at the core of what makes Umlaut Motors a diverse library. Here's a quick listening example:
Here you can hear a typical 2-layer patch. I've got a more simple rhythm going in the louder (and lower pitched) layer, with some more active motion in the upper layer.
By 'un-linking' the 2 layers, I'm able to trigger different pitches in the top layer while keeping the drone going in the bottom layer. Both layers have playable regions on the keyboard, and when linked both regions are triggered. If you un-link the layers, you get to trigger the layers separately. I found that this gave a lot more playability and variety to the patches themselves.
More Gas In The Tank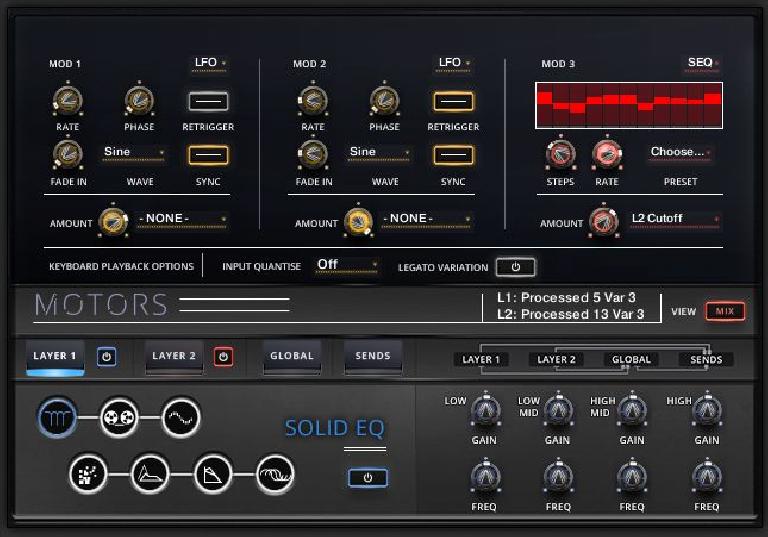 While the loops themselves are locked as they are audio, the tweakability factor is pretty nice here. You can adjust the mix, sends to various effects, and pan of each layer right from the main screen. Control over the amp envelope as well as a basic filter is provided on a per-layer basis as well. It's when you delve into the MOD window, however, that things really get interesting! There is a full-fledged mod engine with three highly configurable modulators. You can modulate your sound with three LFOs, step sequencers or envelopes. When triggering the two layers separately, you can even enable input quantization to keep your layers sync'ed up regardless of your own timing.
The library itself is not a 'wrapped' Kontakt library, so there will be a little bit of installation to go through, and it won't sit inside your browser like other factory libraries. It's easy enough to bookmark and find when you need it, though.
Conclusion
There is a lot to like about Umlaut Motors. This is an instrument that is clearly designed to help you craft creative sounding breaks and backgrounds in record time. Umlaut Motors hits the perfect mix of 'out of the box' playability and 'deep down the rabbit hole' tweaking options. Film, media, and gaming composers everywhere are going to absolutely love this instrument.
Price: $99
Pros: Well constructed and organized loops. 3 awesome modulation sections. Input quantization. Robust (and layer-independent) FX options.
Cons: Library is 'unwrapped' and needs to be manually installed/bookmarked
Web: www.umlautaudio.com