Review: Ultimate Ears UE 18 Pro and UE 900S
For live performers, in-ear monitors have many advantages over foldback wedges. Matt looks at the entry-level and pro in-ear monitors from Ultimate Ears to see if they can replace on-stage monitors.
If you're a performing musician and you've around a lot of loud music, you've probably started to protect your ears with earplugs. Since the late '80s, I've almost always worn some sort of hearing protection at gigs and rehearsals. But ear plugs have disadvantages, most notably of which is separation you feel from the other members of the band. The answer for many performers is in-ear monitors, which I've used since 2007.
Ultimate Ears were recommended to me by Jonni Lightfoot, the bass player for Air Supply. He swears by his, and UE makes a wide variety of models. I decided to order their universal models, the UE 900S, and their flagship custom-fitted UE 18 Pros. First, I'll talk about the features and differences of both, then I'll offer comparisons between the models.
Common Features
Both models have some similar features including noise isolation, tangle-resistant braided cables, and multiple armatures (like speakers, armatures generate the sound) with passive frequency crossovers and multiple bores through which the sound is directed. The cables are user-interchangeable and terminated with a right-angle 3.5mm stereo connector. Once they're in your ears, they offer -26 dB of isolation, which allows you to hear your monitor mix with less bleed from the stage sound. Some of their custom-fitted models can be ordered with an 'ambient feature' that lets some stage sound through at the expense of a little low end. This is a popular option for performers who use in-ear monitors and foldback wedges simultaneously.
UE 900S: In-ears for Everyone
Unlike all their other pro monitors, the UE 900S do not require any custom fitting. Instead, they come with six interchangeable tips, the larger of which come in smooth synthetic and memory foam versions. This allows anyone to use the UE 900S right off the shelf. You'll want to spend some time trying different sizes to see which offers the best fit and feel. EU also provides a complete set of extra tips right in the box. Personally, I liked the synthetic fit a little better.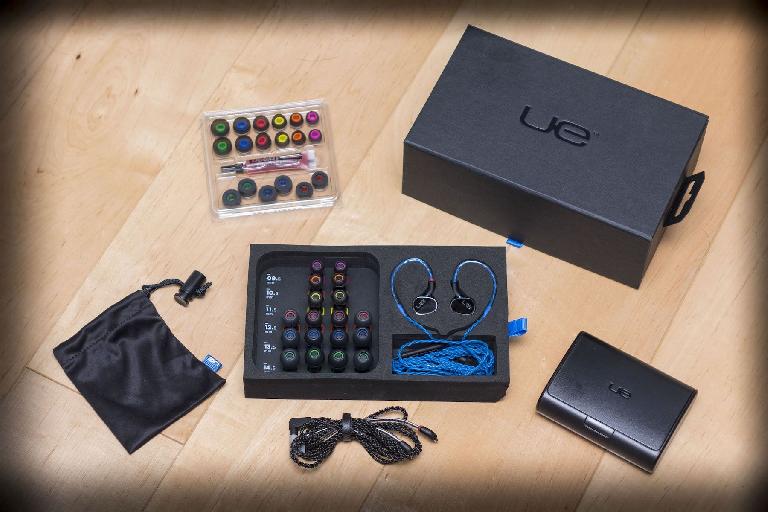 Because of the universal appeal of the UE 900S, they come with a blue iOS-compatible cable with volume and track select controls, as well as a basic black cable that's less visible under stage lights. Like the Ford Model-T, you can get the 900S in any color you want…so long as it's black. The UE 900S have a total of 4 armatures-per-side for different frequencies: sub, low, mid, and high, split between 3 passive crossovers. There are two bores through which the sound is transmitted, one for the low frequencies and one for the mids and highs.
UE 18 Pro: Handcrafted for Audiophiles
Before you can order your custom UE in-ears, you'll need to send them impressions of your ear canals. While that may sound daunting, it just takes a quick visit to an audiologist, and UE can help you find one close to you at http://pro.ultimateears.com/get-your-impressions. UE then uses those impressions to handcraft your monitors to fit your ears.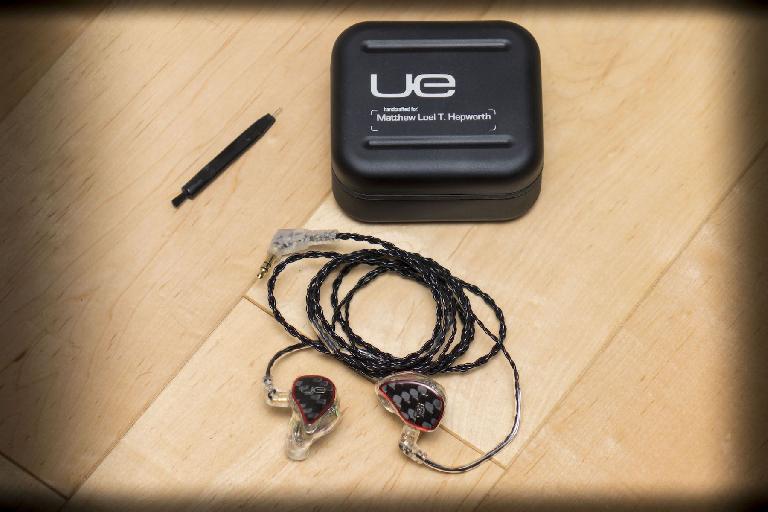 If you're a singer, it's important to keep a small block (roughly the diameter of your thumb) in your mouth to prop your jaw open while the impressions are being taken. That's because the position of your jaw alters the shape of your ear canals ever so slightly, so you'll want to make sure your in-ears fit properly while you're singing.
Ordering Your Monitors
When you visit http://pro.ultimateears.com, you'll quickly learn about the many options you have for customizing your personal monitors. They offer different colors, finishes, graphics, and materials, as well as different carry cases and cable lengths. Since my main show bass is graphite weave with red accents, I ordered my 18 Pros in the exact same finish. (I never would have thought that possible.)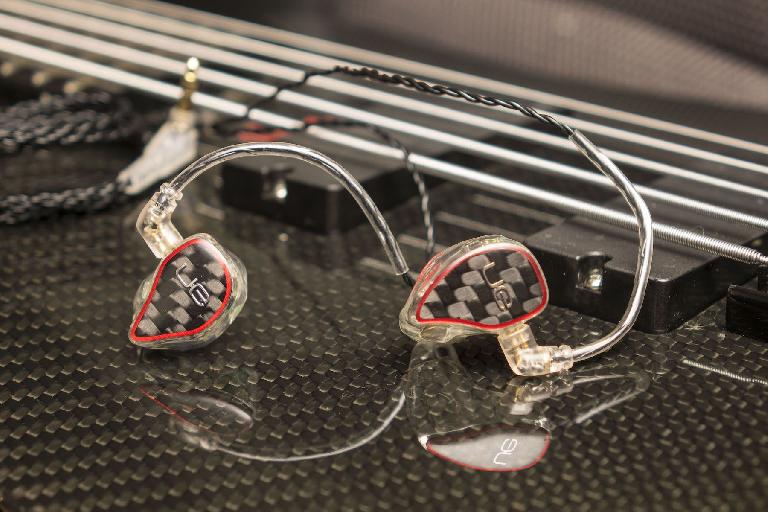 When your monitors arrive, they'll come in a personalized case imprinted with your name. They'll also come with a tool to clean the bores, and you'll find an ID number in the lid of the case so that if you lose your monitors, the finder can log onto rewardtag.com/ue to return them for a reward. (Always carry your UE 18s in the case.) They have a total of six armatures-per-side for lows (2), mids (2), and highs (2), and the frequencies are split between 4 passive crossovers. There are also three bores for each pair of armatures.
Comparing the Models
The UE 900S sound great, with a slightly more consumer-like EQ. The high end really sparkles, and the mids and lows are strong. The fit will vary depending upon which tips you have installed, and like most earbud-style headphones, the placement of the UE 900S in your ears will require a little fidgeting to get 'just right.'
The UE 18 Pros have a noticeably more refined sound. The lows are amazingly rich, and the lo- and high-mids are extremely detailed. The high end isn't quite as obvious as it is in the 900S, but I preferred how the 18 Pros sounded on-stage with my bass and the band in my mix. As for the fit, they're perfect. UE obviously take great care to make sure your 'ears' (a common nickname for in-ear monitors) match your real ears. Just put them in and that's it; no further adjustment required. If you thrash your head around a lot while you're performing, you may need to push lightly on the bottom corner of the monitors to reseat them in your ear canals from time to time. While both models offer -26 dB of isolation, the custom fit of the UE 18 Pros really seems to tame the stage level more effectively.
Making the Investment
Obviously either model will cost more than those worn by average consumers. But the sound and performance of both UE models are really stunning, and those with discerning ears will truly appreciate how open and even they sound. I found myself casually listening to my favorite music on them because they both had very revealing sonic characteristics. If the cost of the 18 Pros doesn't fit your budget, UE offers custom-fitted models starting at $399, which is the same retail price of the UE 900S. (Because they're a universal fit, the UE 900S can be purchased from different vendors, so prices will vary.) For those who want to invest in the fitted models, it's still a good idea to get a pair of UE 900S just in case you misplace (hopefully temporarily) your custom 'ears.'
Conclusion
Even considering I've been using the stock earbuds that came with both my wireless monitor systems for years, I can't imagine not using in-ear monitors for performance. Now that I've heard the difference the Ultimate Ears monitors can make, I'm never going back. It's like being 'in the band', all over again. And now—since I can really hear how I sound—I guess I'd better reserve more time for individual practice.
Price: UE 900S: $399.00 retail, 18 Pro: $1,350.00, plus the cost of impressions.
Pros: Allows you to hear yourself and your fellow musicians better, isolation helps prevent hearing damage from loud stage volumes, high quality audio performance.
Cons: Easy to lose, tips on UE 900S can be accidentally pulled off (take the included spares), 18 Pros are a substantial investment for casual users.
Note: A word of caution: Just like with any headphone or earbud, placing a sonic transducer directly into your ear and listening to loud audio does present a risk of hearing damage. The best rule to follow is to set the volume level at the lowest possible level at which you can still hear your mix clearly.