Attempting to recreate, or even emulate a Pro One from Sequential Circuits at this point in plug-in history is almost cliché, as there have been many, many recreations of almost every classic synth out there. Especially, considering that it's a subtractive synthesizer, and there is no end of virtual subtractive synths out there. So, if one were to attempt to emulate another subtractive synthesizer, they had better do it right. U-He has just released Repro-1, a new, subtractive synth. But it's a lot more than that. It's more like a living, breathing, beautiful homage to one of the coolest subtractive synths out there. And, while it may be old, U-He took their version, and added a few things under the hood that I really think you're going to want to take a look at.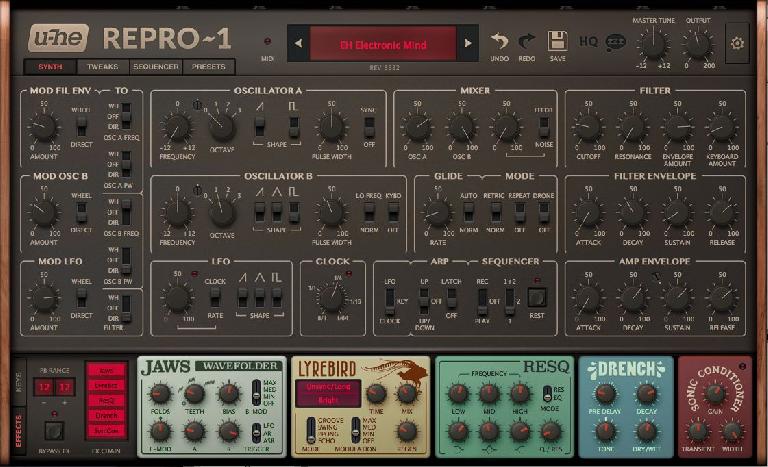 Tweaks
Okay, before I jump in to anything else. I should mention that while the Repro-1 is definitely highly faithful to the Pro One, the designers also felt that they should at least give you the options for the best of both worlds. The Tweaks page is a very beautiful page that let's you seemingly go within the virtual inner workings of the Repro-1 and adjust jumper settings and even filter envelopes, oscillators and filters. The oscillators available are, of course, the classic Pro One oscillator, as well as a modified oscillator that have been balanced a little more carefully, and cut through a lot better. However, just to make things interesting, U-He also gives you P5 oscillators, or Prophet-5 oscillators. So, while the Repro-1 is aiming to be mostly faithful... It will definitely help you cheat, a little. And, personally, I will say that I do agree with U-He with labeling their oscillator 'Ideal'. It's much more crisp, and sits better in modern mixes. Still, it's pretty fun to switch out oscillator types from Ideal, to P1, or P5, every now and then. Beginners and experienced users alike will definitely enjoy bringing up patches, and then switching out the filter, and the oscillators, for both nostalgia, as well as pure experimentation.
Speaking of nostalgia, the Repro-1 actually has the 1981 release bank, that originally shipped with the original Pro One, which can be easily accessed via the Patch window.
Synthesis
Beyond tweaks, the Repro-1 as a synthesizer has both the beef, and the functionality of the original Pro-1. Being one of the classic Subtractive synthesizers of all time, in my book, U-He makes a gutsy move in attempting the emulation of another subtractive synthesizer from yesteryear. The obvious sawtooth, and triangle waveforms are available, as well as Square wave for some big, big gnarly Pulse Width Modulation. With the updated, Ideal, oscillators, and updated filters, the Repro-1 has a sound that really does both haunt, as well as make me want to move.
The LFO sticks close to the original. But I was thrilled to learn that you can reverse the polarity of the Sawtooth waveform, so that it is a regular sawtooth, not the original ramp wave. I immediately used it to create some bass lines, by using the LFO to modulate the filter, giving me that classic Pro-1 synth bounce.
You can even reverse the polarity of the LFO altogether by switching out the jumpers, as well as disable DC, setting the LFO from Unipolar to Bipolar within the LFO section in Tweak mode. This leads to a lot of fun possibilities that don't really exist with the original Pro One... Well, at least one that hasn't been highly modified.
The filters also sound beefy as all get out. And like the Oscillators, they offer two different classic filter models: Crispy and Rounded which seek to emulate the classic Sequential filters we both know and love. Here again, U-He have offered their version, accessible within the Tweaks section, which is Driven—a version that they created balancing the internal parameters of the filter. I had a lot of fun switching out the filters. And, I gotta hand it to them, it really does make the Pro One, even as an emulation, much more modern.
Arp and Seq
Of course, U-He, being U-He are going to offer something more than just a little greater than the original Arp and Sequencer on the Pro One. The Sequencer offers two patterns just like the Original Pro One, but each pattern is programmable in a secondary window with up to 32 steps per pattern, velocity programming, as well as Rest and Tie steps. They even allow you to save your sequencer patterns, both individually, for later use in other tracks.
Thankfully, the arpeggiator's simplicity has been left as is. Offering only a Latch mode, as a new addition. I really appreciate U-He leaving the arp alone. It would have been easy for them to blow it up with a super arp, running a ton of different features, directions, scale, and so on. But, the classic feel keeps things moving, and keeps me from spending an hour going through features just for a simple arp. In short: It keeps things feeling like hardware... Even though it's software.
FX Chain
Just when we thought U-He had given us the best deal of the century, with a new version of an old synth, that sounds incredible, with amazing tweaks, they throw in the baby with the bathtub. One simple press of the Effects button, in the lower, left-hand corner of Repro-1 reveals the FX Chain—A small row of virtual effects modules that simply blow the lid off Repro-1.
Made correctly, the FX Chain allows you to change the signal flow in which the effects feed in to one another, making Repro-1 a serious synth for sound experimentation. The Jaws Wavefolder, the Lyrebird Delay, the Resq Resonator/Equalizer and the Drench Reverb all individually, and together sound simply incredible. And I can honestly say that I wish they would release the Waveshaper and Resq Resonator separately, as they produce some gnarly tones that are both highly crispy and have some serious squeal.
The plucked, snippy basses that the Pro-1 is known for bounce along with that classic sound that helped bands like Skinny Puppy moved the dance floor, back in the '80s is especially powerful, and classic when used along with the Lyrebird. Especially in the Dark setting!
Conclusion
The Repro-1 from U-He is an amazing synth that really comes at the right time, when hardware and software are both selling the way they are. While it is totally software, the Hardware junky, will definitely want to take a peek in, as the sound, the art work, and the functionality are all amazing and I feel bring some much needed innovation to the world of soft synths, where pretty much everything has already been seen, and heard. And, for the guys and gals who have no problem sitting down with a soft synth. Well, you're in for a good time! For a 1.0 release it runs flawlessly and really feels like more of a Repro-2, or 3, already. This is the best soft synth I've played in a long time.
Audio samples:
Price: $99
Pros: A faithfully modeled Pro One, in software, re-engineered to sound more modern with an amazing FX chain, multiple oscillators, filters and envelopes, as well as a powerful internal sequencer, and arpeggiator.
Cons: It's only software.