Renowned independent virtual synth-smith Urs Heckmann and his u-he brand are well known for top-flight plug-ins with juicy sound, handsome interfaces, and the specs to match. The latest addition to their stable of instruments is the monstrous digital modular beast known as Bazille. Based on the patchable routing of a modular synth rack, the result is a hyper-flexible combination of analog-modelled filters with unique digital oscillators'"and more modulation options than you can probably find a way to use.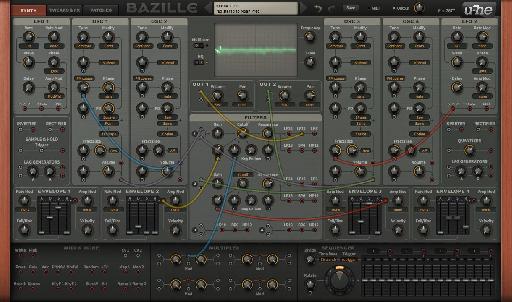 Bazille's main editing area.
Into Phase
Bazille comes with four oscillators ready to go. Employing the Phase Distortion synthesis model made popular with Casio's CZ line, it also features an FM offshoot called Phase Modulation, along with a sync-like Fractalize mode'"but more on that later.
First, you can select your initial oscillator waveforms from Saw, Square, Impulse, Double Impulse, Half-Saw, and three Resonant shapes that pack short Sine waves into larger waveshape 'windows'