It's FINALLY here! Ever since the NAMM 2015 show, I've been waiting for the release of UAD 8, Apollo Expanded and Console 2.0. Last night, I took at look at the Universal Audio Website'¦ and there it was! I downloaded as fast as my internet connection would allow, loaded it up, and took a test run. Spoiler alert, the results had me grinning from ear to ear.
Overview
What do you get when you load in UAD v8.0 software? Quite a lot, actually! UAD 8.0 comes with a completely revamped console and mixing engine. It looks different'"far more slick and somehow they managed to make it easier to use while at the same time adding a ton of features in there that users have been clamoring for. Actually, this release reaffirmed for me why I love Universal Audio as a company so much'"they listen to their user base and constantly bring popularly requested features to their updates. As an Apollo owner, I truly feel connected to what's going on over there in UA land, and the revamped console, driver, and audio engine is better in just about every way imaginable.
You also get access to the new distortion pack, the Friedman boutique amp collection, and the Sound Machine Wood Works plugin. We'll get to those at the end of this review, as most folks are going to be champing at the bit to know about Console 2.0 and Apollo expanded.
Apollo Expanded / Mixing and Matching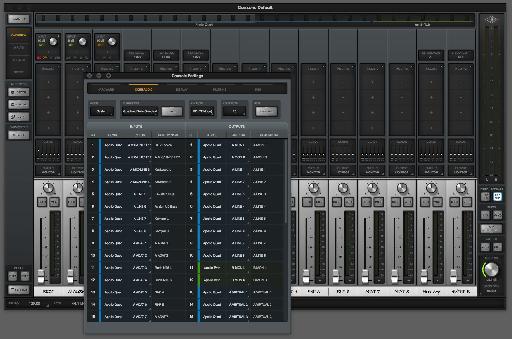 Apollo users now have unprecedented routing options and the ability to treat all of their interfaces like one giant, HUGE, MEGA-INTERFACE!
Apollo Expanded brings 2 of the most requested features from Apollo users into the fray. First, Apollo users now have the ability to mix and match Apollo devices on the same system. I have an Apollo Quad as well as Apollo Twin, and I must say the way these 2 interfaces interact now is unreal. It's like getting a complete gear overhaul. When they are both hooked up via thunderbolt, I now can control the console monitor output from either volume knob'"essentially giving my Apollo Twin a bonus feature of '˜monitor controller'. Oh, and did I mention they even added in the ability to control mixes to alternate speakers? This isn't just putting a big knob in my hand, they literally have packed in a full-fledged monitor controller into my Twin.
When grouping interfaces together, I also now have COMPLETE control over the core audio driver and how things get reported to OS X. I can decide upon every aspect of inputs, outputs, labels, mixes, cues, and how that all goes to the operating system. Custom labels are now allowed and work like a charm. You can even re-arrange the order in which your inputs are reported to the operating system, and you can save your arrangement as an I/O preset. I now have a '˜quick track' preset that only shows the 2 XLR inputs on my Apollo Twin and my main L/R outputs on my Apollo Quad for fast and dirty GarageBand work. If I want to record a standard band setup, I have all of the inputs activated on both units, including both sets of ADAT inputs, and everything is labeled. Why remember that Analog 7 is where the snare mic is plugged into when you can have the input name '˜Snare' literally reported to the operating system and show up as a viable input? It's terribly convenient and probably my favorite feature.
Console 2.0 (300)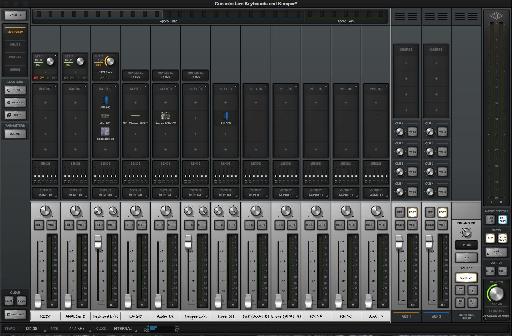 Good guy UA gives our mixer a whole new look!
I'll admit I was a bit intimidated when I read up on the features of Console 2.0. There seemed to be so many that it made my head swim. I opened up the console window, and if you were a fly on the wall in my studio, you heard something like this for the next hour or so:
'Okay, how do you'¦ oh that's it.'
'What? They couldn't have made it do that, oh that's pretty awesome!'
'Alright, this probably won't work this way but'¦ oh it does! Sweet!'
'Wait a minute, I can just push the down arrow and'¦ wowwwww'¦'
An hour went by, and I realized that I had just spent 60 minutes of my life enjoying playing with a virtual mixer. It wasn't spent in frustration trying to get something to work. It was spent pretty much in awe of how my workflow is going to change and how much time I'm going to save over the next year of working with my Apollo while recording.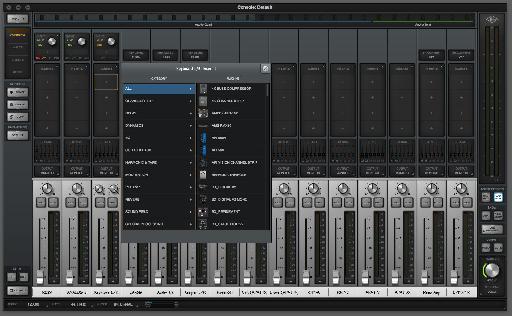 The FX Browser.
As I implied before, Console 2.0 is better in just about EVERY WAY possible. I had to constantly remind myself that UA didn't sneak into my studio and give me a hardware upgrade while I wasn't looking. It feels that dramatic. Rather than take you through a narrative of my fun-filled hour of exploration, let me give you my top ten bullet points about Console 2.0 that will surely make any Apollo owner smile.
The console window now dynamically resizes and elements shrink and grow with it instead of disappearing off the edge of the window.

The text on the '˜scribble strip' at the bottom is now much more readable and larger.

The '˜sends' busing system has been completely re-vamped and works more like a large-format console mixer.

Plugins are now CATEGORIZED and way easier to find!

We now have '˜channel presets''"save your favorite plugins all in a neat little bundle lined up in a row for any channel and instantly call up your '˜sound' for just about any instrument you record.

Plugin '˜printing' (recording with the plugins on as opposed to simply monitoring) is now selectable on a PER-CHANNEL basis instead of all or nothing.

Cue mixes, and lots of them!

Inserts, sends, inputs, and just about any element of console can now be shown/hidden as needed.

High resolution meters and faders. This is bigger than it sounds'"the meters actually feel much more responsive and accurate.

Right-click conventions have been tweaked and are much more usable. Remove all plugins, disable plugins, load up channel strip presets all with a single click.

Really, I could go on much longer, but I think you're getting the idea. This is a brand new console and a brand new paradigm for Apollo users. If you liked your Apollo before, you're going to love it now. UA just handed us a ton of new functionality and it's all free.
Distortion for Days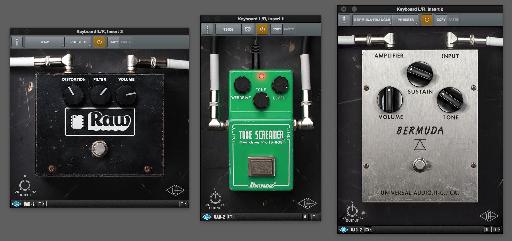 The Distortion Essentials plugin bundle.

The Distortion Essentials plugin bundle is an emulation of three fairly legendary guitar pedals. The unique thing about them is that they actually utilize the Unison technology and interact with your hardware's preamp to take you closer to the true sound of the pedals than you can typically get. As an avid user of the Ibanez Tube Screamer, I can verify that they've really come closer than I've ever seen anyone come to nailing down the tube drive sound of that pedal. It's good to know that UA is using this Unison technology to its fullest. While I was a fan already of the preamp emulations that UA came up with, I'm really a fan of them thinking outside the box and giving guitarists some love, too.
Transform Your Acoustic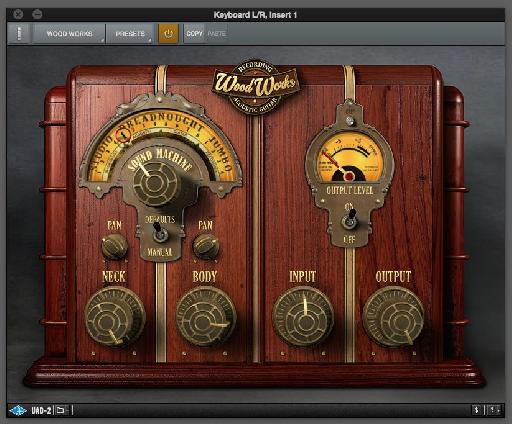 Wood Works.
The Wood Works plugins is an interesting one, and I was pretty excited about it as I do occasionally record some musical acts live. Basically, it allows you to take the direct output of your acoustic guitar and emulate the process of properly mic'ing it. I've had to mix tinny acoustic after tinny acoustic from live recordings of bands in my time, and I was really anxious to hear how this plugin stacked up.
Guitar dry:
Guitar with Wood Works:
I thought the plugin did a pretty good job of turning the direct output of my Taylor 714c into the sound of mic'ing it in the studio. I found that the effect tended to fluctuate in its effectiveness depending on the guitar I used.
Boutique Amps
I've been using UAD plugins long enough to remember when they announced that Nigel wouldn't be coming over to the UAD2 system. I remember being nervous that I wouldn't have any hardware-powered guitar amp simulations'"something I'd become accustomed to and relied upon as they tend to be CPU hungry plugins. With the addition of the Friedman amp collection on top of the already fantastic Softube, ENGL, and Chandler amp simulators, UA has proven that guitar is a top priority for them. The Friedman amps are easy to use, sound great, and don't hit the plugin power reserve particularly hard. Who can ask for more than that?
Conclusion
There's a lot to like about Universal Audio's latest software update. You get more features, a simplified interface, more control over your hardware, more routing options, more functionality out of your Apollo Twin'¦ and it's all free! (With the exception of the new guitar plugins).
With this update Universal Audio has once again proven that they are attentive to their userbase as well as always pushing the envelope in terms of functionality, design, and interaction between hardware and software.
Price: Software update is free, Friedman Amp Collection is $249, WoodWorks Plugins is $299, and the Distortion Collection is $149.
Pros: Re-vamped console, more buses, more cues, more control, more of just about everything'¦ while somehow managing to make it easier to use. If you own an Apollo interface you should download this right now.
Cons: Those of you operating FireWire interfaces will have to wait a bit. The Console 2.0 portion of this update is Thunderbolt only at this time, though UA have suggested a FireWire compatible version is on its way.
Website: www.uaudio.com