With the release of UAD 7.9 software, those of us who have invested in the UAD-2 plugin universe are treated to a lovely bundle of new plugins. I took 2 very interesting ones, the Tonelux Tilt EQ and the Valley People Dyna-Mite out for a spin and I'm pleased to report that these latest offerings from Softube and UA are both worth a look.
The Tonelux Tilt
The Tonelux Tilt is not for the faint of heart. Created by Paul Wolff (former owner of API), the Tonelux Tilt EQ is a truly one-of-a-kind device. The heart of this device is a single knob which controls the 'tilt'. Think of your EQ options being simplified and stripped down to a single see-saw concept. As you 'roll in' some lows, the tilt will 'roll off' some highs. When you go counter-clockwise, the opposite happens.

The Tonelux Tilt - An exercise in simplicity and functionality.
Of course, it wouldn't be a UAD plugin without options, and Universal Audio has given us the ability to adjust the shape of the tilt with both a button and a few filter knobs. However, don't let that distract you from the zen concept of what the tilt can do for you. Super fast EQ and drastic control of your mix elements by removing 'option anxiety' while your 'mixing momentum' is rolling.
You'll either love this or you'll hate it—and I loved it. There was something incredibly cool about putting the Tonelux Tilt on a track, turning one knob a bit until the sound got better, and then moving on. Perhaps later on in the mixing stage I'll replace it with a surgical eq that gives me more control, but for the time being, I truly felt like a 'mix ninja' moving from one track to the next and using the Tilt to give me some quick fixes. After a 2-hour mixing/editing session which wound up starting out with 6 instances of Tilt, I found I had kept 4 of them when all was said and done!
Check out this simple acoustic guitar track. You can hear the original, an instance of Tilt slowly being turned to favor treble, and then an instance of Tilt slowly being turned to favor the bass frequencies.
Valley People Dyna-mite
I paired this plug-in up with the Tilt as I felt that it served a similar function, but for dynamics. The Dyna-mite is an incredibly simple dynamics processor to use, and yet it has a lot of depth to it. Essentially, it's a limiter/gate/expander with a few cool tricks.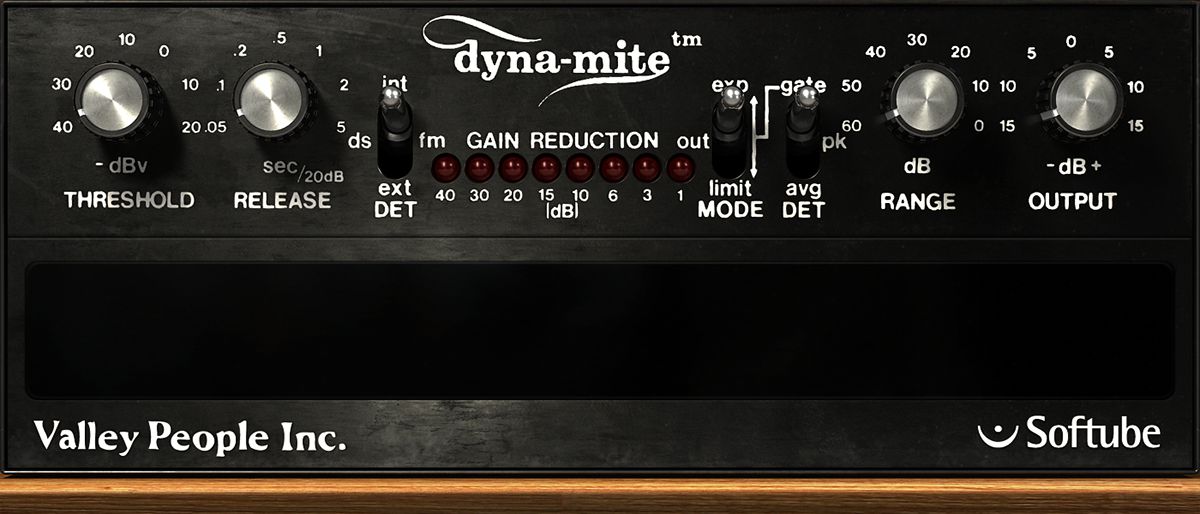 The Dyna-mite - Don't be fooled by its simplicity, the Dyna-mite has a lot of dynamic control packed into a small interface!
I am a big fan of the 'detection' switch, which I combined with the attack and release time to completely shape the transients of my sound. I really felt like I was in complete control of what aspect of the sound (time-wise) was being compressed.
Back to my acoustic track. First, you can hear the Dyna-mite in 'average' detection mode. I combined this with a slower attack to leave the picking and percussive nature of my acoustic alone while compressing the rest of the signal. Second, you can hear the detection in 'peak' mode. Combined with a very fast attack this allowed me to really tame the aggressive picking sounds.
Add in the dynamic range knob and you've got a 'ruthless' and fast limiter that can really completely crush your sound.
Conclusion
I had quite an exciting time with these 2 tools. They're not subtle tools like the Pultec EQ or LA-2A. These definitely fall into the 'drastic and powerful' category. The Tilt in particular can completely shake up your mixing process and allow you to make some pretty radical sonic changes rather quickly.
Price: $99 (Tonelux Tilt) and $199 (Valley People Dyna-mite)
Pros: Drastic and powerful. Quickly sculpt sonic and dynamic changes. A different take on EQ and dynamics processing. Both were affordably priced and are easy on the plugin count meter.
Cons: None. Both were affordably priced and are easy on the plugin count meter