After having SUPER SECRET access to UAD 8.7 software ahead of release, I have now come up from the secure testing location (my basement studio) to report that with this update we're all getting a pretty solid combination of the new and the old. There are two new plugins that I love equally just waiting for you to press that 'activate demo' button. Three old favorites also return to the lineup, with the introduction of Galaxy Tape Echo, Studio D Chorus, and Brigade Chorus. For those of you that missed your chance to purchase the Roland emulations of these three fantastic plugs, fear not! You can now get updated versions that are sleek, based on the same algorithms, and updated for UAD 8.7!
The New Stuff
OK, let's take a look at the bass amp first. The Ampeg B15N Bass Amplifier plugin adds more 'fuel to the fire' of UAD's bass offerings. I was a huge fan of the SVT plugin that came out a few updates ago and I never thought I'd wind up ditching it so fast… but boy, oh boy—the B15N does NOT mess around. There's a simplicity in the design to the interface, but I have to say—this has to be the nicest looking UAD plugin around. I know, I know… that shouldn't matter… but it looks great!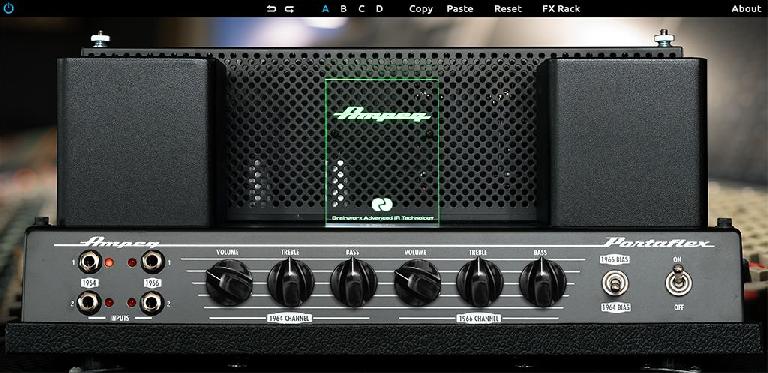 Brainworx absolutely knocked it out of the park on this one. I called up the B15N on a rock session and it gave me a tight low end with definition for single notes that I normally slave for hours to find. The fact that it's Unison compatible and can be slotted into the preamp emulation slot on my Apollo is just icing on the cake. Honestly, I haven't gotten this excited over a bass plugin in years. A simplified interface, a musical EQ, and a sound that will take you from a lifeless DI to warm tubes of bliss. This baby is definitely worth checking out and is an absolute steal at $149.
The second new plugin included in 8.7 is the Manley VOXBOX channel strip. Geared towards vocal tracks, the VOXBOX contains a preamp emulation (also Unison compatible), optical compressor, deesser, and a highly configurable EQ all in one channel strip. After playing around with it for a few hours, I can tell you (at the risk of being the 'too excited guy') that I kind of love this one too. It falls, for me, in the category of the Fairchild 670 or the API 550 in that it is a plugin that can do the job without standing up and announcing that it's doing a job. You can really contain a vocal without pumping it, and refine a vocal without slicing the life out of it. At $299 it might be on the high-end price-wise, but the hardware version comes in around $4,000 so you're still ahead of the game for sure.

The Old Stuff (that is new again)
When the Roland Dimension D, Chorus Ensemble, and Space Echo disappeared from the store a few updates back I lamented for anyone who hadn't already purchased them. Those three plugins were staples of my modulation choices and I also worried that eventually my beloved three would stop getting supported and die off.
As it turns out, I had nothing to worry about. The new updated versions named Galaxy Tape Echo, Studio D Chorus, and Brigade Chorus are back, and they are bigger and better than ever. Dropping the Roland moniker and adding some updated eye candy, these redesigned plugins are based on the same algorithms as their predecessors. They've been updated to fit more snugly in the UAD lineup, and they're three that I already highly recommended for anyone with an Apollo to pick up.
Conclusion
UAD 8.7 is an exciting release for sure. Both new plugins are really fantastic, and they beg to be used with the Unison mic preamps on your Apollo to really streamline your tracking workflow. The three favorites that have returned to the store are cleaned up, updated, and sound just as good as I'd hoped they would sound. You can't really go wrong with any plugin offered in this release.
Price: Update is free, plugins vary by configuration and bundle purchased
Pros: Truly amazing Ampeg B15N emulation (on par with the new Fender emulation for guitarists), wonderfully useful Manley VOXBOX emulation, and three fan favorites return to the UAD lineup.
Cons: None at all! Try 'em all out for sure!
Web: www.uaudio.com