I've been eager to try out Zebra2 since I heard that the legendary Armin van Buuren used it in his productions. Zebra2 is a soft synth with over a decade of history, and has been updated over the years to continually improve its workflow and sound quality. u-he recently celebrated the tenth anniversary of Zebra by releasing the 2. 7 edition; today we take a look at the carefully crafted components that have earned Zebra2 its reputation for creating blockbuster sounds.
First Glance
Zebra began as a Mac-only plug-in for Apple's AU platform, and over time has been transformed into an award-winning, cross-platform synth for both Mac and PC users. Zebra2 combines different synthesis techniques, focusing mostly on subtractive synthesis but also incorporating FM and additive synthesis techniques. Installation is quick and easy, and you can get started creating patches within minutes. Zebra2's GUI has a design that looks clean and modern and even has a fun Zebra pattern in the background.
New 2.7 Features
The Zebra 2.7 update comes with Zebralette, a freeware which demonstrates the power of of Zebra2's oscillators. The updated version also includes 100 anniversary presets, adds AAX support and a distortion module for dirtying up sounds. You can download a demo version of Zebra2 from the u-he website, which transforms into the full version once the synth is purchased.
Amazing Presets
Though the fun really starts when you create your own sounds with Zebra2, the synth comes with a large collection of high-quality presets. The on-board presets have been used in blockbuster films like The Dark Knight, Inception, Transformers and Tron:Legacy. If you're new to synthesis, you may find the Zebra2 presets a good starting point for creating your own original sounds. With a little knowledge, it's easy to personalize the synth's waveforms and make them your own.
Main Windows
Zebra2 features three main windows: Perform, Synthesis and Patches.
Perform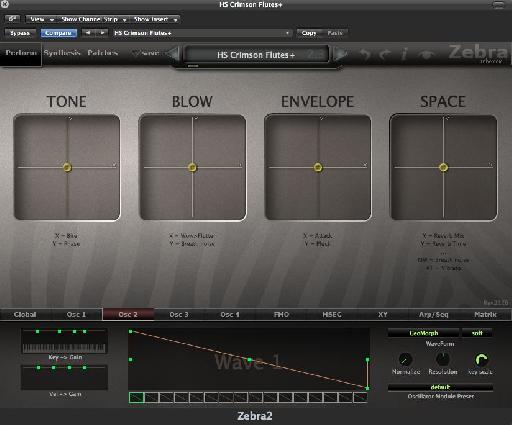 The Perform window.
The Perform window features four X/Y pads that give you control of up to 64 parameters. The pads can be mapped and utilized in live performances, or used for automation within your DAW. The nature of these X/Y pads allows you to combine parameters together for your own creative purposes. A handy feature for a synth, indeed!
Patches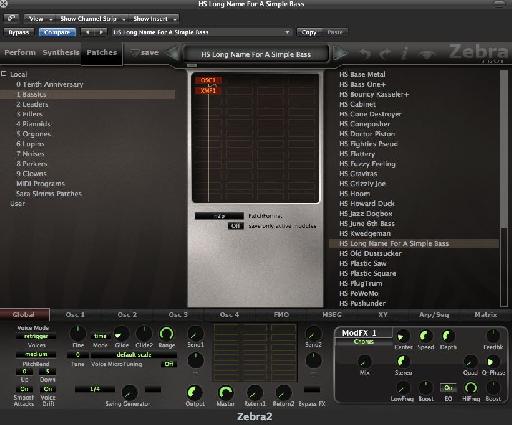 The Patches window.
The Patches window may look like a fairly standard patch window, but there's more to it than meets the eye. The Patch window can be used to load the collection of factory patches. It's worth mentioning that there are lots of free presets for Zebra2 available online, as well as many commercial sound sets too. There are a couple clever features in the Patch window, including the ability to mark (and unmark) patches as personal favorites or 'junk'. (When you mark 'favourite', a little star appears next to the name of the patch, so you can easily select it.) You can also hide and unhide patches, create your own bank of patches and easily save and organize new sounds.
Synthesis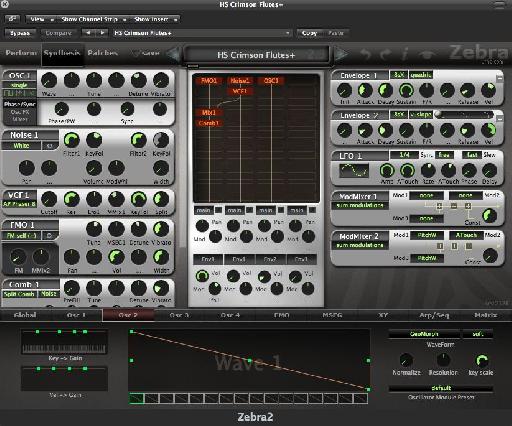 The Synthesis window.
The synthesis window is Zebra's main programming window; this is where you'll be able to access the Generators Rack, the Oscillator Editor, the Main Grid and the Modulators Panel.
Generators Rack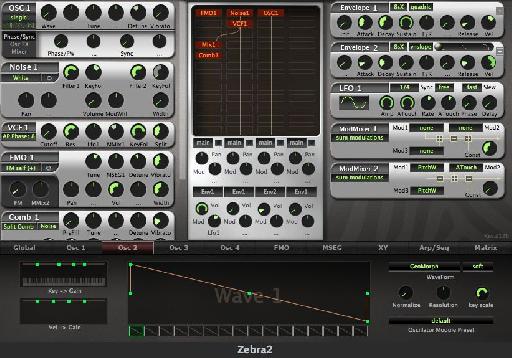 In the center of Zebra is the Generators Rack, which features a unique 'what you use is what you see' design. This rack is where you'll see your oscillators, filters, mixers, ring modulators and waveshapers appear. Unlike other synths, you'll only see the modules that you are actively using, which makes it easier to focus on what's important: your work.
Main Grid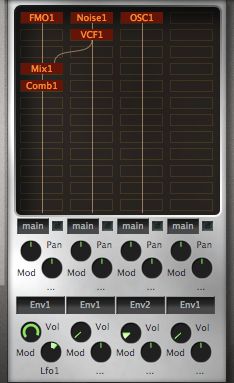 The main grid is located in the center of the synthesis window and is used for patching generators togethers. Modules can be added here by double-clicking in the grid and then can be moved around the grid or de-activated. When oscillators and noise generators are stacked on top of each other in a lane, the signals are combined together. You can specify the inputs in the different lanes and route signals to your heart's content. The main grid makes it easy for you to see the signal path and components that are used to create your sound '" Zebra2 displays only the modules that you use.
Oscillator Editor

The ability to sculpt waveforms gives designers the ability to construct core sounds'