There's no doubt that the demand for authentic analog sounds is alive and well. You just have to look at Arturia's popular product range to see that the demand for these virtual classics is at an all time high.
So far we've seen some truly awesome recreations of actual hardware instruments but Diva breaks the mould slightly here. U-he have decided to recreate parts of a few different synths and allow the user to mix and match these components. The question is does it sound authentic?
Diva's Interface
When I installed and loaded Diva, the first thing that hit me was how much like a Mini Moog it was. Not so much the color scheme but the control layout. In fact, it more or less screamed Moog at me. At this point I thought it was going to be a Moog clone more or less and give me the same results as the Arturia or G-Force Moog based instruments.
After a very short time, I realized that this was in fact just Diva's default setting and that you can actually change the layout by using various oscillator, filter and envelope models.... But I'll get to this.
Another thing that struck me was the actual size of the interface. Generally speaking Diva's interface is larger than most instruments, at the very least it appears to be. This is a welcome feature in my book as I find it really practical to have a clear view of the instrument you're working on.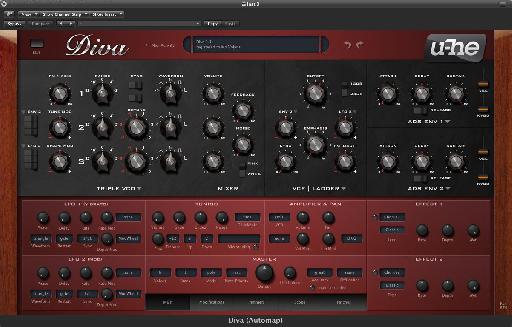 Diva's default patch looks very Moog like.
Diva is capable of warm rich analog style sounds like this brass patch:

Another plus is that you can change the size of the interface, the color of the LEDs on the knobs, or even load custom skins if you feel so inclined. Overall Diva looks great and begs to be tweaked.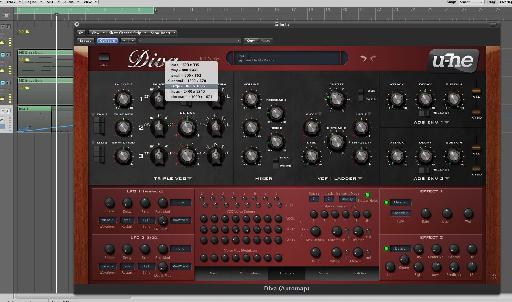 Customizing Diva's interface is easy.
Pick And Mix
The main thing to realize about Diva is that each of its key areas can be changed to suit your needs. For example, you can choose between a selection of oscillator setups, filter types and even envelope types. Each of these seem to represent varying types of either Roland or Moog hardware.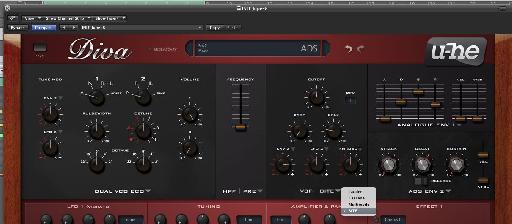 Diva allows you to switch the style of each area of the instrument.
The variations you can create using this system is pretty dizzying and may be a touch overwhelming to the newcomer. If you find that you need a bit of direction when you get started with Diva, I would suggest trying one of the excellent bundled templates. These are named by synth type (or as close as they could get) and should give you a great idea of what's possible here.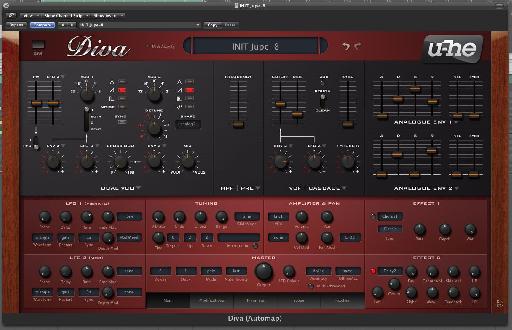 Diva's Jupiter 8 set up.
A custom string patch using Diva's Jupiter 8 template as a foundation:
I found that simply tinkering with my own combinations created some awesome results. Each module truly has an individual sound, so don't be afraid to get stuck in here.
Diva In Action?
Ok, so it looks nice and has some great innovative features but how does it sound and perform? Honestly, this thing sounds amazing. I really think we are getting closer and closer to true analog emulation and Diva is currently one of the best I've heard.
This accuracy does come at a cost though, CPU usage is pretty high but the latest update promises 40% lower usage than the initial release. I have only used this latest version and using an 8 core Mac Pro I did find a pretty significant CPU hit but to be fair it wasn't any higher than other high end soft synths.
Diva's analog emulation allows for really fat patches like this punchy bass:
On top of its authentic sound Diva has some great features. Two effects units, numerous modulation options, advanced glide features and an extensive multi-voice unison section are amongst some of the highlights. Add to this a well put together patch library and you have one of the best virtual analogs out there at the minute.

Diva has some great effects and modulation options.
It would have been nice to see a dedicated arpeggiator and / or step sequencer here and perhaps a few more effects choices but it's early days and I'm sure Diva will develop as time goes on. All in all a very nice job from the u-he crew.
Discover more about the u-he Diva.