Sugar Bytes is well known for its innovative approach to plug-in design, and the German developer has now brought its skills to bear on the iOS platform with a version of its much-loved sound mangling processor Turnado for the iPad. Like many of the more serious apps we're seeing released for the platform, it's a little more expensive, but then it's a lot more capable.
The interface will be fairly familiar to anyone who has used the plug-in version, but here there are more options and tools than you might expect from an iPad app. The first thing you'll want to do is load up a loop, and it comes with some great bundled sounds. Load one up and hit play and you will find that dragging any of the dials on the eight effect slots will dynamically apply that effect to the sound. There are four X/Y pads available and each can be made to "stick" – to remain in the position where you release it – or to spring back to zero when released. This means you can dial effects in permanently or punch them in and out on the fly. Hitting the red reset button returns all effects to the "off" position instantly.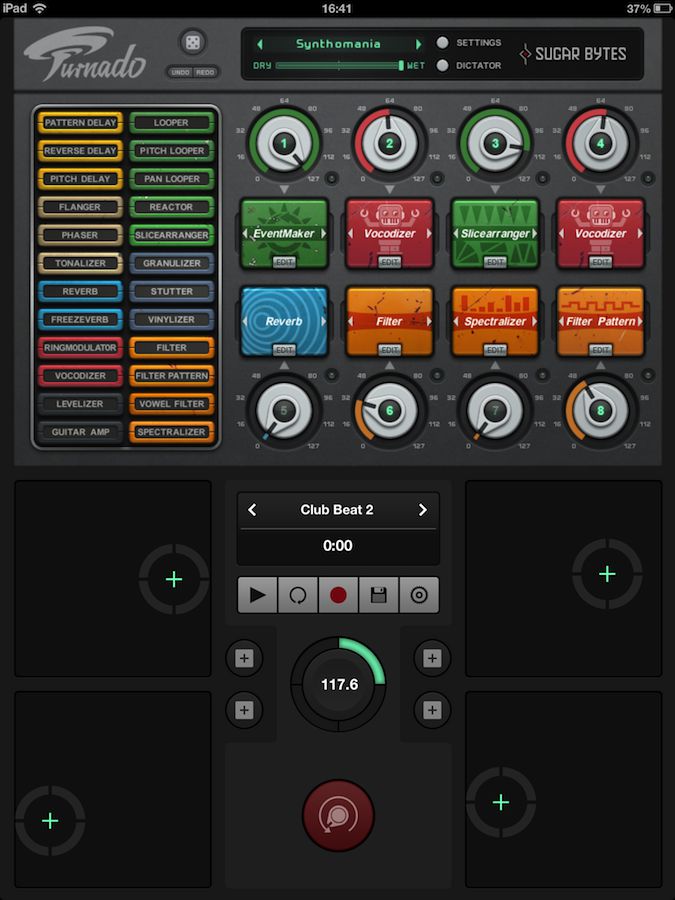 The four pads let you manipulate the eight effect slots in realtime and can be made "sticky" or free.
Each effect slot can be reassigned by simply dragging and dropping a new one from the palette on the left, and if you tap on an effect's name you can choose a preset for that effect. There are also global presets of course, and a randomize button to insert a completely new set of effects for you to keep things interesting. A master dry / wet fader even lets you balance the amount of effect that is applied globally.
The effects are excellent, running the gamut from slicers and loopers, stutter, glitching, crunch, vocoding and many more. Everything stays in time and there's even a tempo dial where you can drag up and down to set the speed of loops or tap a new tempo in. Tap on any effect's Edit button and you reveal a full control section where detailed settings can be made to tweak the effect and this is of course saved with any presets you choose to save. The interface can be zoomed here too, making things easier to work with.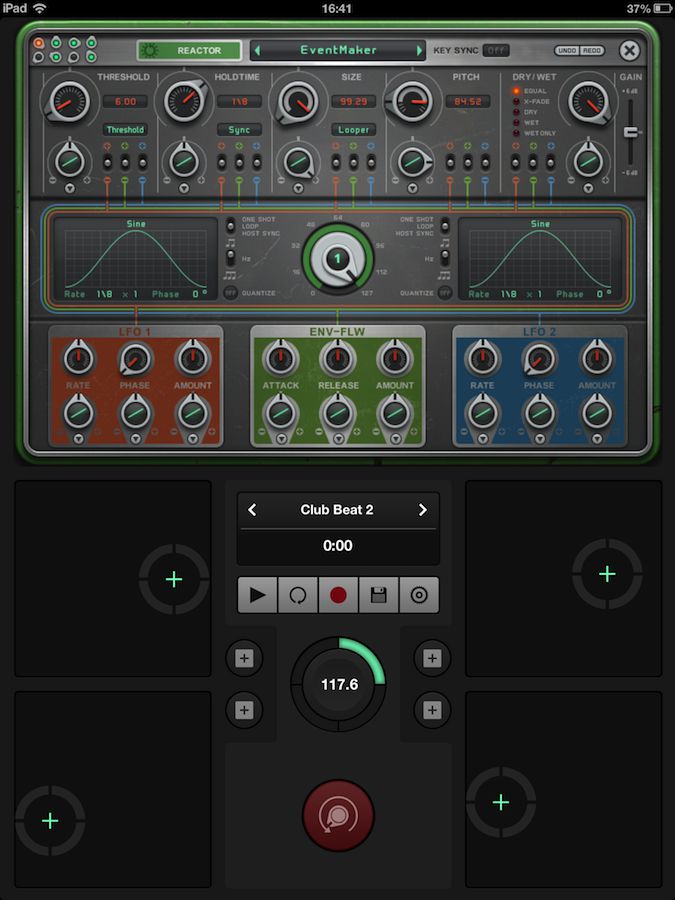 The Edit section lets you fine tune the behaviour of any effect and you can zoom in to get a better view.
Turnado has MIDI support so you can connect a MIDI device or controller and assign CCs to any parameters, and tap and hold on a control to use MIDI learn and create your own maps. In the Settings section, it also lets you route sound in and out dynamically so it can process external signal as well as just audio files. Audio copy and paste is supported, and files can be loaded from iTunes on your iPad, loops recorded and exported back to iTunes or pasted elsewhere. At present you can only record up to 8 bar loops and load one file at once. It would be amazing to be able to load two files and have a more DJ-like setup. There's also AudioBus and Jack support.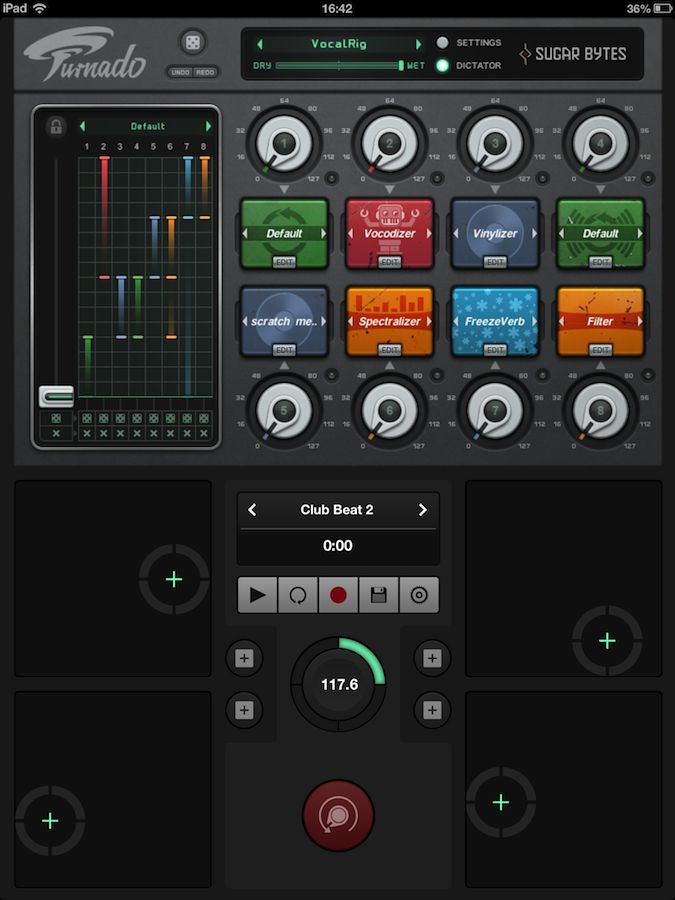 Use the Dictator mode to control all the effects at once.
Turnado has one more trick up its sleeve, which is Dictator mode. Here, you can set effect levels at specific points on a grid and then use a single fader to manipulate them all at once, making it a really cool performance tool. Turnado is an amazingly powerful audio mangling tool for the iPad with a good depth of editing features and some clever I/O options. The ability to work with more than one loop at once would make it peerless, so hopefully this may be added in future.
Web: www.sugar-bytes.de/content/products/TurnadoIOS/index.php?lang=en