Review: Traktor Kontrol S2 MkIII
NI's brand new family of Traktor controllers come with a raft of new features as well as the new Traktor 3 software. And the S2 will even natively connect to iOS devices. Hollin Jones went for a spin.
If NI's Traktor family has felt a little like it's taken a back seat in the last couple of years, that's only really because of the sheer range of other gear NI has been developing and releasing. Plus, digital DJ'ing is already pretty advanced, so any major update to the hardware and software was always likely to be saved for when there was a major step forward ready.

And step forward indeed the new generation of Traktor - version 3 of the software, and the third generation of the controller hardware. I'm looking here at the Traktor Kontrol S2 MkIII, although there's a bigger S4 as well, which was also demoed to me back in summer 2018 by the Traktor specialists at NI's London offices. Just like with Komplete Kontrol or Maschine, every variant of the hardware works with the same software. In this case that means Traktor Pro 3, which comes in the box, or Traktor LE.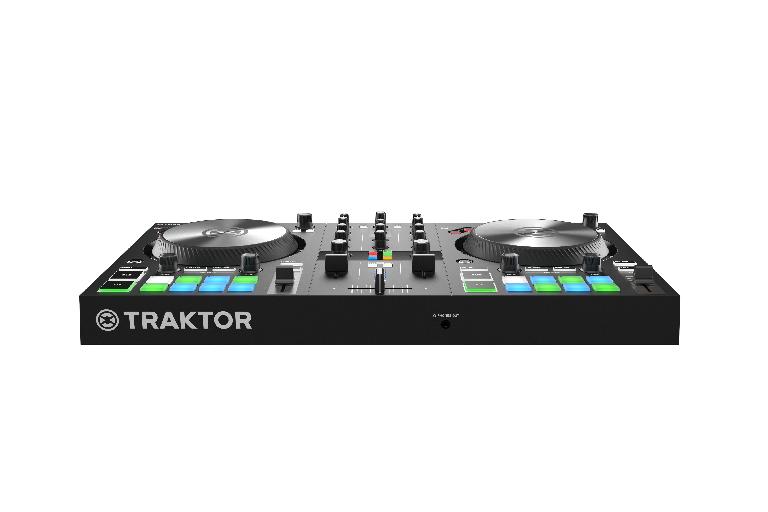 I had the choice of the S2 or S4 when reviewing (one of the perks of the job) and I went for the S2 because I think it's a more accessible unit for a wider range of people. I'm oversimplifying a little, but in addition to experienced DJs it's also designed for keen amateurs or those looking to get started in DJing. It has plenty of features of course - it's just that the S4 is really more of a pro solution and therefore likely of more interest to serious and already-experienced performers.
Why Hardware?
Digital DJ'ing is a bit like any musical performance in the sense that while you can technically do some of it with a mouse and a screen, it works an awful lot better when you are able to get hands-on and use hardware to interact and perform with the software. The Traktor Kontrol S2 has NI's hallmark build - unfussy yet solid, lightweight and sturdy - and the physical controls are smooth, reactive, accurate and reliable, as they are on all the company's latest hardware models.

It's USB powered - the only new Traktor Kontrol unit that is - with an optional PSU input if you prefer. It also has an integrated audio interface, because frankly who wants to carry around two boxes? NI has really nailed this particular functionality now, and tends to fit audio I/O wherever it can within the power requirements of a unit. Audio is 24-bit at up to 48KHz, and there's 1x 1/4 inch TRS mic input with gain control, phono and mini jack main outputs although no further audio inputs - these are saved for the larger models. A headphone out on the front edge is a mini jack format, to save space.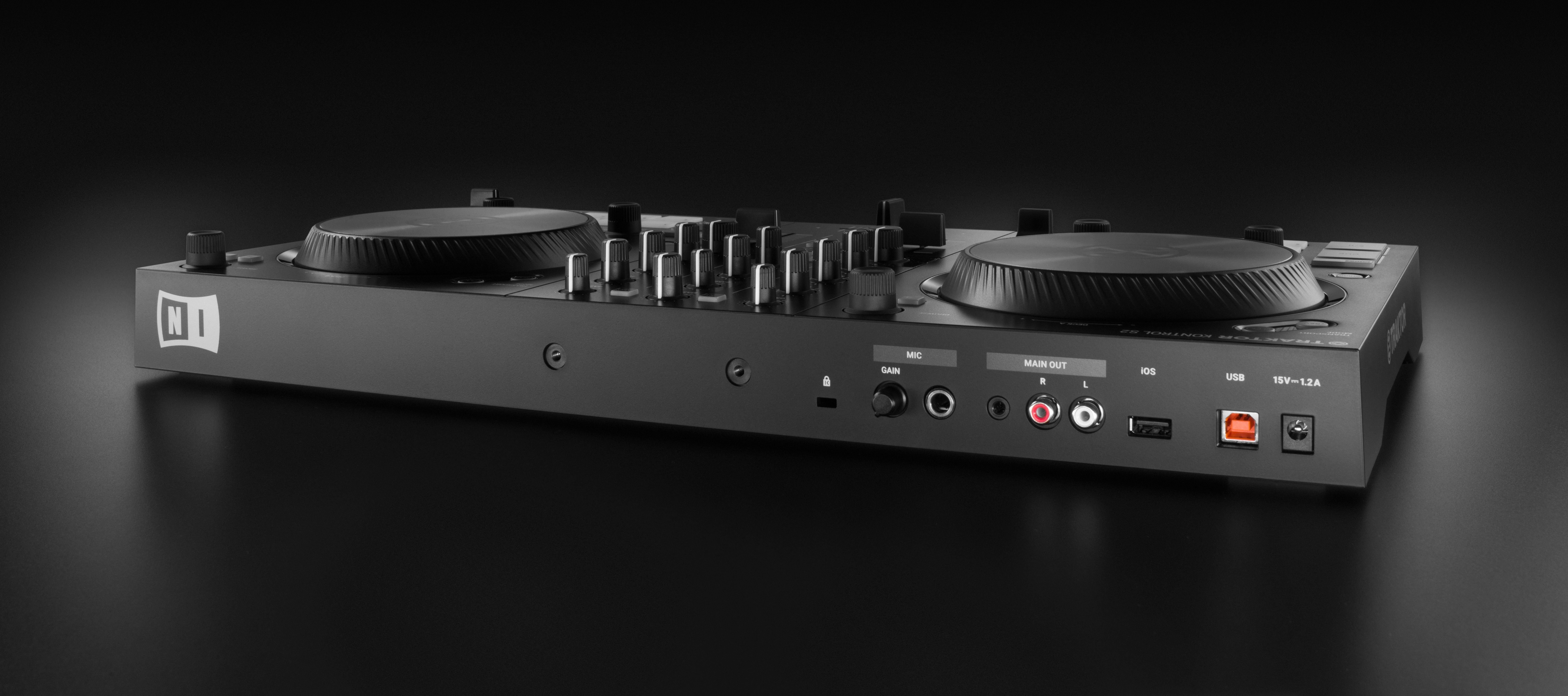 There's also an iOS port which does nothing at present, but NI told me that this unit will support connecting an iPad or iPhone with Traktor for iOS installed, and controlling that app. This is presumably waiting on an update to Traktor for iOS, but it's a tantalising prospect, especially as audio will presumably be handled via the S2's internal interface, so your iOS device will do the processing while the S2 does all the cool stuff. I can't wait to try that out since I love the iPad as a DJ platform.
Fire It Up
The S2 hooks into Traktor Pro 3, a big update that introduces a new, flatter and more streamlined look as well as an upgraded audio engine, Elastique 3 time stretching algorithm, new mixer FX and improvements to Flux mode that support the new Reverse button on the S2 - this lets you reverse any deck then release the button and not lose sync, jumping back to where you were.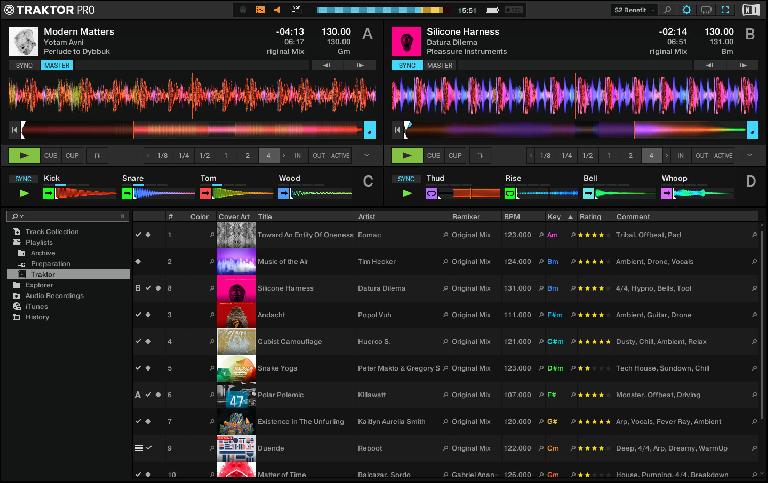 The top surface has had a redesign, with a greater focus on workflow. There are two physical deck controllers, each identical. You load and browse sounds using the Browse dial and control playback using the new jog wheels. These are larger than before and have a different feel - they are touch sensitive and extremely responsive to input for cueing, scratching or navigating. Thanks to the automatic beat grid and beat matching that has taken yet another step forward in this new version of Traktor, keeping tracks synced and in time is easier than ever. Of course it still works best with music that fits a certain profile - clearly defined beats, regular rhythms - but it's surprisingly good with hip hop, experimental EDM and other styles that aren't necessarily just 4-to-the-floor kicks.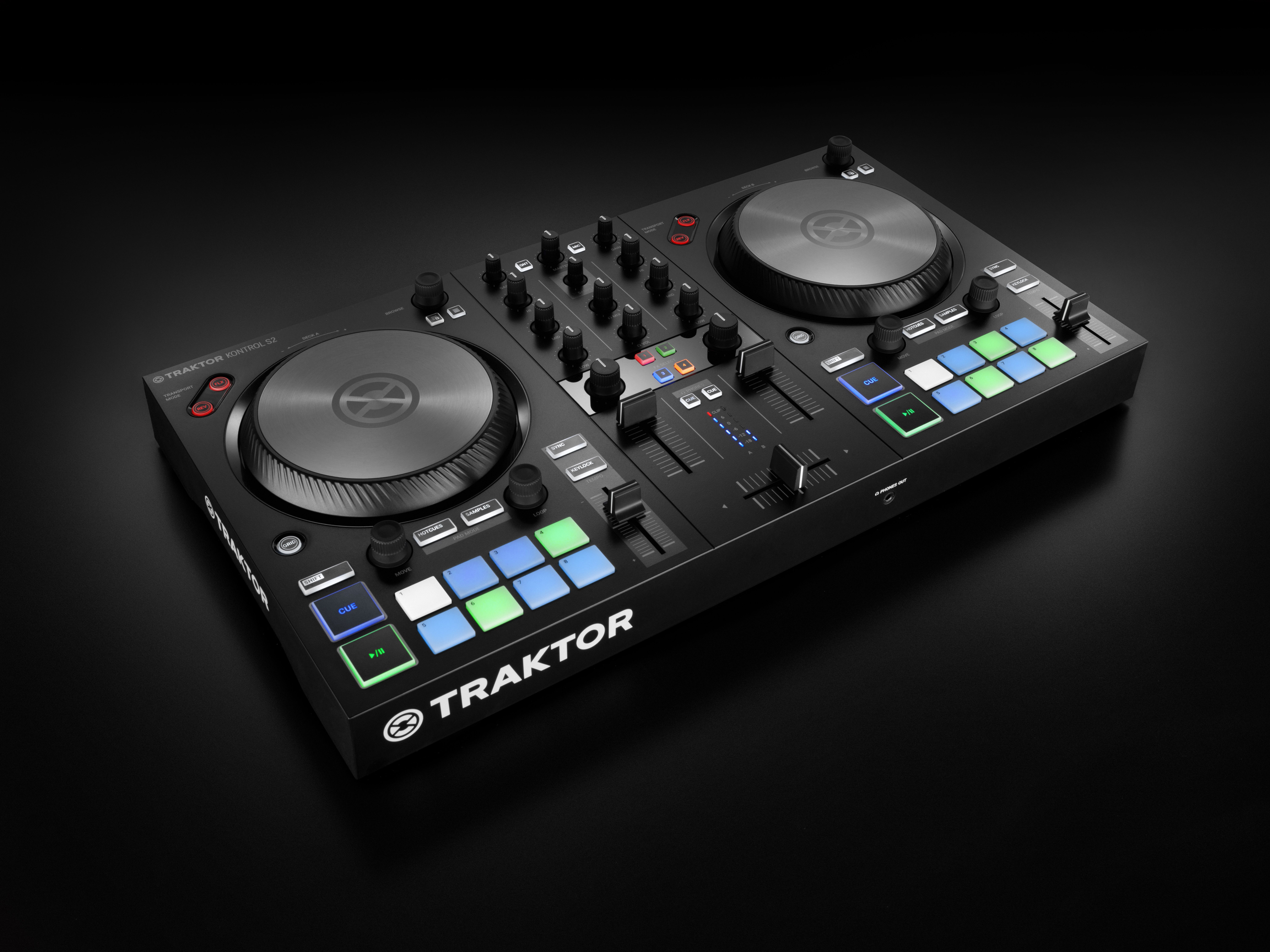 Here's the skinny - I am not exactly a turntable champion, but I found it surprisingly easy to sync and beat match using this new software and hardware. Yes, it's doing some of the work for you, but your audience doesn't know that. If you want to really show off there are plenty of timecode vinyl systems out there, but this is easier, and fun. That's not to say it's simplistic at all - just that the learning curve is more gentle than you might have thought.
Pad Up
NI has included 8 of its signature backlit RGB pads on each deck, and these can be used for all kinds of tricks including setting cue points and jumping around a track, punching in samples and loops of your own using Remix decks and much more. Of course there's support for NI's Stems format too, for easy remixing on the fly. It's simple to switch between hot cue or sample modes - again, NI has codified this into two buttons which are very clear. Looping and moving loops is also simple using the dedicated controls, as are setting sync and tempo adjustment. At the top of each deck is a new Transport Mode switch with two buttons - Flex and Reverse. By using the software's tempo analysis features coupled with the excellent new jog wheels, you can perform pretty advanced scratches, cuts and speed effects without losing your place in a track.
New Mixer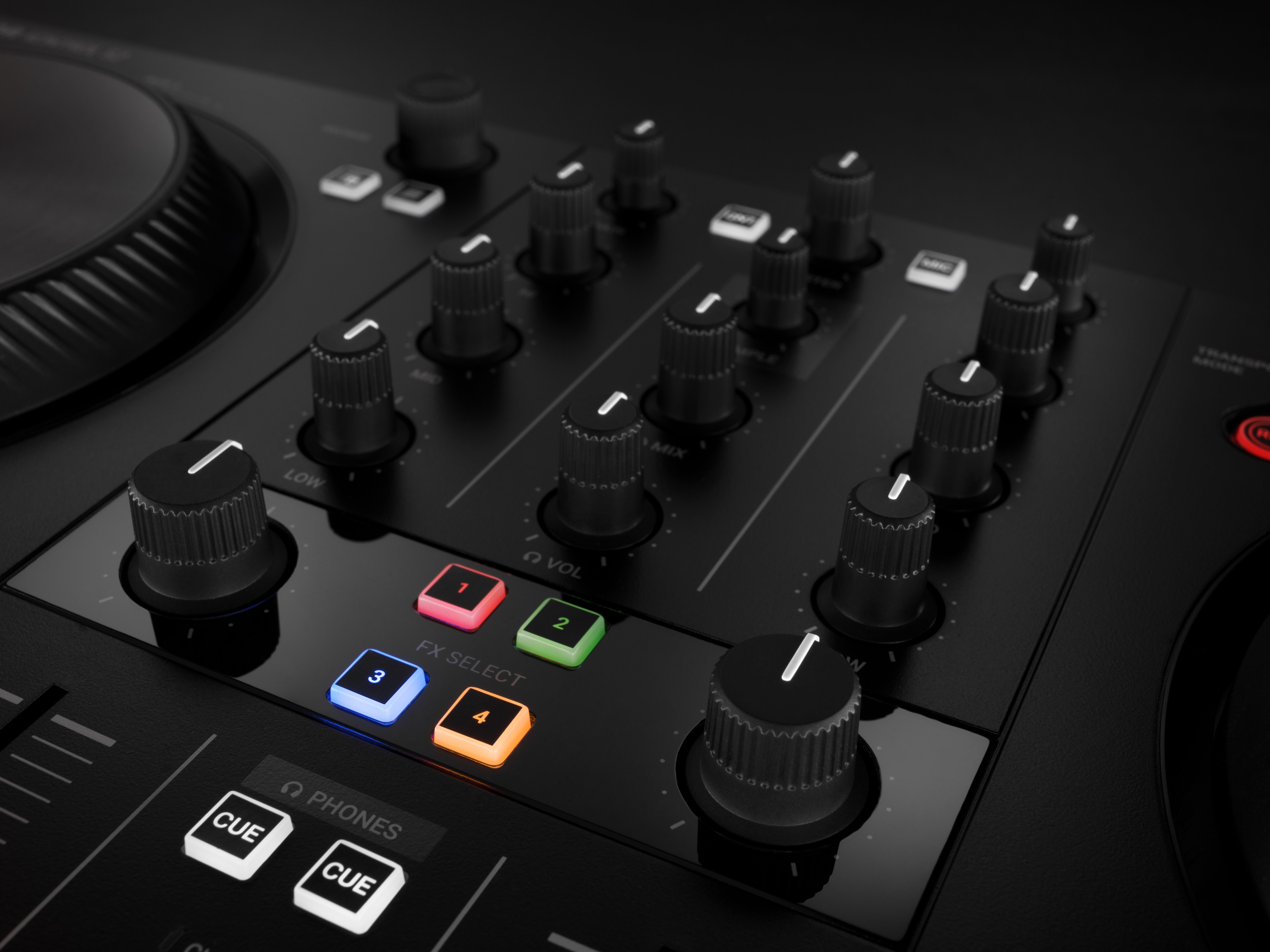 In the centre of the unit, in addition to crossfader, level meter and headphone cue controls is a new, colour coded FX section. There are eight FX and three filters that can be selected using the four buttons, and dialled in using the associated knobs. Finally of course there's dedicated lo, mid and high EQ controls and further headphone mix and volume controls for more accurate cueing.
Conclusion
The S2 follows NI's new strategy of creating some more affordable hardware products alongside its pricier and more "pro" gear, but bundling them with the same software. The S2 is a great way into the world of digital DJ'ing that balances affordability, ease of use and features in a way that really works. On the one hand you sacrifice a few things like XLR ins and the (very cool) haptic drive motorised jog wheel that's found on the S4. But then you gain portability, forthcoming iOS support and also a simpler and more accessible overall learning curve and performing experience.

Ultimately the S2 is great fun to use and will probably make you sound like a better DJ than you really are - until of course your skills improve and then you can do even more impressive tricks! It's portable enough that you really can throw it in a backpack (carefully), it powers over USB and has an audio interface - it's everything you need to perform, and look serious, without breaking the bank and without carrying a huge amount of kit. The new jog wheels are responsive, the controls overall are extremely well thought-out and easy to learn. And if you're already a decent DJ, there's plenty to like with the new reverse mode, improved beat grids and expanded mixer FX.

Comparison between all Traktor controllers: https://www.native-instruments.com/en/products/traktor/dj-controllers/traktor-kontrol-s2/compare/