Tracktion has been given another huge overhaul, with some great new features. The upgraded unique single screen user interface now has some new methods for navigating the software. If you want to know a bit more about the previous versions you can check my reviews here for Tracktion 5: https://ask.audio/articles/review-tracktion-5, and Tracktion 6: https://ask.audio/articles/review-tracktion-6. Let's take a look at the overhaul of Tracktion 7 and its features.
New User Interface
The first new striking feature of Tracktion is the color change of the interface. Before it was quite a minimal looking white UI with some shades of blue, orange, and green. But now it's a striking dark blue, which Tracktion have labeled the 'Blue Steel' User Interface. I find that it's much easier to see and read items and menus on the interface now. Interesting how a color change can make a huge difference to the software you're interacting with.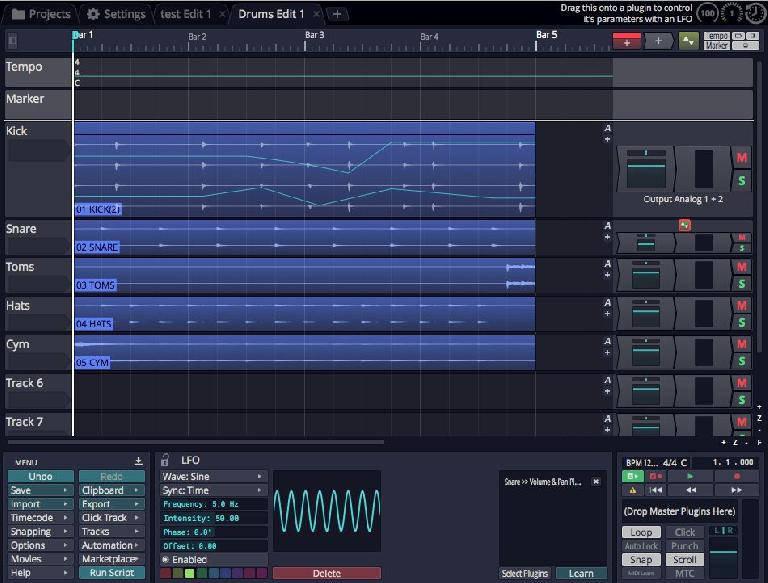 Also, they have made some changes to the windows where some can now be minimized which really helps this single-screen DAW, especially if you're working on smaller screen devices such as 13-inch MacBook, for example.
So here's what the transport panel looked like before: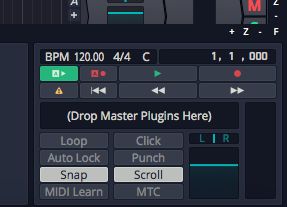 And now here is what the new minimized panel looks like. So you still have most of the controls available to you, but they are very easy to read with their icons.

And even if I want to jump and edit an effect quickly I can click on the wrench icon and the effect pops up for easy editing. So things like these pop-ups help you manage your screen real estate and your workflow nicely.

An updated Browser panel, also known as the Projects Page, now has column views. So you can quite easily navigate through your projects, with their respective edits, and the media associated with them.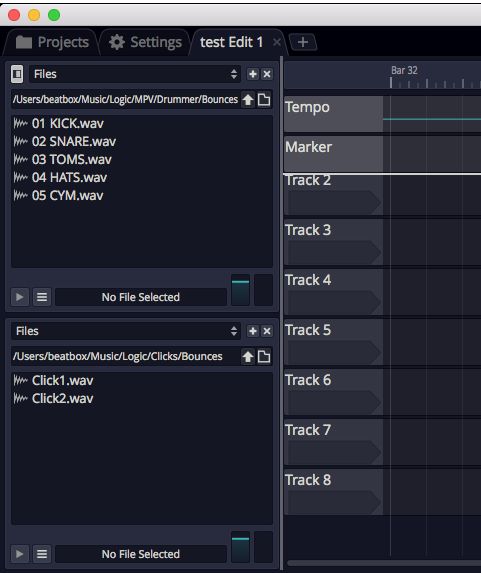 Simple Setup
And if you're new to the DAW world Tracktion have made it easier than ever to get up and running with their Simple Setup Tasks that pops up when you first launch it. So it takes you nice and easy through the setup of getting your audio device setup, and scans your machine for plugins and audio content.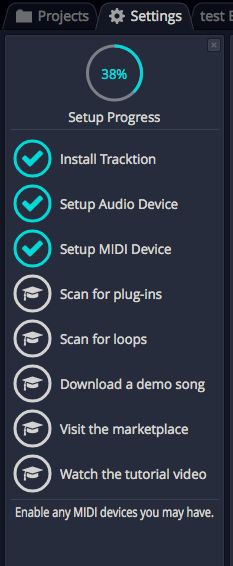 Plus there is now a visual plugin adder. Before you'd click on the + sign at the top to add a plugin, drag this to a track , and then a drop-down menu would appear with the plugin categories. Now if you right-click on this + sign, it brings up the visual plugin adder. This makes it not only more visually appealing when adding tracks, but quicker too.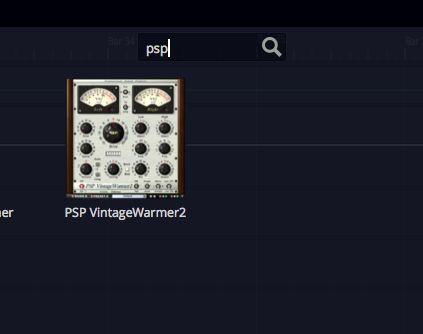 Grouped and Linked Clips
On the editing side, there have been some additions around how you work with audio and MIDI clips. Clips can now be grouped together. This packs the grouped clips into an enclosed bigger clip so it's easier to move these groups around on the arrange area, rather than trying to select the clips and move them around. This feature really works well with drum editing. You can go in and comp your snares for example. Then you can group the snares together and move this grouped snare clip around as a whole. This can really help speed up the editing process.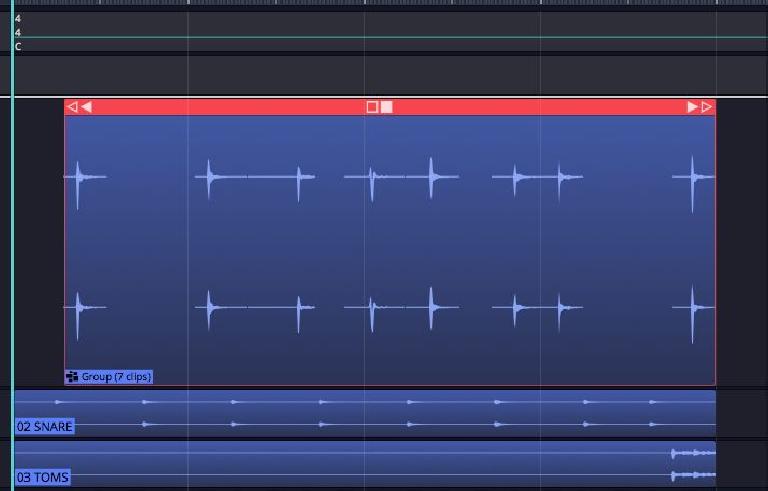 Then there is also the addition of linked clips. So if you duplicate a clip to place later in your arrangement, you have the option of linking these clips. If you add extra edits into the one clip, it'll be added to the other as well. A great time-saver on the audio and MIDI-editing side of things!
Automated LFO Parameters
A super cool new feature is the LFOs that you can use to automate parameters. You drag the new LFO icon, which is next to the add plugin icon, and drag this onto a parameter. You then choose what you want to modulate. And when you playback, the LFO modulate the parameter. You can edit the sync timing of the LFO, plus use different LFO waveform shapes.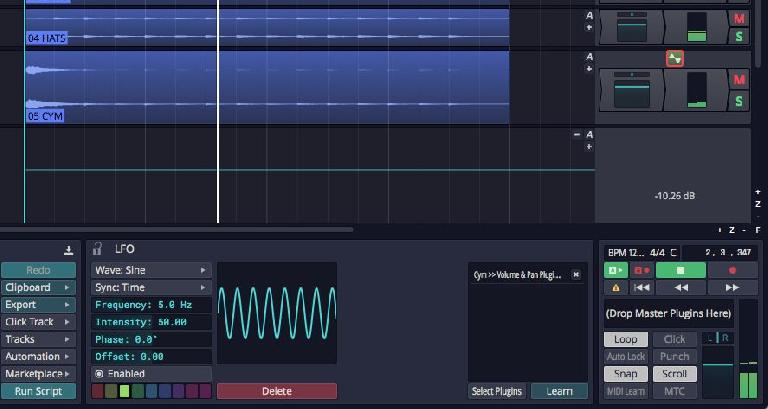 Layered Clip Effects
Tracktion 7's most unique feature is the Layered Clip Effects. On a clip level, you can add different forms of effects—effects can be applied to the same clip, plus you can go in and automate these effects. For example, on the same clip, you could add a tape stop effect, a reverse, plus some step sequenced volumes, and pitch shifting. How crazy is that! So this gives you a lot of flexibility in working with these clips.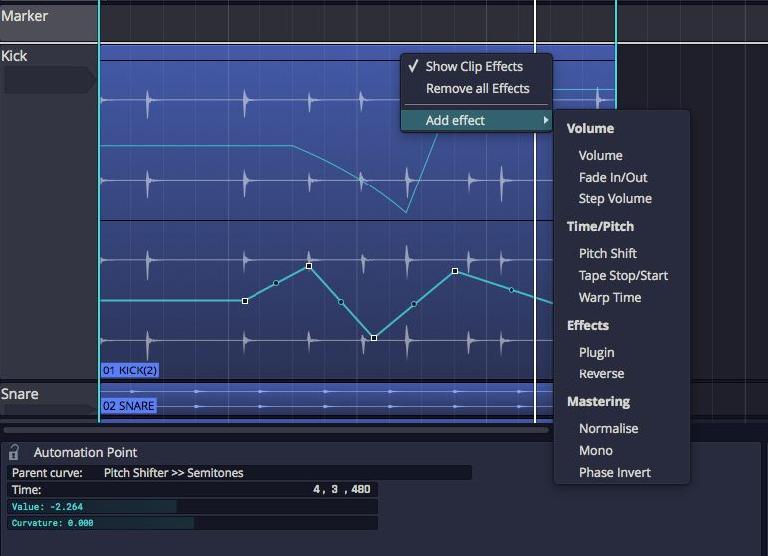 And you can hide the clip, so you don't see all these lanes. The only thing I would have liked to have seen is a better indication that a track has layered clip effects on it once hidden. The small FX icon on the clip changes color, but something a bit bigger on the clip would have been better. For example, if you have let's say 30–40 tracks it's a bit tricky finding which tracks have clip effects on them. Maybe even a shortcut key to show/hide the layered clip effects would be a good option in a future release. But that still doesn't dispute how handy this feature is.
Conclusion
So Tracktion has really added a whole load of big features into this new addition. But the biggest? It has to be the new interface look, and the Layered Clips which can really come in handy when you get deep into editing your audio clips. All in all, a very cool new release.
Price: $60
Pros: Great new slick and clean user interface. The Launch clips is a very handy addition. LFO Modulators are a great creative tool.
Cons: The single screen setup may be limiting. It could still have some extra MIDI editing functionality. It's hard to tell which tracks have layered clips, when hidden.