Tracktion has reached its 6th incarnation, and some nice features have been added to this new version. The existing unique single screen interface adds to the ease of use, but these new features really up the production factor on this release. Let's take a look at this new version and what it has to offer.
What is Tracktion?
For those of you who don't know about Tracktion, let me give you a quick rundown. What's special about Tracktion is that it has a single screen user interface, meaning that everything resides on just one screen. You don't need to pull up other windows to get to the functions. It all sits comfortably on one screen.
With this, they have added unique functionality, such as an inline mixer. There isn't a separate mixer window. Instead the volume, pan, and effects all sit on the same track lane, and you can quickly and easily adjust each track when needed. Workflow methods are basically from left to right. Your track inputs on the left, your audio and MIDI clips in the middle, and your mixer parameters on the right, making it very intuitive to use the application.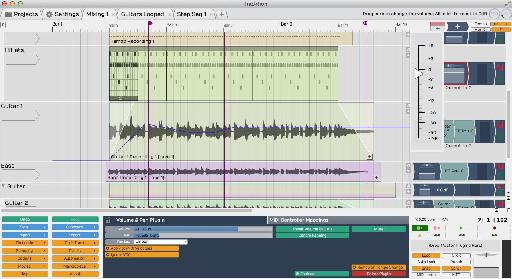 Tracktion User Interface.
This also means that your MIDI editing is done inline through the clips and step sequencer clips, instead of in a dedicated MIDI editor.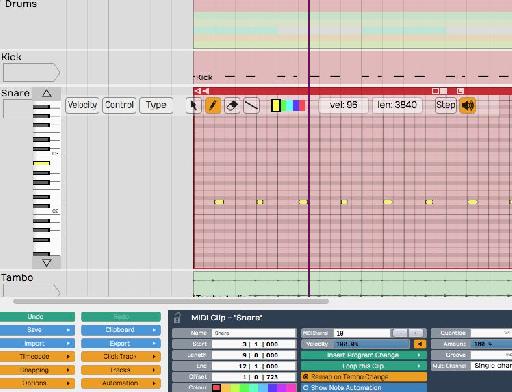 MIDI Inline Editing.
Another aspect of Tracktion is that it supports drag and drop functionality. So if you want to add an effect on to a track, simply drag and drop it in the right side of the track lane and the effect is added. Or, if you want to change your audio input drag it down from another audio track input.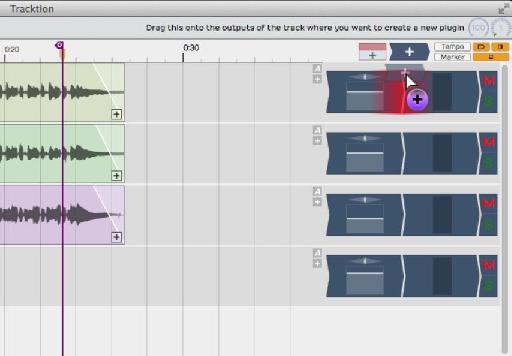 Drag and Drop outputs to your track.
So there is this modular aspect to Tracktion. You can quickly change the chaining order of your plugins by dragging them around on the inline mixer. You can even create effects racks where you can cable different effects into each other creating all forms of parallel processing with these effect racks.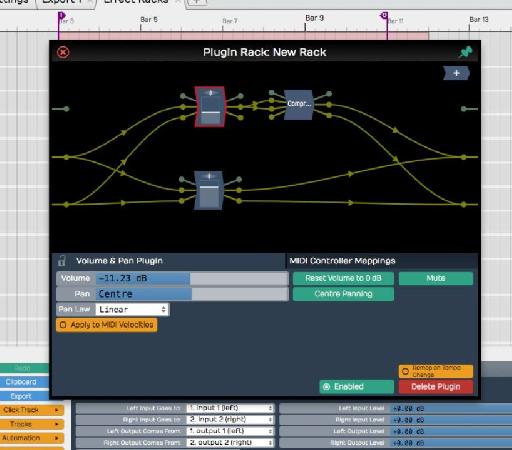 Modular Effects Racks.
And what's most impressive is that this DAW will only set you back $59. That's an absolute steal!
So, that's Tracktion in a nutshell. Now let's look at the new features.
Track Tagging
The tagging editor is a useful feature that allows you to tag elements in your song or project. In the previous version, you could add tags to your presets. But now with this new version of Tracktion you can also tag your tracks, which helps improve your workflow with your songs. What you do is select a track and then add tag descriptors to it.
"The Tag Editor is an innovative way to help you manage your songs, especially when working with lots of tracks."
For example, you could tag all your drum tracks with the tag: drums. Then you can simply click the drum tag to show only the drum tracks in your song, and hide the rest of the tracks. It's an innovative way to help you manage your songs, especially when working with lots of tracks.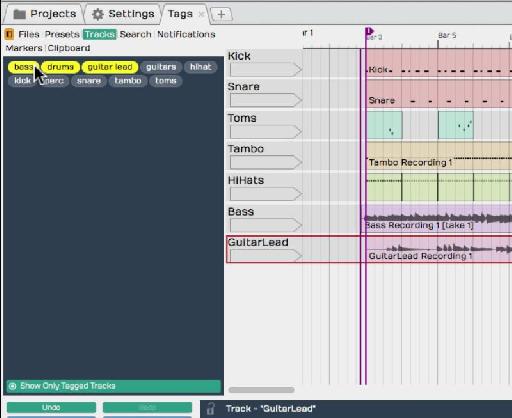 Tagging Tracks.
Comping Audio
In Tracktion 6 you can now comp your audio tracks. You do this by choosing the tracks and then creating a comp group. Now you can swipe through the comp group and choose the best parts of each take. So you could record in a guitar part by creating a looping region, and each time it passes the loop again it records a new pass. Another new feature in Tracktion 6 is that you can see waveforms as you record your audio in each time it starts the loop again. You can then go through each take and choose the best parts easily.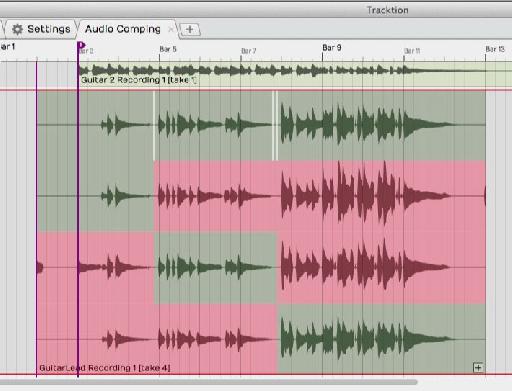 Comping Audio is easy in Tracktion 6.
Pitch and Time Tools
Advanced Time and Pitch stretching algorithms are now included with this new version. This falls under Tracktion's new Time Tools set. Now you can take your audio and use the Z-Plane's Elastique Pro algorithm to stretch your audio to different tempos in your tracks.
" Elastique Pro mode works seamlessly, and there are very few artefacts when stretching the audio."
You simply select an audio clip; choose the Elastique Pro mode and then hold down Option (Mac) or Alt (PC) and stretch out the audio clip. It works seamlessly, and there are very few artefacts when stretching the audio. It's only noticeable when you start stretching the audio clips to extreme lengths.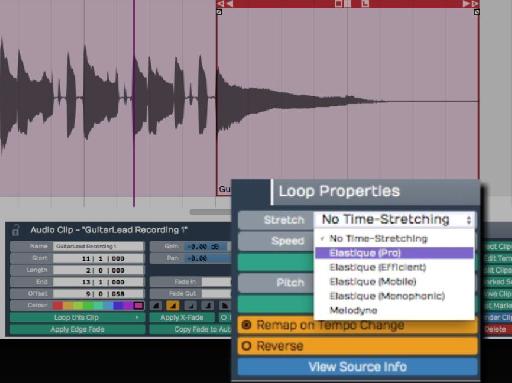 Tracktion 6 now features seamless timestretching tools.
Melodyne Essential is also included with Tracktion 6. So you can use this as well to pitch and stretch your audio clips. You now have quite a few tools at your disposal to manipulate the timing and pitch of your audio.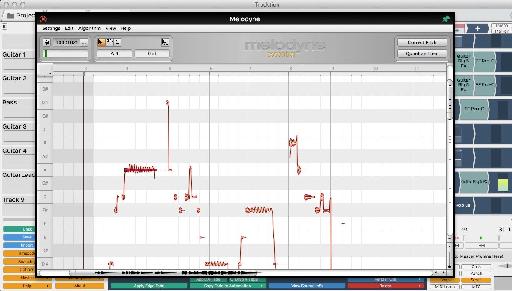 Melodyne is integrated right into Tracktion 6.
Dedicated Automation Tracks
The automation has also been improved. You can now set dedicated automation tracks for your automation. So you could make an automation track for the volume and pan of a guitar part and see each automation lane clearly. Then when you need some more screen real estate, you can hide these automation lanes.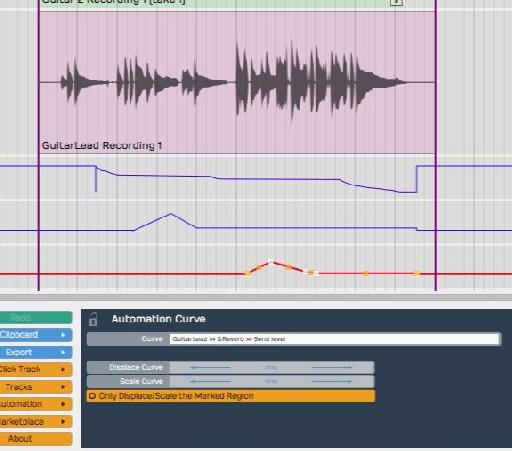 Dedicated automation lanes in Tracktion 6.
And it's really easy to record automation. Just click the automation write button. Then when you play back, any parameter that you move gets its automation recorded. It's that simple.
"It has advanced features; they have just simplified how to execute these actions."
As I previously mentioned, a big thing with Tracktion is its ease of use. And that doesn't mean it's a simple application. It has advanced features; they have just simplified how to execute these actions.

MIDI Advancements
On the MIDI front, there have also been some added benefits. With the Step Sequencer, you can now add in velocity lanes for your step sequencer patterns, which helps get better MIDI performances when you're programming in your drum patterns.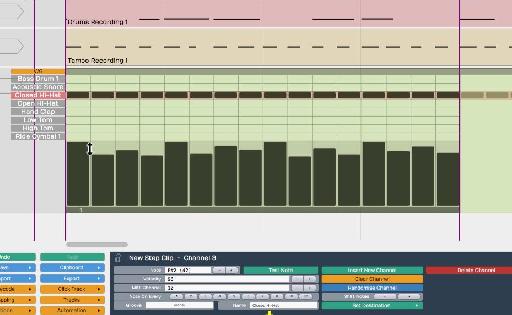 Step Sequncer now features velocity lanes.
Also, you can switch this lane between velocities and gates. You could use the step sequencer to program in patterns for your synths, and then use the gates to create interesting rhythmic patterns.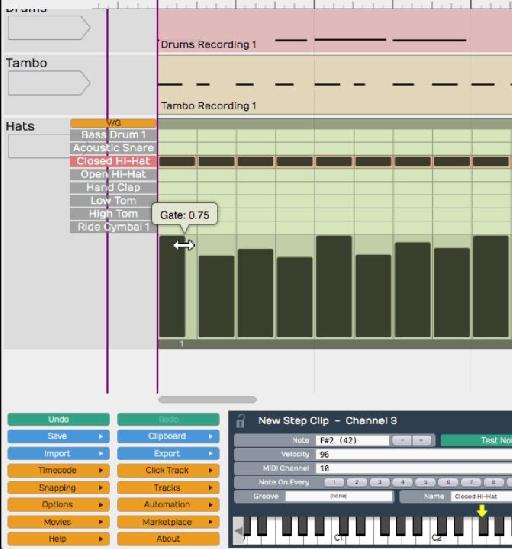 The velocity lanes make it quick and painless to created gatted patterns.
You can also now choose different grooves to be imparted on your MIDI step sequencer clips. Select the MIDI clip and then apply a groove. There is quite a selection of groove presets, plus you can create your own groove preset and save it for use in future projects.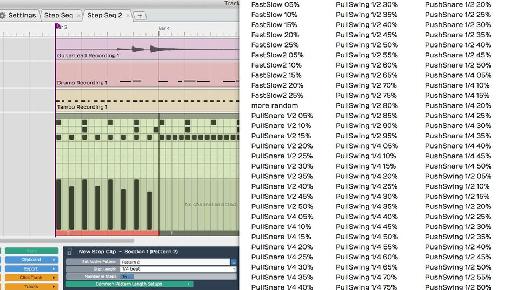 Tracktion 6 now features groove presets.
Conclusion
Overall Tracktion is an easy to use DAW, which can help you get your ideas down fast. The single screen interface also means that you don't have to jump around to different windows when you go from tracking to editing and mixing. The drag and drop functionality makes it easy for you to quickly build up inserts and effects on your tracks.
Initially it may take time getting used to the different and unique user interface layout, but it's really nice having everything available to you right from this single screen. The new features have upped the level of the application, and they will certainly help with workflow in songs.
Price: $60
Pros: Well priced. Easy to use. Drag and drop functionality. Great new Comping feature.
Cons: If you prefer dual-screens setups this may be limiting. MIDI editing tools could be expanded on.