Aimed at musicians and producers dabbling in Progressive Metal and Rock, the Progressive Foundry is one of the largest and most extensive libraries to ever be released. It ships on a USB stick which holds 63 GB of drum samples. You actually get three install options ranging from 14 GB for a basic install to the full monty (63 GB) with all mic and bleed samples.
Once installed and registered you can download the additional MIDI pack that was recorded for the library from your user account.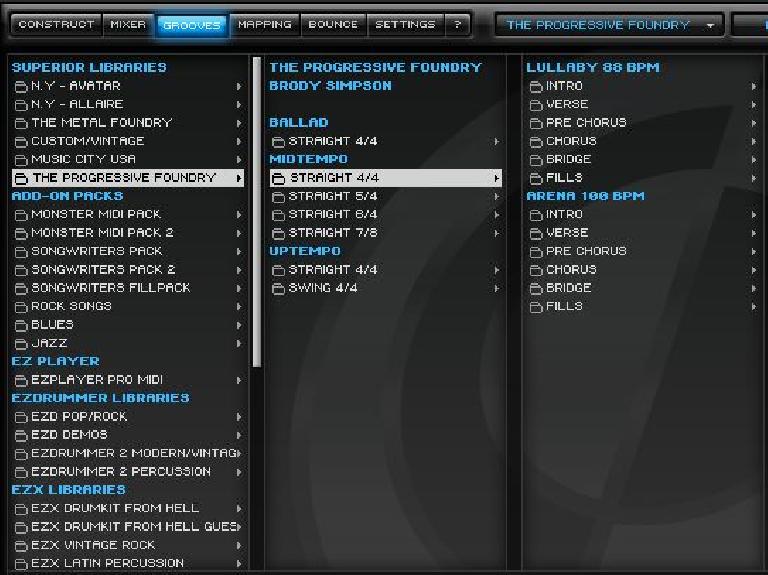 Kits
Progressive Foundry comes with 5 complete kits (Kicks and Toms). These are:
DW Collector's Maple (18x24" Kick, 5 Toms)
Ludwig Stainless Steel (18x24" Kick, 4 Toms)
Ludwig & Rogers (14x24" Ludwig Kick, 3 Rogers Toms )
Pearl Masters Extra Maple (18x22" Kick, 4 Toms)
Yamaha Absolute Birch (18x22" Kick, 3 Toms)
These kits can be loaded from the 'Drum Kit' drop down menu in the construct page.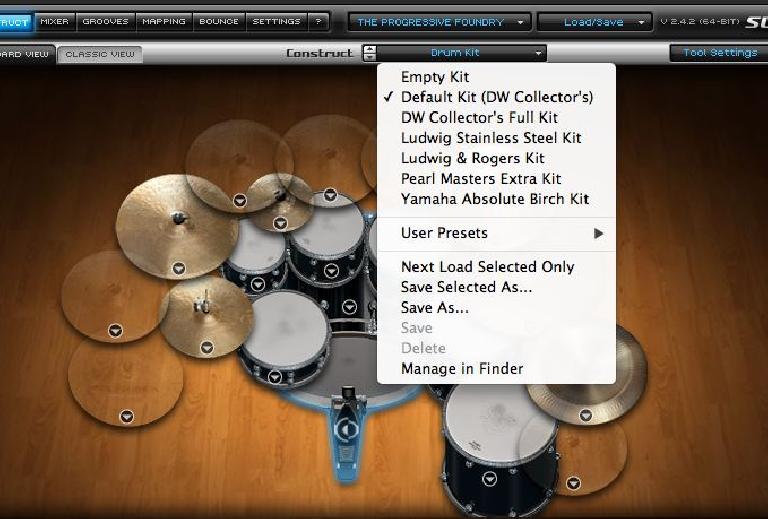 On top of this you get 17 Snares, 5 Hats, 31 Cymbals and 4 extra Kicks! That's a whole lot of drums!!
There's quite a diverse range of stuff here too. The DW, Ludwig Stainless and Pearl Masters Kits are pretty upfront and tight and you'd have an easy time getting a good Metal/Hard Rock sound from any of these kits. Then you have the Ludwig & Rodgers with its huge open Kick that would definitely sit well in any Blues or Stoner Rock track. The Yamaha is slightly mellower and would suit pretty much anything you threw at it!
Of course you can customize your Snares, Kicks and Cymbals all you like to make the perfect kit. The snares are some, if not the best I've heard from Toontrack. From great ringing snares like the Sonor Designer and Ludwig Black Magic Brass to the low tuned fatness of the Ludwig Black Beauty 100th Anniversary. My favorite is the Pearl Mahogany which is just a killer sounding snare!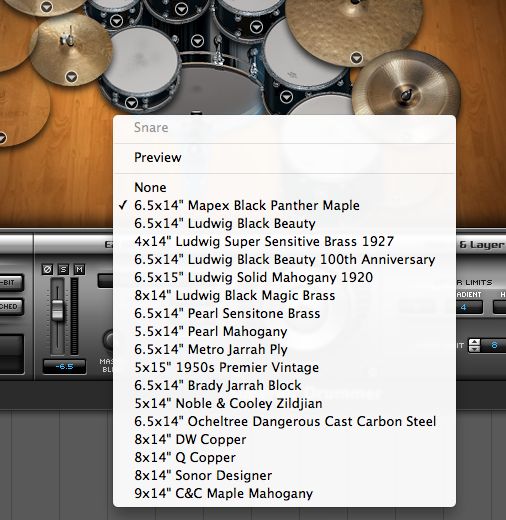 Both the Pearl Masters and Ludwig & Rogers kits have a Snare 'wires off' version. There are an additional four Kicks you can choose from for wires off mode.
Mixing Madness
Then there's the mic selection. There are no fewer than 26 mic channels available in the mixer! Five Kick channels. Four different Overheads (C414, RCA Ribbon, AKG 451 and U47). Four Ambient channels ranging from close to far. There's also a separate Ride mic, something I've not seen before in an SDX.

My favorite has to be the gritty 'Under Kit' channel which has this great crunchy bottom snare wire sound to it.
So when it comes to mixing these kits you have a ton of options to play with. Maybe too much? Nah!!
There are 8 factory 'Combined' mixer presets that ship with Progressive Foundry plus a further 17 bonus ones. Oddly, the bonus presets use the 'Overloud' effect from EZDrummer 2 although they appear as blacked out slots as there's no GUI yet! Maybe a hint of something for the future of SD2 there?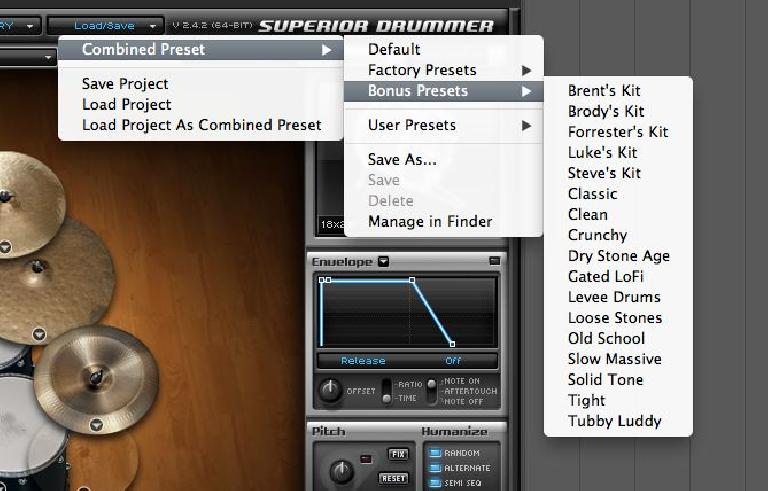 Conclusion
Don't be put off the fact that these kits are aimed at Metal if that's not your thing. These kits would sit in practically any genre and they sound superb. For the money the amount of killer sounding drums you get this SDX is a steal!! In fact if I would recommend just one SDX for someone with SD2 then this would be it!