May 2011 saw the release of a new EZX for Toontrack's EZ Drummer software called Number 1 Hits.
Created by Grammy award-winning producer Niklas Flyckt (Britney Spears, Robyn, Kylie Minogue), Number 1 Hits is based around the classic drum machines of yesteryear with a modern production sound.
What Do You Get?

As with all Toontrack products the bang for the buck is big! Alongside the generous number of samples (which are top-notch!) you get a library of MIDI files suitable to the genre of the samples and a host of useful Mixer presets to get you started.
The samples were made primarily using a collection of vintage drum machines including Roland's TR-808, TR-909, DR-55 and a Linn Drum running into an SSL J series desk.
The thing about this collection is that it focuses on doing one job really well. It's not trying to be all things to all people which is a good thing. Sure, it's not as expansive as the Electronic EZX but the sounds it does offer are quality goods!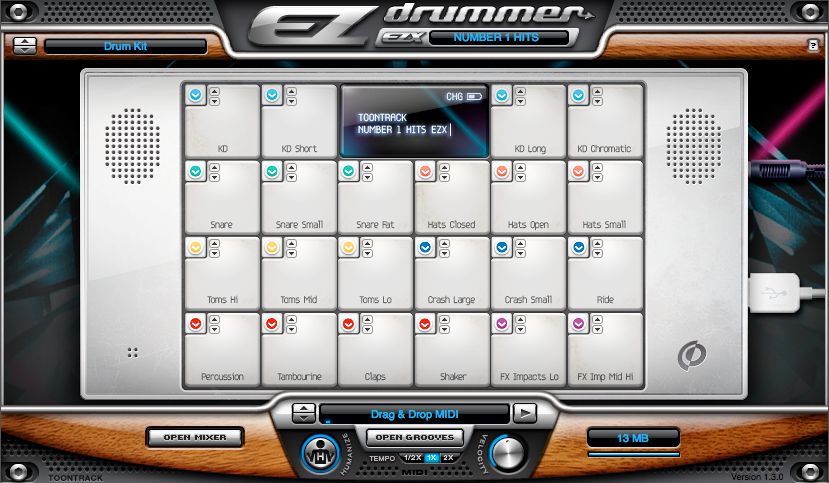 As usual the interface is instantly intuitive and if you're a regular EZ Drummer user you should be up-and-running in about a second!


The inclusion of the Up/Down sample selection buttons on each of the pads is a most welcome feature that makes scrolling through and auditioning sounds a breeze. This was my only gripe with the Electronic EZX to which this library would make a perfect companion. 


Sounds With Attitude!


Alongside the raw samples you also get a processed version of the drums that come in to the mixer via a set of Attitude channels. There is one Attitude channel for each sub set of drums like Kick, Snare, Hats, Toms etc.








These samples have been processed either using just the right amount of compression and grit to really add some punch and weight or embellished with some lovely vintage style Plate and Spring reverbs.




Here's the sound of a kit with the Attitude channels muted:




And now with the Attitude channels blended in:
The result is a more exciting sound that shouldn't really need any more processing at all.






Conclusion





All in all a nice addition to the EZX line of products. The library is geared towards the modern Pop/Dance genre and delivers with style.




Of course if you own Superior Drummer the library will become even more versatile. The ability to tune, edit, layer and integrate with other Toontrack libraries should keep you busy for a while! 




The only thing this library can't do is actually write you a 'Number 1' hit! It can however get you a lot closer to sounding like one!