So it looks like EZdrummer 2 is starting to show its full potential and has quickly started to replace its big brother Superior in my usual everyday workflow. It has added a whole bunch of new features that really make it a customizable and fun bit of kit.
The newest release in the EZX line for EZDrummer 2 is Hip-Hop! and really is one of the best creative libraries yet from Toontrack. It's produced by Mattias Eklund and Alexander Juneblad and brings 22 full production kits and a whole mess of useful acoustic and electronic percussion to the party.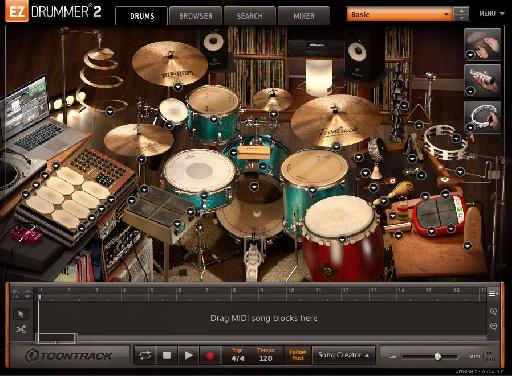 The Kits
The 22 supplied kits cover a wide range of Hip Hop styles with the main nuts and bolts of each kit built squarely around a more acoustic feel with a load of electronic and percussion elements bolted on.
All the sound elements are really well designed and mixed and are ready to go out the box. While many sounds are re-purposed from other Toontrack libraries (much like the Pop! EZX) there's a real best of both worlds collection here and will suit a lot of styles other than just Hip Hop.
There's some real gold here in the kick and snare department from fat live kicks to some really, really nice cranky old dry snares (think that West Coast Dre sound). You'll find the main 'Snare' comes with a center and sidestick articulation while the main Hat sound comes with a full palette of articulations. You can now see the information on these by clicking the "Details" button in the kit piece selection window.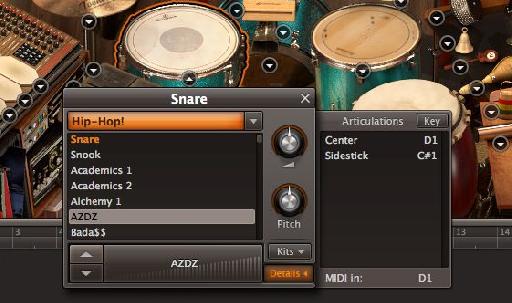 There are plenty of these multi articulation sounds hidden throughout Hip-Hop! and some are rather useful like these Chromatic Kicks.
There is also a sizable collection of percussion here too. In fact it's almost all you'd ever need for any pop genre!
Mix It!!
Each kit has its own mixer preset that is comprised of a distinct set of effects or parameters for shaping the kit.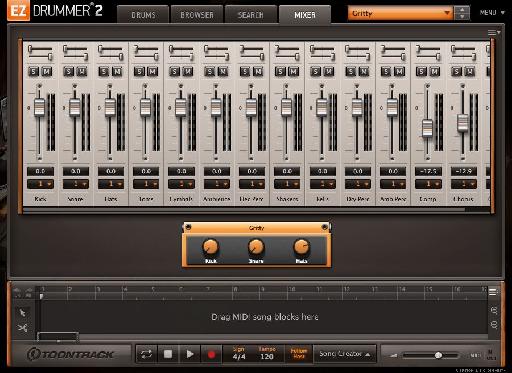 There is however nothing to stop you from loading a different kit into a mixer preset. Just open any sound selection menu in the 'Drums' window and load a new kit from the 'Kits' menu. This way it's easy to marry any kit with any mixer effects preset.

You can then save these changes to a new preset if you desire. Combine this with the ability to load kit pieces from any EZX pack and you have a really creative and flexible tool at your disposal.
Conclusion
Add to all this a bunch of nice MIDI files covering a whole gamut of Hip Hop grooves and you've got yourself a really great package here.
All in all a very useable set of sounds that will probably become a go-to library. Whether it's Hip Hop or any modern pop job this EZX will more than likely fit the bill.
Toontrack have again been smart and put old sounds together in a fresh new way and come up with what I think is a solid product. If your new to EZDrummer and are thinking about expanding your library I'd probably start here! Bread and Butter sounds with some jam!
Pros: If you want some cool sounds and make modern pop music then get on board. For 69€/$89 you get a lot of bang for your money.
Cons: If you own a lot of Toontrack products you may find some duplicate content here. I'm nitpicking here though.
Web: Toontrack & Time & Space