November was Metal Month at Toontrack and this time (amongst other things) we got the sequel to the Metal Guitar Gods pack for EZMix.
So it's time to get out my 7-string guitars and explore the dusty end of the fretboard and see what Metal Guitar Gods 2 is all about!
Collaborators
This time around, Toontrack has teamed up with four more ferocious guitar players from the metal world. There are 50 custom amp tones to choose from all designed by the players themselves.
The players are Chris Broderick (Ex-Megadeth), Tosin Abasi (Animals As Leaders), Jeff Loomis (ex-Nevermore, Conquering Dystopia) and Ryan Knight (The Black Dahlia Murder).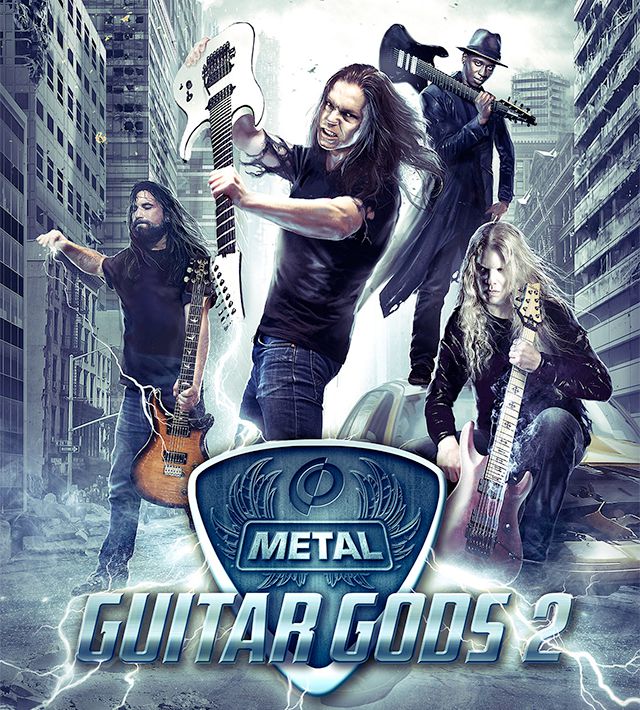 All of these guys are top notch, and I'm a particular fan of both Tosin Abasi and Jeff Loomis.
Sounds
There's a good variety of tones included in MGG2 although as you'd expect they lean heavily (pun intended) towards distorted rhythm and lead tones. Saying that, there are some really nice clean sounds and a couple of presets for bass too.
Most of the rhythm sounds have an alternate version with a different set of tweakable parameters which gives you a little bit of extra control over the sound. The one thing about EZMix is the sounds are fairly set hence the 'EZ' bit in the title. This isn't a bad thing as most of the sounds do a very good job being just plug and play.
There are also some wet and dry variations with the lead tones too should you want to add your own effects on top. There's also a very nice 'Octave' lead sound from the Jeff Loomis bank.
The clean tones have a nice compressed sound and come with a variety of effects like delay, reverb, chorus and vibrato depending on the patch. There's also some cool crunchy rhythm patches at hand too.
In Use
Once installed and authorized MGG2 will show up in the EZMix browser. Selecting MGG2 from the 'Preset Pack' list will highlight the new sounds. It's very quick to find sounds by refining your search criteria based on effects, etc. Simply load up the plug-in, pick a sound and start recording!
I stuck a quick demo together using some of the Jeff Loomis tones (which I found to be the ones I gravitated towards). The 7-Sting rhythm parts we're tracked L-R with 'Rhythms of Oblivion' and the lead part was a great sound with loads of sustain called 'Plains Lead'.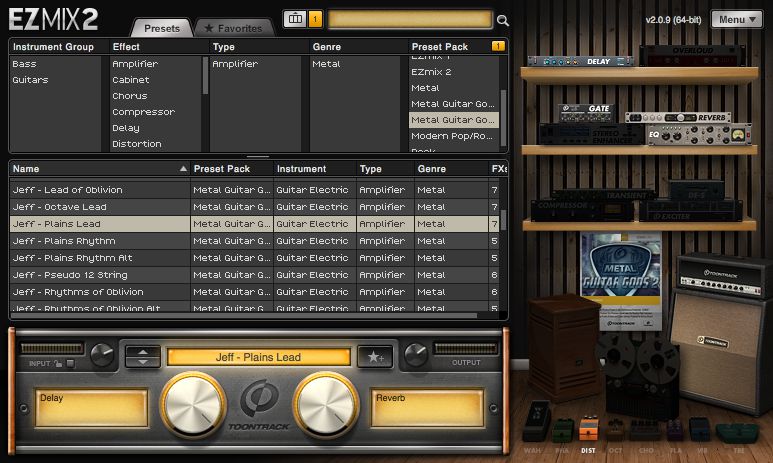 Drums are from the Metal Machine expansion for EZDrummer 2. I have to say it's pretty easy to find you inner shred when using these sounds!! :)
Mix wise it will depend on the guitar you're using whether you need any extra processing with these sounds. I found the 7-String parts benefited from a high pass filter to get rid of some boom in the low end but apart from that it was just as it was.
Conclusion
For the purposes of getting up a quick sound and just writing and jamming, the pack is brilliant. If you go into full production these sounds will sit in a mix really well with a bit of fine tuning too.
If you like heavy tones and own EZMix then you should check this out!