Traktor is a popular digital DJ app and although NI makes lots of controller hardware, it hasn't yet come up with any tablet-specific controller apps of its own. TKFX is a controller app for Traktor's effects sections that gives you hands-on control of various different parameters and runs on iPad or Android devices. It's free to download and you get control of a limited selection of each of its sections (effects, units, banks, parameters and decks) and there are in-app purchases of $0.99 each to unlock all four decks, all effects and so on. So unlocking everything is still under six Dollars.

Watch Hollin Jones' introductory video for TKFX here:
In order to get TKFX talking to your Mac or PC, you need to download a small app called TKLINK that sets up a wireless MIDI server so that they can communicate. Then download the mapping file and in Traktor, specify the controller map file in the Preferences so that the mapping between the app and the computer is set up correctly. Finally on the tablet, tap to link the two devices. This is all really straightforward and only takes a minute or so.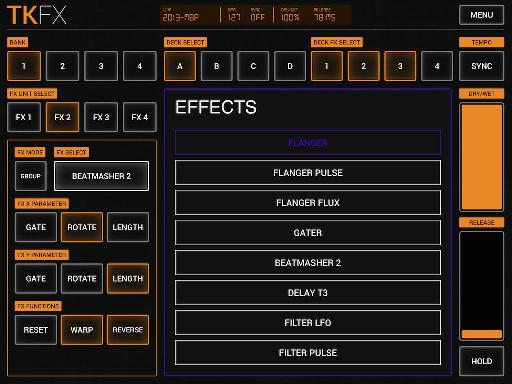 Unlock all TKFX effects with a $0.99 purchase.
Linking up
The MIDI communication means the two devices can sync tempo though TKFX isn't a playback controller as such, it's an effect controller. So you will have to control Traktor's playback as usual, but focus on the tablet for effect manipulation. If you opt for the in-app purchases you get four preset banks, access to all Traktor's effects and for each effect you can assign parameters to the X and Y axes. Decks can be selected at the top, and deck FX selected as well. On the right hand side is a dry/wet slider to control effect balance and beneath it a Release slider that determines how long after you release your hand the effect takes to drift back to the off position. With release on zero, it snaps off the instant you let go.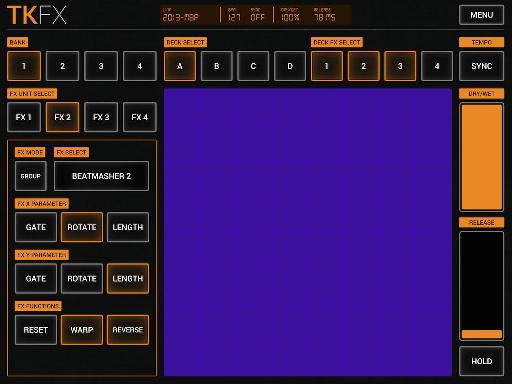 Drag and tap the X/Y grid to control Traktor's effects in real time.
The large X/Y pad obviously responds to touch and each square glows when touched which helps you see what you're doing and provides visual feedback. You can switch effect parameters on the left and making movements with your finger on the pad modifies the currently selected effect. As you'd hope there is a Hold button too so that an effect can be held at the current settings even if you remove your hand: useful for switching to and modifying another effect while leaving others on.

Take control?
TKFX is excellent fun to use and DJ effects respond especially well to this kind of real-time effect control. Punching in effects by tapping or sweeping them over time by dragging your fingers works beautifully and you don't need to be an expert to get some great sounds out of it. You'll need to familiarize yourself with the layout of the controls at first if you want to do accurate, real-time effect performance but once you've worked out what points where it's a powerful and fun way to take control of your DJ effects. Given that you may already have a tablet, it's also an inexpensive way to expand your live rig.

Price: Free, in-app purchases $0.99
Pros: Excellent hands-on control of Traktor effects. Inexpensive. Store presets. Hold button for maintaining effects on.
Cons: Could arguably benefit from a little colour variation to aid visual navigation between sections.
Web: www.tkfxapp.com