Building on the success of his groundbreaking SLOO Reaktor instrument, musical mastermind Tim Exile has applied a similar architecture to an equally unique new audio effect: SLOR. Implementing an innovative "infinite resonator" architecture, this Reaktor Player-ready effect is set to radically transform any incoming audio source in a matter of mere moments.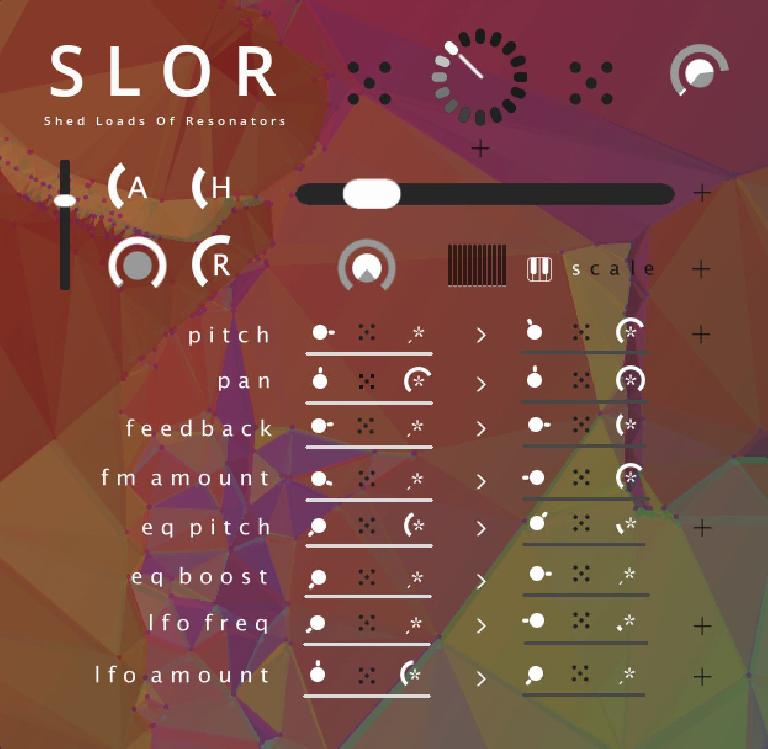 Deploying a bespoke algorithm to generate 32 infinite delay lines – that manage to avoid uncontrollable feedback, unexpected decays, or unwanted clicks and pops – in a wide variety of relative parameter clusters referred to as swarm patterns, SLOR offers an impressive array of sound manipulation potential.
A threshold slider allows you to restrict which transients trigger the resonators, allowing for continuous or more punctuated results. Four knobs control the amplitude envelope of resonation, with controls for amount, Attack time, Hold time and Release time. A Dry/Wet blend knob is located to the left of the five selectable Scale settings allowing for diatonic play, generating harmonic results from purely percussive impulses.
Pitch, Pan, Feedback, FM Amount, EQ Pitch, EQ Boost, LFO Frequency, and LFO Amount are all governed by Center and Distance knobs, placing the parameters at relative positions within the swarm of resonance. A random button in between randomizes the corresponding parameter for instant experimental results, while clicking the arrow symbol to the right of the parameter enables morphing of that parameter to a different state of settings controlled by an identical set of controls at right.
Morphing is controlled by the large horizontal slider above the scale, allowing for quick yet smooth transformation of multiple parameters simultaneously – and potentially dramatic results. Above that are two more randomization buttons, one for each set of controls on either side of the morph slider. Each time a parameter is changed by individual or multi-randomization, a new Pattern is stored in the Pattern History, with the last 16 Patterns selectable via the central dial up top. A master output level rounds out SLOR's controls.
Sounds Good
A quick scan through SLOR's presets reveals a wealth of sonic applications, from glistening drones and iridescent chords to scintillating reactive percussion patches. Clicking a Plus button provides access to the hidden parameters just beneath SLOR's intuitive surface. For example, the Pattern Automator allows for incoming transient-triggered jumps between stored swarm Patterns, while the Morph settings allow for morphing action to be triggered by incoming audio as well – both yielding dynamic fluctuations corresponding to the input source. EQ Pitch settings switch the balance of the 48 bands between band-pass and shelf settings, ranging from thicker to tighter yet more slippery resonation, while the additional LFO parameters in particular allow for extreme manipulation throughout.
Ignoring the somewhat intimidating jargon of swarm patterns and parametric infinite resonators, SLOR delivers compelling transformations of single hits, percussive patterns, vocals and more. Available for use with Native Instruments' free Reaktor Player, there's very little else on the market to compete with it directly. Something like Eventide's harmonizers might come close, albeit with a steeper learning curve and a higher price tag – and still wouldn't provide what SLOR offers. Anyone looking to imbue their audio with innovative harmonic processing should consider SLOR a top option.