O blues EZX é um novo pacote de expansão para EZ Drummer de Toontrack. Ele apresenta dois novos Kits e biblioteca MIDI dedicada ao som dos Blues. Para isso Toontrack biblioteca reuniu com o veterano baterista de blues sueco Hans Lindbck para provar dois de seus kits e realizar a biblioteca MIDI. Hans já havia trabalhado com Toontrack on the Blues MIDI add-on biblioteca para EZ Drummer e Superior.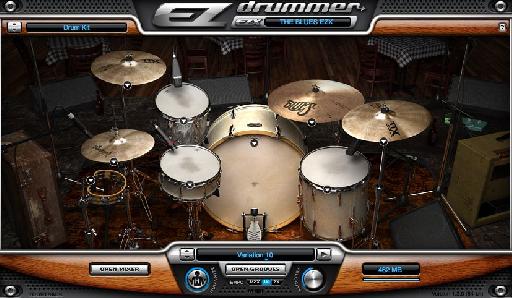 Os kits foram amostrados em um palco vazio de um teatro sueco e misturado com uma variedade de equipamento externo vintage e moderno.
Os Kits
Os dois kits da amostra composta de uma Gretsch 70 anos e um
Existem três armadilhas. A 60 Slingerland Radio King, a 60 Premier Madeira (com cabeça de bezerro) e 30s Premier Brass. O Slingerland tem uma boa qualidade amortecida e é uma grande armadilha sonoridade. O Premiers tem uma afinação mais agudo brilhante com o 60 de madeira com um belo anel para ele.
Os chapéus são particularmente agradável (14 Zildjian New Beat / rock batida) e tem um grande som crocante. Há uma grande variedade de articulações como você esperaria. Os pratos são uma mistura de Paiste, Sabian e Zildjian e há um bom número para escolher. O slot de passeio apresenta um muito bom chiar passeio.
Há também a adição de uma mala amostrados (para aqueles que viajam autênticas melodias bluesman) e um grande pandeiro sonoridade.
Em utilização
Mais uma vez Toontrack têm produzido alguns kits realmente bem amostrados aqui. O som dos tambores nesta biblioteca são muito mais suave e quente e som em geral não é tão na frente como a maioria dos kits Toontrack. Ainda assim, essa qualidade se presta muito bem para o gênero.
Falando de gênero, não há nenhuma razão pela qual estes kits não vai funcionar bem em outros ambientes musicais e seria ideal para ambos os países e estilos raízes.
O ambiente fornecido pelo teatro é bastante espaçoso, embora não sendo muito longo e piegas. Você pode obter uma bastante variedade, equilibrando os ambientes disponíveis e da adição do real Primavera reverb acrescenta uma dimensão bastante agradável para o kit. Empurrando as despesas um pouco e puxando para baixo o quarto pode dar-lhe um kit de som mais para a frente um pouco mais brilhante, se você precisar dele.
Claro, se você realmente quer ajustar este kit depois abri-lo no Superior se tiver. A adição dos Superiores ferramentas e efeitos de edição lhe dará um monte âmbito mais sonora com os kits.
Os arquivos MIDI fornecidos deve fornecê-lo com a maioria dos Blues grooves você vai precisar e há muito para jogar. Também deve ser observado o the Blues referido MIDI pacote faz um grande parceiro para este produto também.
Tudo em todos uma sonoridade bem além da linha EZ dos produtos. O único problema é que essa expansão não vai lhe dar o blues em tudo!
Saiba mais: