The Blues EZX is a new expansion pack for EZ Drummer from Toontrack. It features two new Kits and MIDI library dedicated to the sound of the Blues. For this library Toontrack reunited with veteran Swedish blues drummer Hans Lindbäck to sample two of his kits and perform the MIDI library. Hans had previously worked with Toontrack on the 'Blues MIDI' add-on library for EZ Drummer and Superior.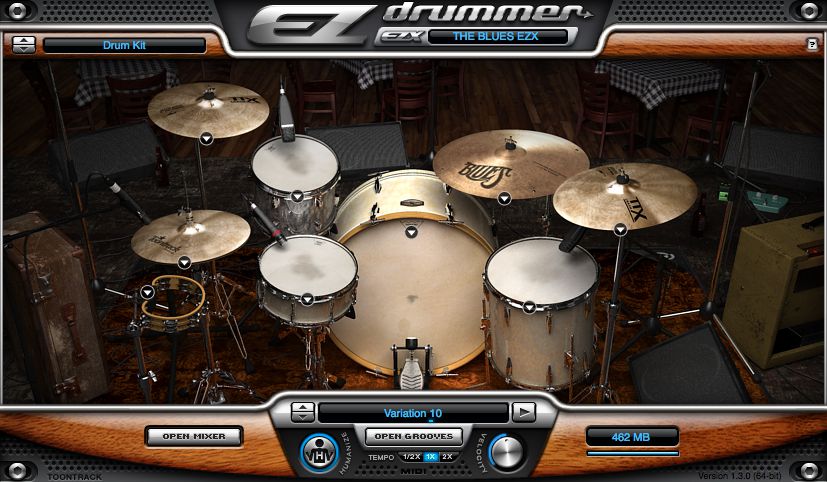 The kits were sampled on an empty stage in a Swedish theatre and mixed using a variety of vintage and modern outboard gear.
The Kits
The two sampled kits comprise of a '70s Gretsch and a '40s Levin kit with calfskin heads. The Gretsch kit has a more focused kick (14x20")and the toms (8x12" - 14x14") are noticeably lower in tuning than the Levin toms (9x12" Hi Tuned - 9x12" Low Tuned). The Levin kick has a really lovely loose low open sound to it which I like a lot.
There are three snares. A '60s Slingerland Radio King, a '60s Premier Wood (with calfskin heads) and a 30's Premier Brass. The Slingerland has a nice damped quality and is a great sounding snare. The Premiers have a brighter higher pitched tuning with the '60s Wood having a nice ring to it.
The hats are particularly nice (14" Zildjian New Beat/Rock Beat) and have a great crispy sound. There's a wide selection of articulations as you'd expect. The cymbals are a mixture of Paiste, Sabian and Zildjian and there's a good number to choose from. The ride slot features a very nice sizzle ride.
There is also the addition of a sampled suitcase (for those authentic traveling bluesman tunes) and a great sounding Tambourine.
In use
Once again Toontrack have produced some really nicely sampled kits here. The sound of the drums in this library are a lot more mellow and warm and overall sound is not quite as 'up front' as most Toontrack kits. Still, this quality lends itself quite nicely to the genre.
Speaking of genre, there's no reason these kits won't work nicely in other musical settings and would be ideally suited to both Country and Roots styles.
The ambience provided by the the theatre is fairly spacious while not being too long and mushy. You can get a quite a lot of variety by balancing the available ambiences and the addition of the real Spring reverb adds a rather nice dimension to the kit. Pushing the overheads a little and pulling down the room can give you a slightly brighter more forward sounding kit if you need it.
Of course if you really want to tweak this kit then open it up in Superior if you have it. The addition of Superiors editing tools and effects will give you a lot more sonic scope with the kits.
The supplied MIDI files should provide you with most of the Blues grooves you'll need and there's plenty to play with. It should also be noted the the aforementioned 'Blues MIDI' pack makes a great partner to this product too.
All in all a fine sounding addition to the EZ line of products. The only problem is this expansion won't give you the blues at all!!
Find out more: http://www.toontrack.com/products.asp?item=121