Review: The Behringer DeepMind 12 Experience
Rishabh Rajan has had a Behringer DeepMind 12 in his studio for a while, testing how it measures up against the competition. So how did it fare? Read on to find out.
The DeepMind 12 was teased and talked about through the last quarter of 2016. Now, this synth has been on the market for about 5 months. Behringer have already announced variations of the DeepMind, notably the desktop module and the compact 6 voice keyboard version. With an entire synthesizer division in the works, Behringer are all set to disrupt the synthesizer market, the one area they have never treaded before. Inspired by the Roland Juno-106 design, this 12 voice analog/digital hybrid is slowly proving to be an excellent buy, more for its sonic possibilities and less just for the price tag. I've had this synth for a while, sitting next to a Prophet 6, Moog Sub 37, Novation Peak & Roland System 8. Does it stand up well next to all these heavy weights? Let's find out.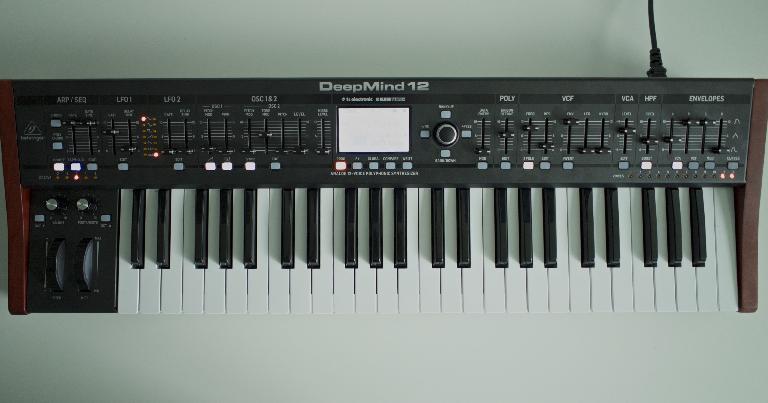 Hardware
The DeepMind is surprisingly well built. Compared to a lightweight all-plastic design on the Roland System 8, the all-metal body with wooden side cheeks gives the DeepMind some weight. Of all the synths I own, this is the only one that has fans. Yes, two fans! The onboard Shark processor probably needs a lot of cooling, hence the justification for these fans. There is a menu option to slow down or even completely turn off the fans but I'm not sure how good an idea that is. The noise is not obtrusive but is definitely audible.
With 26 sliders and 2 dials, this synth has plenty of onboard controls, but considering how deep the synth options get you will find yourself using the data knob along with its 4 cursor keys a lot. For example, the effect section is only accessible via menus, but does have a dedicated menu switch. There is an accompanying librarian app that makes navigating the effects section a lot easier. Similar to the Novation Peak, the DeepMind 12 has 12 LED indicators for voice activity. Very helpful to know when you have reached the polyphony limit.
The on-screen menu uses a LCD display which does not have a very good resolution, but does display a lot of useful information like LFO shapes, envelope curves and all the different parameter values.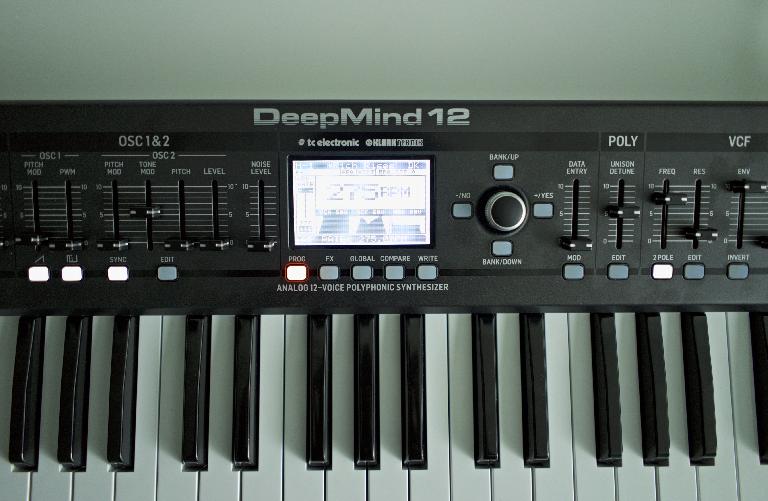 Connectivity is standard, 2 analog outputs and 1 headphone out. The headphone out is on a 1/4 inch jack. You get Sustain and Pedal/CV inputs as well as the usual USB/5 pin DIN MIDI. The USB connection does not do audio.
Architecture
Looking at the DeepMind 12 it's hard to not reminisce about the Roland Juno-106, though despite some similarities, there is quite a lot different. There are 2 DCOs, a noise generator, a low-pass VCF, a very basic VCA section and a non-resonant high-pass VCF. You get 3 envelopes and 2 LFOs and an 8 slot modulation matrix. Lastly an arpeggiator and control sequencer complete the modulation sources. There is also a very comprehensive effects section with 35 different effects to choose from in 4 effects slots configurable as inserts or sends with 10 different routings.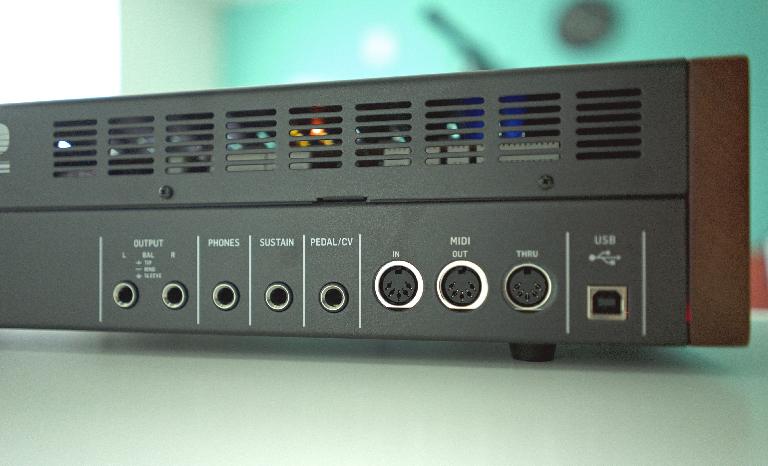 Oscillators
Just like the inspiration behind this synth (Roland Juno-106), you get DCOs here. But the configuration is different. The Juno-106 had 1 DCO with a sub oscillator but here you get 2 separate DCOs. So you can create the sub oscillator effect or set the tuning of the 2nd DCO to any interval in a rage of -12 to +12 semitones. DCO 1 has a sawtooth and pulse waveform. There is a Pitch Mod slider which by default uses LFO 1 but other modulation sources can be used in the modulation matrix page.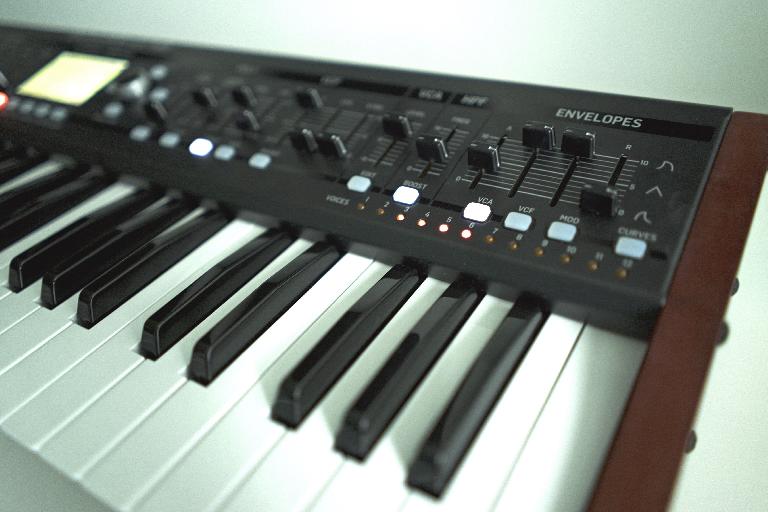 The Pulse has manual PWM control which can also be modulated with other sources in the mod matrix. DCO 2 is fixed at a pulse waveform, can be synced to DCO 1, has the same pitch mod slider and also dedicated pitch and level sliders, but instead of the PWM slider you get a Tone Mod which implements a very unique variation on the classic PWM. From the Manual : "As you increase the amount of TONE MODULATION the positive and negative parts of the cycle are split by a pulse. The further you increase the fader, the width of the pulse increases." Aside from the on-board controls you also get 7 additional controls for DCO 1 and 5 more for DCO 2 under the edit menu.
Audio Examples
OSC 1 Sawtooth
OSC 1 Pulse

OSC 2

Low Pass Filter 1

LP Filter 2

Filters
The VCF is almost identical to the one on the Juno-106, except that you get a 2-pole slope option. The filter is resonant and can self oscillate but I had trouble keyboard tracking the sine wave properly from the filter even after calibration. Just like the Juno 106 you also get a non-resonant high-pass filter with the famous bass boost switch which works like a charm.
The Filter menu options are useful with controls for velocity sensitivity, LFO select option, pitch bend control over filter frequency and aftertouch/mod wheel control over LFO depth. It's a quality filter with a very modern sound that would work well in EDM productions. The only thing missing is an analog drive section. When the resonance is cranked up, the filter does sound a bit more exposed and might not stand up next to a Moog or a Prophet.
LFOs, Envelopes, Arp & Seq
The LFO & Envelope section is completely digital. The LFOs have 7 preset shapes with rate and delay time sliders. There is no direct slider for the shapes but holding down the LFO edit button and moving the Rate slider will change the shape. The LFOs have a good range from 24.1 seconds to an audio rate of 65.4 Hz. The LFOs can be key or arp synced. The phase can be mono, poly or set to a specific degree value. Lastly there's also a slew rate control to curve the shapes.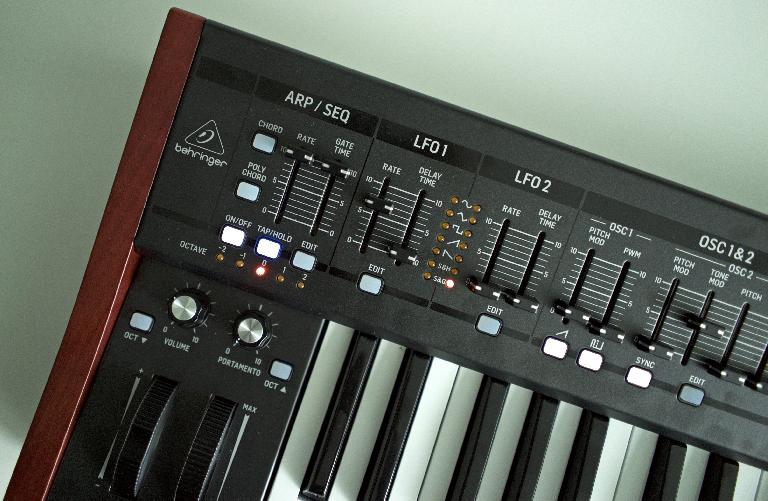 The envelopes are standard ADSR envelopes but you also get curve controls for the attack, decay and release stages and the ability to introduce another stage after the sustain with the sustain curve control. The Arpeggiator is handy with a staggering 6 octave range and 11 arpeggiation direction options including chord repeat mode as well as a variety of gating patterns to step away from the usual equal note arpeggiation that's standard on most synths. There's a hold option for hands free arpeggiation and the usual swing controls.
A pretty nifty control sequencer is included which can only be accessed from the menu. It can be freely assigned to control any of the modulation destinations. There are some preset patterns for this control sequencer but you can also create your own though setting this up is a bit tedious.
Unison
I've never been a fan of unison on hardware synths. They just don't produce results like software synths. Limited polyphony is usually the culprit. With the DeepMind having 12 voices this is not too much of an issue and the unison sounds pretty good. Not as rich and full as the unison on the Novation Peak, but that one is hard to beat.
Effects
Behringer has really packed this synth with effects albeit ones that are completely digital. You get 35 effects that can be placed in any of the 4 available slots. 35 seems like a lot but when you consider that there are 13 different types of reverbs, that number becomes a lot less impressive. Nonetheless all the effects are fantastic and the 4 slots can be setup in 10 different routing configurations which even includes some feedback paths. The entire effects section can be set in send or insert mode.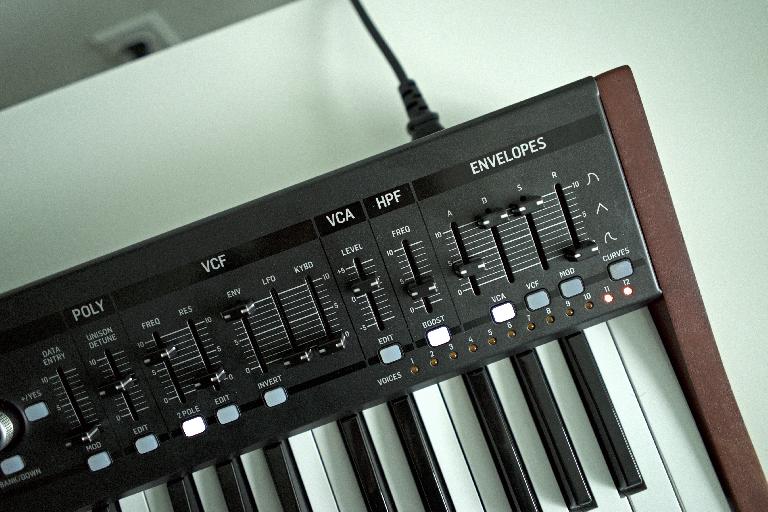 The controls for each effect can be a bit tedious to use on the synth but the accompanying software librarian makes things a lot easier with real time control over all the synth parameters via USB or WiFi. Overall the effects section is very handy as the bare sound of the synth does not stack up well to the heavyweights (Sub 37, Prophet 12, System 8, Peak), but add some effects and you can create some really impressive sounds. The onboard presets are a testament to that.
Conclusion
There is no doubt that the price tag on this synth makes it a no-brainer, but we all have experienced purchasing dirt cheap products that break within a matter of weeks. The DeepMind 12 is not a cheaply built synth, which makes the price tag all the more remarkable. With the DeepMind desktop module and 6 voice version just around the corner, there should be plenty of options for every scenario (studio/live performance/studio with too many keyboard synths etc.) There is no doubt that some people may not like this synth. I'm already seeing many used units on eBay and Reverb at a much lower price than full cost. This is not necessarily a bad thing. It just means that this synth is going to be everywhere and you will be able to get your hands on one at a very reasonable price. I for one am going to be keeping this unit for a long time.