TC Electronic has long been associated with professional mastering, and their iconic Mastering 6000 system is an absolute staple in many a mastering house. Brickwall HD Native offers the next generation of limiting algorithm evolved from the 6000 series in a plugin format with a physical controller that encourages you to take a 'hands on' approach to mastering. I paired it up with the Master X HD plugin/controller for a few weeks and was quite impressed with what I saw.
Watch the complete video review here:
What's Included
The Brickwall HD plugin is a standard Master Limiter as well as a content-optimized Loudness limiter that works seamlessly with the USB desktop controller. The controller itself is discrete, and is made to control this one single plugin (something I like very much about it, I don't particularly love generic control surfaces). Brickwall has an *extremely* transparent sound to it, and when you combine that with precision physical control you have a system that really allows you to dial in gain and power without unwanted artifacts.
The physical controller also allows you to adjust parameters without the plugin window itself in the foreground. This is something I found extremely useful as it allowed me to have full access to my arrange window to 'spot check' various points of the mix while still retaining control of the plugin and its parameters through the desktop controller. The buttons on the controller feel sturdy and satisfyingly click whenever pressed. The knobs are very responsive and there is no delay between adjusting them and seeing the parameters react both on the device and on the plugin display. TC has done a great job of making you feel very 'connected' to the limiter through this controller.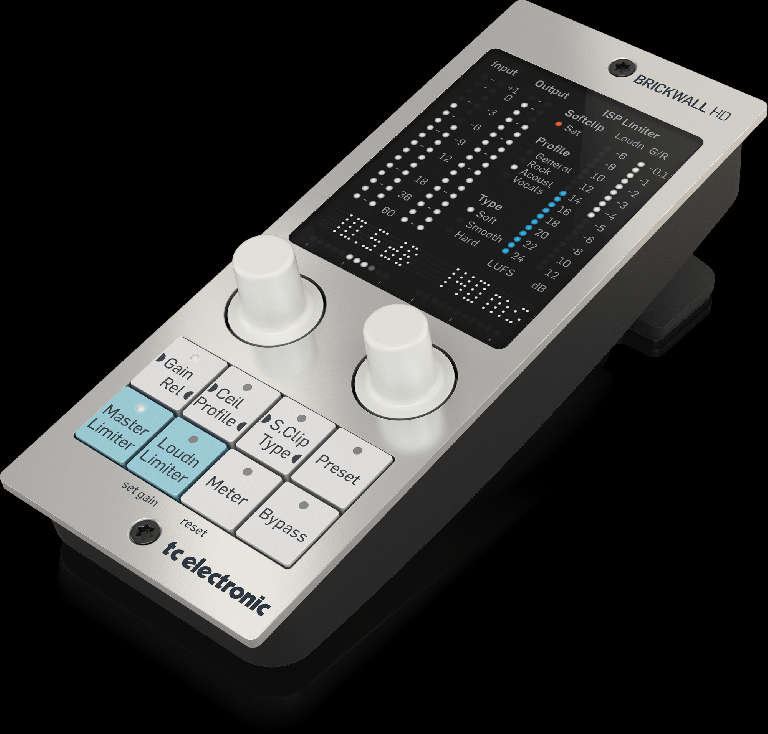 Pushing the Limits
Whether using the traditional Master Limiter or the more 'automatic' approach of the Loudness Limiter, I never really felt like the Brickwall HD was a hammer. The gain steps up in precision amounts, and being able to physically control the parameters adds to the 'surgical' feel of the plugin itself. The included 'loudness targets' span the typical services from Apple Music to Spotify and just about everything in between. When using 'Loudness mode' you can pick a streaming service and Brickwall HD will aim for that service's optimized settings after analyzing your song. It's convenient, but I found the tactile control of Master Limiter mode to be far more satisfying and useful with the controller.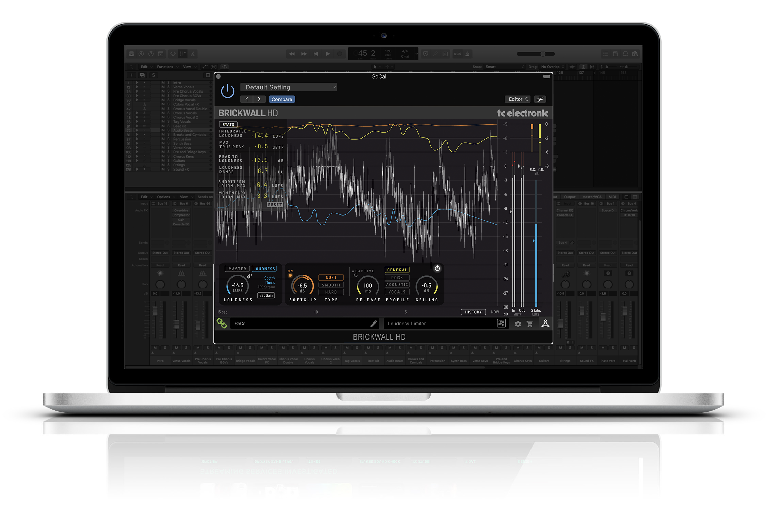 Conclusion
Brickwall HD-DT is an excellent marriage of hardware and software. The hardware itself encourages you to 'think more like a mastering engineer' and encourages a simple workflow based on sound concepts and precision control. Priced at under $200, if you don't have a precision limiter such as this one, Brickwall HD-DT is most definitely worth a look.
Price: $198.99
Pros: Excellent hardware / software integration, transparent limiting algorithms, loudness targets included, hands-on workflow encourages experimentation with mastering
Cons: I would love to see a wireless/bluetooth version in the future!
Web: https://www.tcelectronic.com/product.html?modelCode=P0E58