Field recording is a great way to integrate unique textures and tones into your work, as well as being a healthy excuse to get outside of the studio environment. It's something I'm really passionate about and because of this I've reviewed a lot of handheld recorders over the years. When I watched AskAudio's Rounik Sethi report at this year's NAMM on TASCAM's two new models I was intrigued by the onboard Wi-Fi capabilities of these units. This allows them to be controlled via a free smartphone app called DR Control for Android or iOS.
After a quick play on the app it becomes obvious that you get a much deeper level of control than usually offered on the dedicated remotes available for some recording units. App control includes input level adjustment, viewing input and playback levels, and streaming back recorded files for quality checking. You can also transfer audio files to your phone via Wi-Fi and then use a built-in SoundCloud upload function, or other normal file transfer options like email, Dropbox, etc.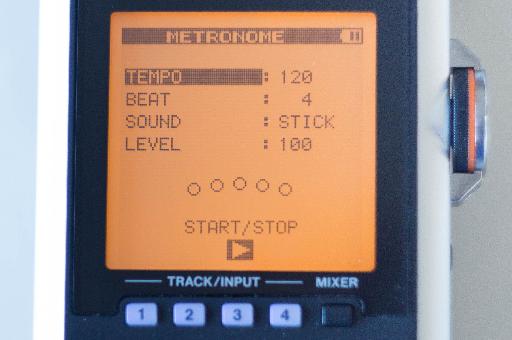 The DR-44WL has an onboard metronome with some really useful features like time signatures and a choice of three sounds but it can't actually be used while you record which is a massive drawback. I worked around this by running another musical app on my phone, so I could listen to a click on headphones while I record from the DR-44WL.
Physical features
Putting Wi-Fi control to the side for a moment, this unit has a pretty good set of features for its price. I've previously used and loved another higher-end handheld from TASCAM called the DR-100mkII. This has a higher MRRP than the DR-44WL, but in reality they sell at almost the same price in the shops now as it's an older model. The key elements that made me enjoy the DR-100mkII were the amount of physical controls available on the unit rather than many functions being buried in digital menus. This unit's physical controls include input selection switching, limiter enable, phantom power and general low, medium or high gain settings. When you have options like this on physically dedicated switches, your workflow is fast, especially when interchanging external gear on the move. The DR-44WL doesn't do too bad in this department with a physical switch for Wi-Fi enable, input level adjustment, record arming and phantom power all physically accessible on the hardware.
The DR-44WL can record four tracks either simultaneously or operate as a four-track where you can capture different takes to layer over each other. The former works well for me so I can use the onboard mics and contact mics at the same time. There's two combo XLR connectors for XLR or ¼ inch jack connectivity. Sadly the jack inputs are not high-impedance for instrument connectivity, but at line-level they are still useful for certain applications, like capturing the line-out from a mixing desk for example. An onboard reverb and mixer make it easy to put together demos which makes the Soundcloud upload and four-track recording very useful. The older DR-40 model which pre-dates the DR-44WL had the option to move the onboard mics from X-Y to A-B positions which is always useful for choosing the best configuration pending on your environment. Sadly this is gone with the DR-44WL as its mics are fixed to an X-Y array.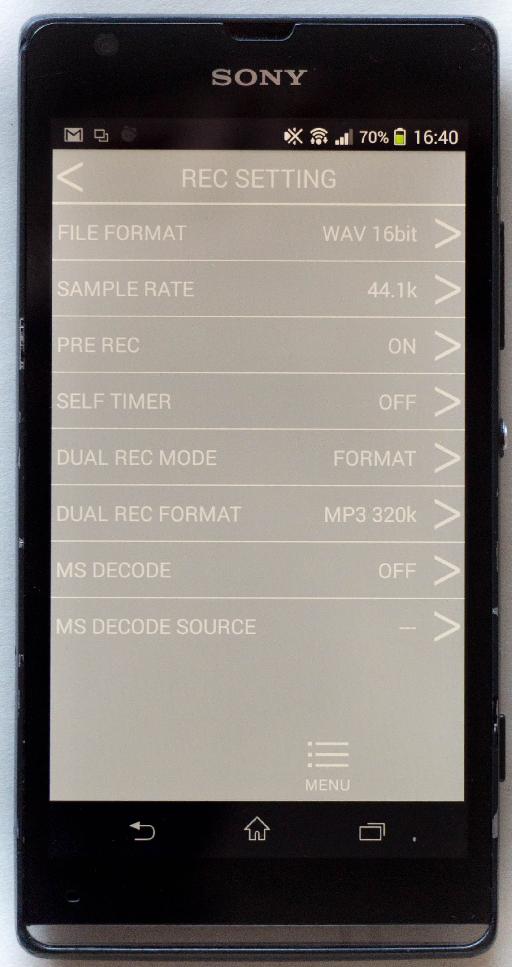 Another limitation of the app is that recordings made at 96 kHz cannot be streamed back to your phone for review. As a work around you can record your test audio at a lower sample-rate and then switch to 96 kHz when you're ready to go for a real take. Thankfully the app allows easy access to these recording settings.
Fiddle factor
This is the first time I've evaluated the operation of a device from the viewpoint of two interface options. I've already mentioned a few flaws in the app interface, but in practice it's very fluid for the options it does cover. Though the DR-100mkII includes a small wireless remote, it's quite limited in what it controls and nowhere near as fast to operate as using your smartphone to control a device, so the DR-44WL wins here. An endless encoder on the side of the unit lets you change input levels on the hardware and while the app makes lowest to highest input gain settings as simple as a single finger swipe, this encoder takes a good 15 + seconds to cover the same range of gain. Time isn't the only problem either as all this handwork gets picked up on your recordings as well, so that's 15 seconds of ruined audio if you happen to be capturing and trying to adjust levels in a rush. Even without this sense of emergency, it's a bit laborious for it to take so long to get from low to high settings. For instance, I record on the move with a set of DPA 4060 phantom powered mics which are quite sensitive and need very little input gain, but I regularly switch over for my Jez Riley French contact mics which need a good amount of input gain for optimum recording. So everytime I switch what external gear I'm using like moving from one object to another in the outdoors, I would have to go through this slow adjustment setting. The app obviously avoids this problem but I hope this is something that can be amended in a firmware update soon for hardware operations.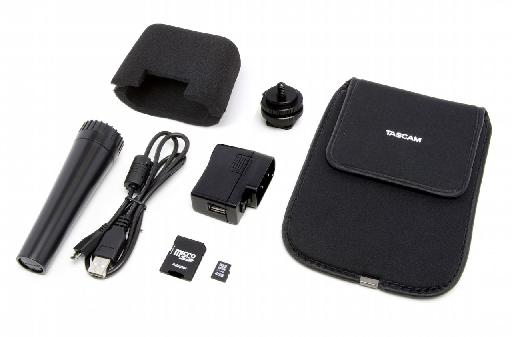 The DR-44WL comes with a decent number of accessories including a hot-shoe attachment (top middle) for video work with an DSLR and a mic stand adaptor (bottom left).
Final thoughts
Through my use of this unit over the past few months I've found the sound quality to be quite detailed in terms of frequency range and the stereo field. Things get a little hissy working with extreme low-level recording sources and the onboard mics, but I expect this from a unit of this price and generally use my external DPA mics for this type of recording situation. The main flaw on the unit itself is the input encoder issue I just mentioned, otherwise the workflow on this unit is pretty fast, especially via the app. I'm not sure if the limitations of the metronome can be addressed but my workaround worked fine as long as you intend to mostly operate the unit from the app and from my experience it's the DR Control app that's this unit's biggest selling point over other options out there.
Price: £249

Pros: DR Control app offers quick access to many features, Files can be uploaded to Soundcloud via app, Audio files can be streamed for auditioning via app, 4-track recorder and reverb options are great for demo recording
Cons: Wi-Fi uses up more battery power, Very slow input dial on hardware , Metronome can't be used while recording, 96 kHz files can't be streamed to DR Control app