Ivory has long been known for being the behemoth of virtual pianos. Ivory 2 is a piano library with extremely high quality samples, up to 18 layers of velocity and dynamic range, harmonic resonance modeling and more. I had checked in on Ivory with their first version, but never had access to the full, unbridled power of the full library until Ivory 2. I've spent two weeks with this instrument and I'm really impressed.
The Hardcore Stats
I picked up the 'Grand Pianos' iteration of Ivory 2. This includes three acoustic pianos - the Bösendorfer 290, the Steinway Model D, and the Yamaha C7. All three of those pianos put together pretty much cost more than my house, so I was excited to have access to any one of them at any time.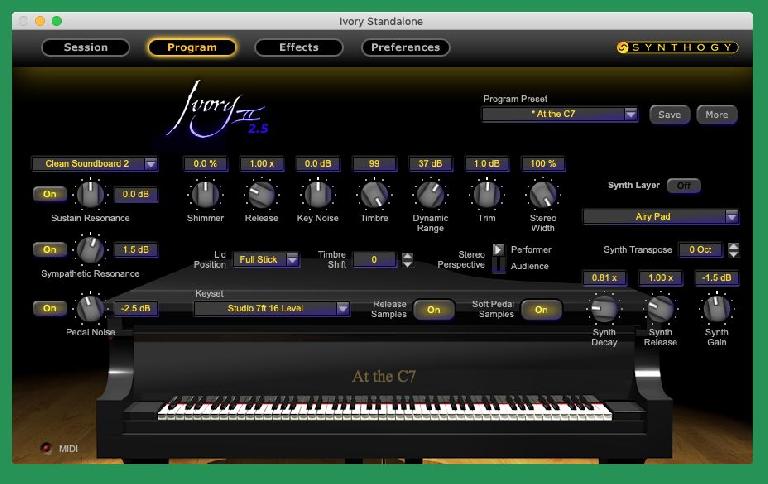 Installing all 3 pianos took up 81 gigabytes on my SSD samples drive. There are 18 velocity layers (depending on the piano), string resonance, pedal sounds with half-pedaling support, release samples, separate soft pedal samples, and a standalone app in addition to the AU/VST/RTAS plugin formats. The samples utilize a 32 bit sample playback and DSP engine, and the sustain resonance even has its own DSP programmed in for realistic resonance response.
But What Does it Mean?
There are enough words and stats to really blow your mind when you read up on Ivory 2, and I've always seen that but I've often wondered how that translates into the real world. I loaded up the Steinway, played a few notes and took a listen:

German D2
Holy hell! The piano sound literally felt like it was jumping out of my monitors and at my face. I was impressed with the sheer number of dynamic layers, the pedal sounds weren't overwhelming, and the resonance didn't feel 'gimmicky'. Those last 2 points are sore spots with me - piano instruments that get it wrong really overdo the resonance and pedal sounds. Everything about Ivory 2 felt and sounded just so right.
I was also surprised to find that at a buffer setting of 256, I wasn't unhappy and annoyed. I don't know how they optimized this engine so well to get it so that even at what I consider to be a mid to higher audio buffer range, I didn't perceive any latency at all. I expected this instrument to decimate my RAM and CPU, but the engine of Ivory 2 is wonderfully efficient.
Onto the Yamaha! I loaded up the C7 and opted to try out a patch with the 'synth layer' enabled. I played some sustained lines with the synth layer and changed it to a warm PCM pad. I was very pleased with the result.

C7 and pad
I was pleasantly surprised at how the default settings were so 'right on the nose'. The pad is mixed exactly where I'd like it to be. It spans all 88 keys, I didn't see a 'split point' anywhere where I could restrict it, but I didn't really need one. These pads were clearly carefully selected to enhance the piano sound, not dominate it.
Finally, I loaded up the Bösendorfer 290 and shifted my controller down an octave, just so I could hear those extra low notes I've seen so much buzz about.
Bösendorfer
The low notes were as powerful as I'd expected them to be. I pulled back the 'stereo spread' effect a little bit and was happier with it set at about 50% than the default 100%.
Control Freak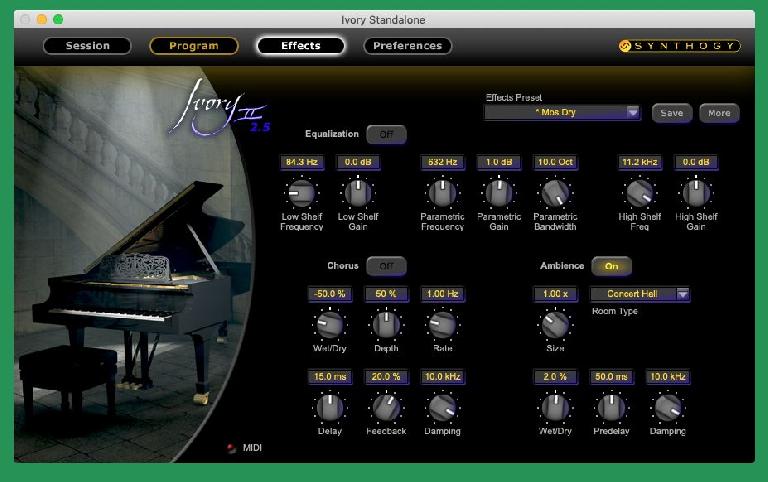 One thing I appreciated a lot about Ivory 2 is the meticulous level of control you have over just about every aspect. They give you plenty of presets that work perfectly, but for you tweakers out there that want the stereo field to be from audience perspective instead of performer's, you can do that. Everything from the dynamic range, pedal noise, lid position, intonation, velocity curve, tone… you name it, you can control it!
Conclusion
Ivory 2 is the Cadillac of piano instruments. The library is massive, the engine is sleek and deep, and the sounds are just jaw dropping. This is one instrument that truly lives up to the hype.
Price: $349
Pros:
Phenomenal sample quality, incredibly usable presets, highly efficient and snappy engine, easy to use interface, meticulous control
Cons
: I would love to see some velocity curves customized to popular controllers
Web:
https://www.ilio.com/products/synthogy-instruments