Synchro Arts is already well known in the 'vocal polishing' business with their work on VocALign. Revoice Pro takes the sonic DNA of VocALign and upgrades it to a complete sonic powerhouse made for boosting your vocal tracks to complete perfection. I took a look at it in a few different scenarios and I'm eager to share my thoughts with you.
What's Inside?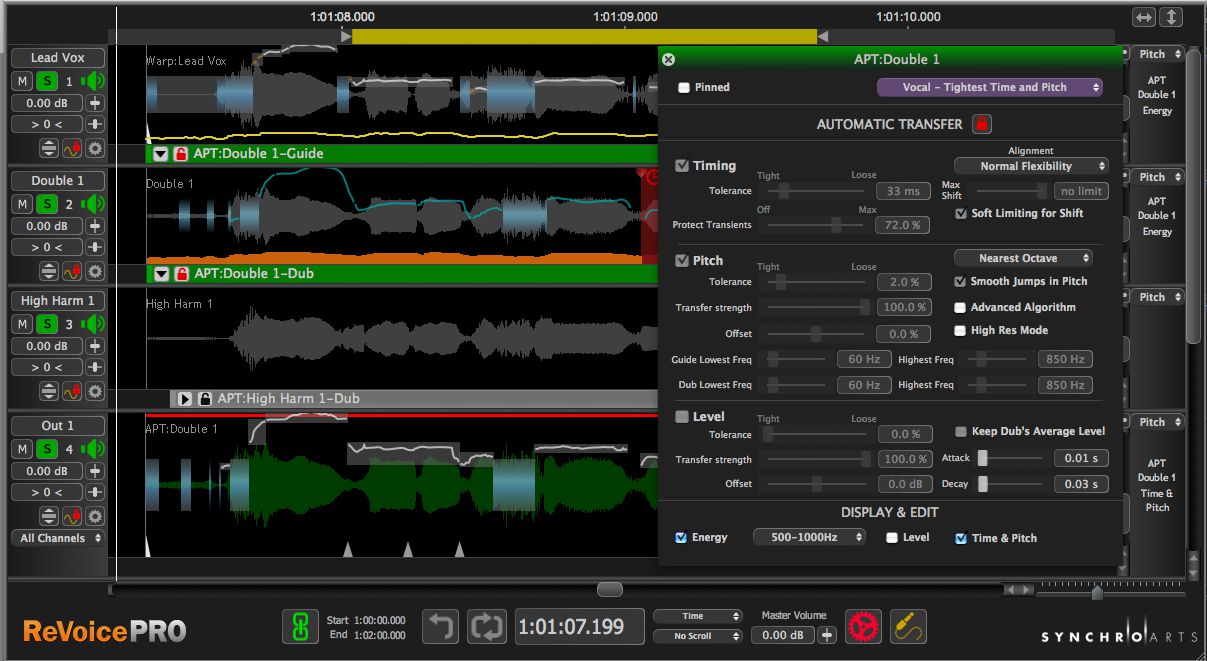 Revoice Pro is not just about fixing vocal timing. This is a complete package for transforming your vocal takes into extremely tight performances. The app itself has the ability to adjust both timing and pitch of all tracks, in addition to the ability to create great sounding 'double' tracks. The algorithm, combined with the time and pitch engine, allow Revoice Pro to truly make your vocal double tracks human enough to sound natural, but polished enough to sound professional.
This is a complete package for transforming your vocal takes into extremely tight performances.

The Hook Up
Getting Revoice Pro up and running is a slightly different experience on each digital audio workstation. The basic concept is, you have a 'helper' plugin that you instantiate in your vocal track on your DAW. This plugin 'talks' to the standalone Revoice Pro app, and allows you to shuttle audio back and forth. I found the experience to be the most seamless when using Pro Tools—there are a few extra features and integrations that make it truly seamless there, but it certainly does work perfectly, (with an extra step or two) in other DAWs such as Logic and Digital Performer.
Once your audio tracks are linked up with Revoice Pro, you can use the engine to perform a number of tasks at once. Many of these tasks can be automated, saving you quite a bit of time. Even in a DAW like Logic which already has Flex Time and Flex Pitch, I found I was able to save some time using Revoice Pro as it was able to instantly align the timing and pitch of every backing vocal track to my lead vocal track all at once without making it sound too 'robotic'.
Video Tools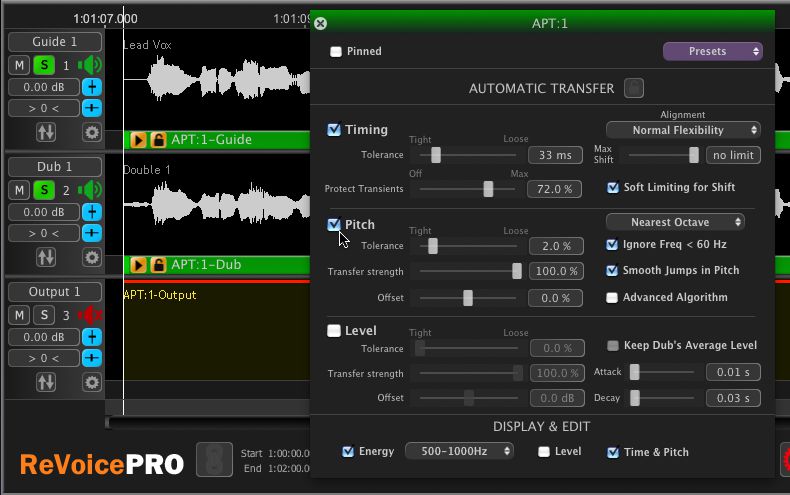 I'll get this right out there, this app is a game changer for anyone who works with video. Synchro Arts is really pushing the ADR (automated dialogue replacement) features of Revoice Pro, and with good reason. It's absolutely fantastic. I was able to change the tone, inflection, and cadence of my voice when recording a video after the fact by dubbing in the dialogue and it worked without a hitch. In the past, I've spent countless hours re-shooting a video review or online course when I wanted to change the inflection or timbre of my voice… well, no more! Revoice Pro puts professional ADR into the independent filmmaker's toolbox at a reasonable cost. I should also add that you can purchase a 3-month rental license, and after you've rented it 4 times, they automatically upgrade you to a full purchase license! I wish more companies offered this option.

Conclusion
If you find yourself working with backing vocals a lot, this software is a no-brainer. You'll have that 'downtown sound' in half the time. If you are a filmmaker or work with video, this is also a wonderful tool to allow you to do some dialogue work post-shoot.
Price: $599 purchase / $179 3-month rental
Pros: Presets for quick time/pitch alignment, high quality algorithm, interface was quick and snappy, rental option.
Cons: Pro Tools is a bit easier to use Revoice Pro with than other DAWs, although this isn't really a con if you're a Pro Tools user!
Web: http://www.synchroarts.com/products/revoice-pro/overview