Strike is an RTAS format virtual instrument for Pro Tools, available either as a separate purchase ($99) or as part of the highly recommended Instrument Expansion Pack ($299), which also contains Transfuser (see Pro Tools Transfuser: An Intro to Beat Slicing and Stuttering - link). Strike allows you to create highly realistic drum and percussion performances, and gives you a huge amount of control over every aspect of the performance and sound.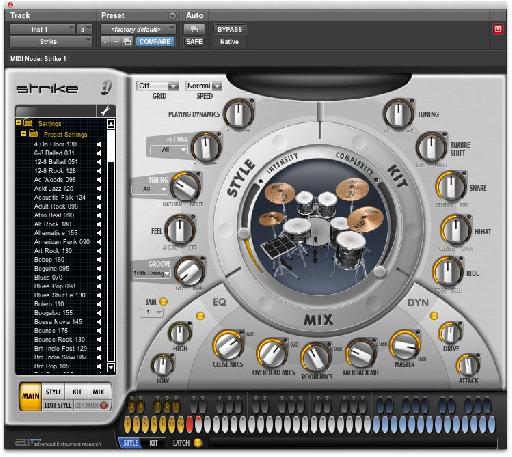 You want control? Strike in Main View.
Content
You can use your own samples but Strike comes with over 30 GB of its own library, compressed into 13 GB to save disk space, which, when loaded, is dynamically decompressed in real time. As with any sample-based plug-in Strike does eat up your RAM so if you intend to run more than one instance of the plug-in, or run it alongside other RAM-hungry instruments, then make sure you have maxed out the RAM in your Mac to avoid disappointment!
The Interface
Strike's interface has four basic sections: the Browser, the Control section, the Navigator and the Keyboard. In the Control section you can edit three different sets of parameters, categorized as Style, Kit and Mix. Each can be saved as an individual file type (so you can save a Style for example), or as a combination of all three, which is called a '˜Setting'. The main view allows control of the basic parameters of Style, Kit and Mix simultaneously. You can also choose Style, Kit or Mix views if you wish to edit all the parameters that pertain to that particular section.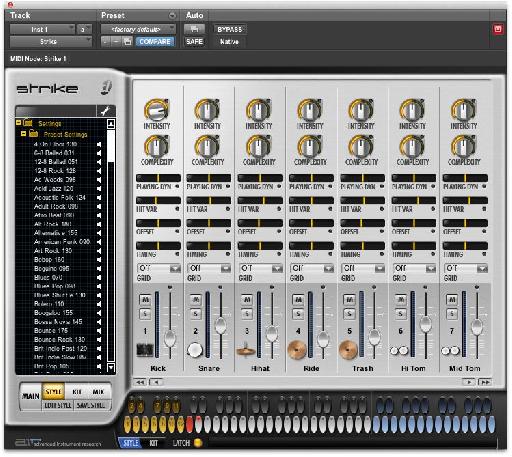 Style View.
Style, Kit and Mix
Style parameters allow you to control elements of the virtual drummer's performance such as complexity and timing (see image). Kit parameters allow you to control the timbre, tuning and shape of each drum sound. Mix parameters allow you to control the volume of each drum sound as you might expect (and this is also available in both Style and Kit views), but also the balance of the individual microphones used to record the virtual performance, including overheads, room and talkback.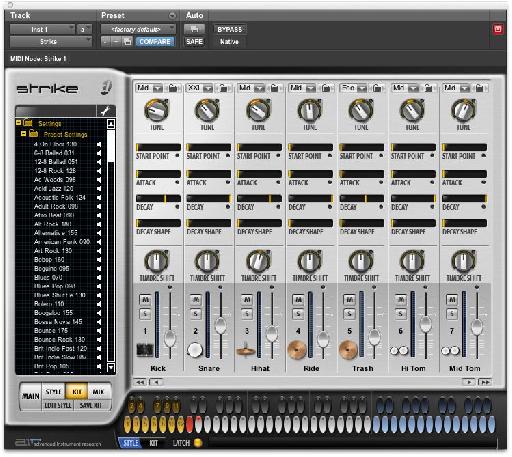 Strike in Kit View.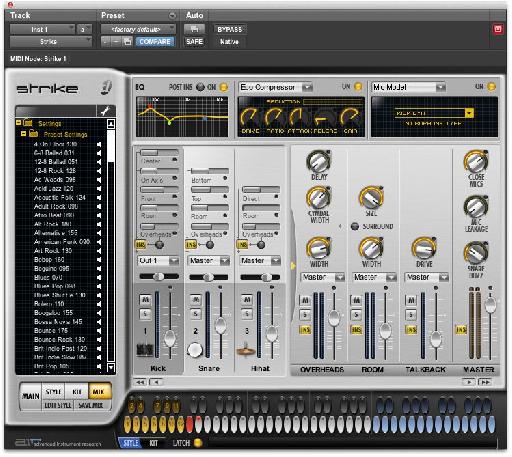 Strike in Mix View.
Getting Started
To load a preset setting double-click it in the Browser. Then to play one of the thirty five preset patterns you can then click on one of the keyboard notes at the bottom of Strike's interface, or trigger them from a MIDI controller. Alternatively, or in addition, you can use a MIDI controller to play and record individual sounds from your chosen setting. Individual sounds within a preset pattern can also be '˜paused' by clicking or triggering the yellow keys at the left of the keyboard.
Editing Settings
Once you have a setting loaded you can then start to customize it. A really simple but effective way to do this is to use the Intensity and Complexity sliders on the main Control display, but you will soon be diving into the huge range of extended parameters that Strike offers.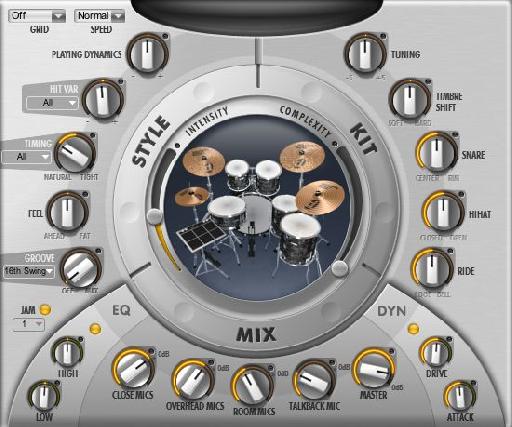 Editing options in the Main View.
Programming a Beat
Click '˜Edit Style' in any view and you will see the event editor. Each part can then be edited by adding or removing individual notes, changing their volume and so on. You can also clear whole parts to start from scratch - just remember to save your setting in the standard Pro Tools fashion if you want to use your creation in another session.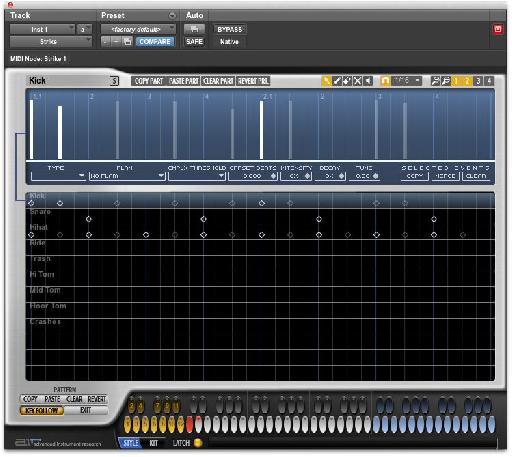 Programming a beat.
Mixing
As mentioned above you can mix each drum sound within Strike, but to access your full set of Pro Tools plug-ins for mixing, each drum track or mic can be sent to any one of up to eight outputs, each of which can then be set as the input to a new track in your Pro Tools session.
Assigning multiple outputs.
Summary
You can tell by now that Strike offers a huge range of sounds and features, far too many for an overview like this to really do it justice! The bottom line is that Strikes sounds incredibly realistic, and if you need fast, flexible access to a wide range of high-quality drum sounds and patterns for your Pro Tools setup then it comes highly recommended.