Inspired by Camille Saint-Saëns' Danse Macabre, this unique solo string instrument is intended for slow, emotional lines and has a darker tone than other solo string instruments on the market.
Strezov's sampling philosophy is to create software tools for composers that can be played without much programming to achieve realistic and professional sounding results. A lot of care goes into choosing the best players and capturing authentic sounding performances with the highest recording quality possible. All of their extensive sample library collection is recorded at Sofia Session Studios in Bulgaria. In order to understand this specific sound, it's helpful to listen to the inspiration behind this library.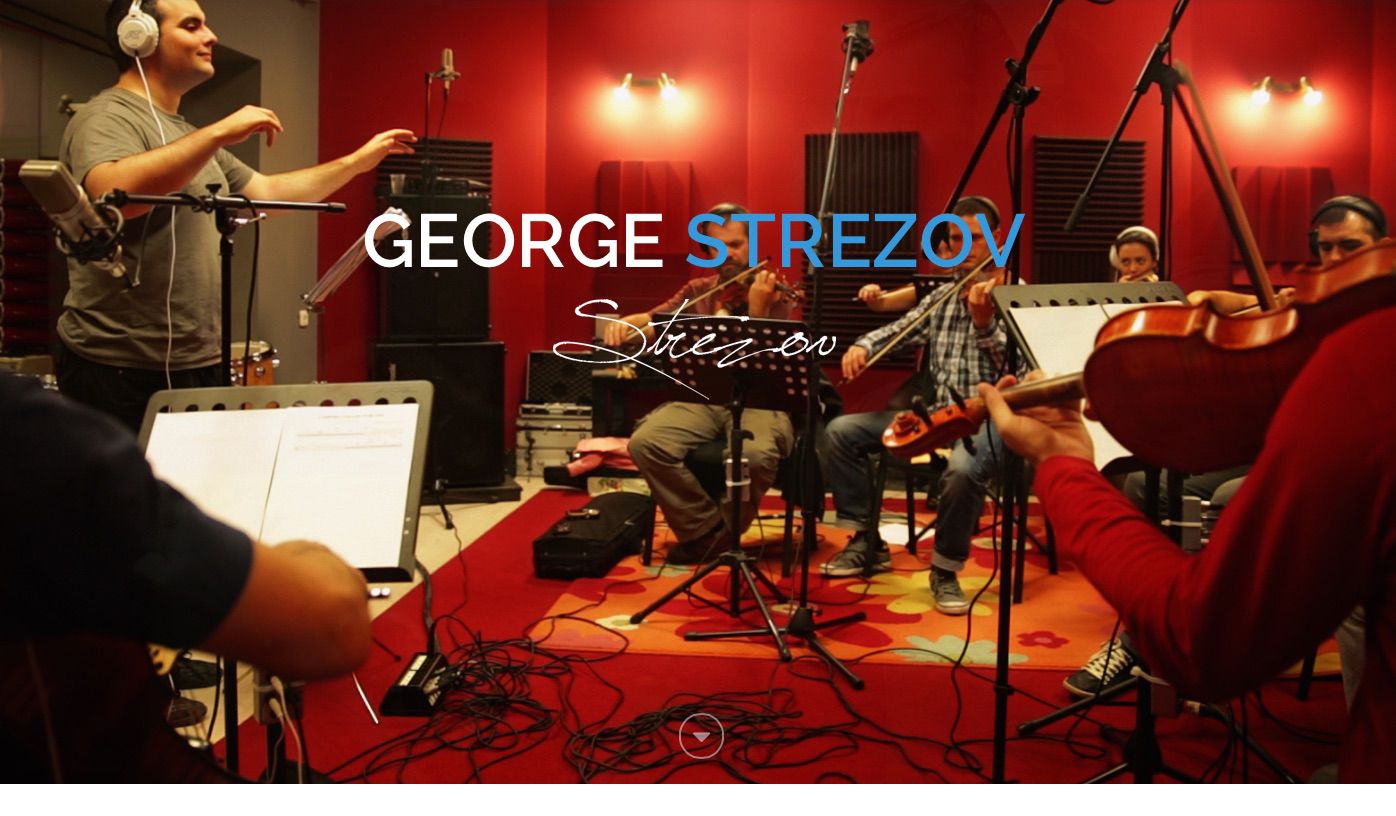 Figure 1: Strezov Sampling and Production.
Camille Saint-Saëns' Danse Macabre
I was first interested in listening to Danse Macabre to get an idea of the context behind Macabre Strings. In the late 1800's, orchestral composers were creating music inspired by famous poems of the day. These pieces were called 'tone poems.' In the Romantic period of classical music into the Impressionistic period dominated by Debussy, composers where finding inspiration in paintings and poetry, using these other art forms to expand the emotional scope of all kinds of orchestral and chamber works. Of course, this is common place practice today in film and TV scoring. The formulas for marrying the image with music are well used and documented. Back in the late 1800s however, the groundwork was being laid for this movement, particularly by French Composers like Saint-Saëns. Late Romantic Period composers introduced more raw emotion and darkness in pieces, often to a radical degree. At the time, works like this were premiered, there were often riots brought on by these new emotional musical expressions.
Camille Saint-Saëns—Danse Macabre
Danse Macabre is particularly haunting and entertaining because of its subject matter. You can probably tell by the artwork on the Kontakt player, that it's straight out of Halloween folklore. In particular, Danse Macabre is based on an old French Superstition and accompanying poem by Henri Cazalis. On Halloween, 'death' appears at midnight and plays Violin to raise the skeletons from their graves, dancing until dawn. The violin is the voice in the piece, offering a slow, emotional line, to awaken and lead the dead. The violin solo only appears a couple times during the piece, but has that singular and unique texture that you will recognize from playing the Macabre Solo Strings instrument.
Macabre Kontakt Player Interface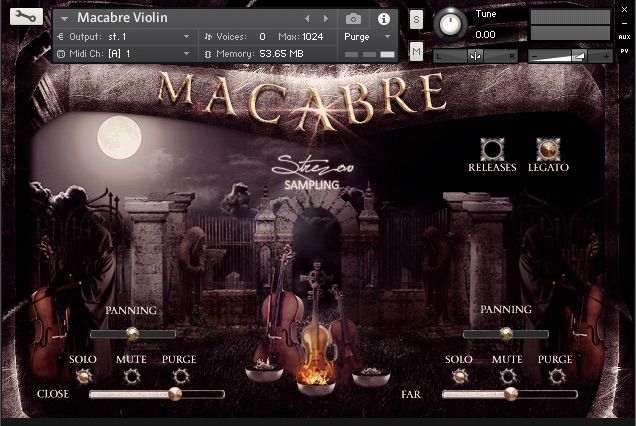 Figure 2 – Macabre Kontakt Player
There is one interface window in the Macabre Kontakt Player. Strezov kept things simple to make sure composers can jump into writing parts, rather than spending time with sound design. If you are the type of composer that needs more control over specific parameters, this may not be the library for you, although, you could dig into the Kontakt programming interface if need be. It sounds fantastic as it is and I find the simplicity very appealing.
In the main window there are legato and release buttons and the two microphone selections, close and far, with panning, solo, mute and purge functions.
Release Function
The release function sounds best when activated. The ends of phrases have a nice taper to them, complete with little creeks and noises from the bow or the player's chair. It's subtle, but adds realism. Turning release off makes transitions between notes a bit cleaner, but doesn't really sound good as the last notes of phrases sound cut off. This may be a feature that requires some automation.
Close and Far Microphones
The Close and Far Microphones sound great together, and you can mix the two options to suit your composition. Panning is also included so you can take the traditional approach of placing the instrument correctly in an orchestral layout or take a more experimental approach and pan the far microphone hard left or right to create interesting depth and width.
Realistic Legato
The main thing that struck me about Macabre was authentic sound of the legato on all three solo strings. Strezov offers two types of legato playing on the Violin and Viola instruments including long form legato and portamento. The two legato styles are triggered by velocity, so a little playing around to find the right combination for your phrase is required.
I could easily float around the notes of my controller. The notes melted together is such a way, it sounded like a string instrument playing, rather than a sample being played on a keyboard. It didn't take much effort to get this sound, which was refreshing and fun. Playing two notes together in legato mode creates a smooth transition between the two notes. You can play dyads and more complex chords with this instrument by turning off the legato function. With the Far mic turned up, the added ambience is wonderful for creating chamber-like string section harmony parts, maybe to layer with a solo line. Overall, composers should take full advantage of the legato function for string solos, rather than think about this as a string harmony instrument.
Check it Out
Macabre Strings is definitely worth checking out. Listen to their extensive playlist of musical examples to get an idea how the solo strings can be used in the context of a larger orchestral piece or film score. Strezov has a large collection of sample libraries at affordable prices, so it's worth spending some time on their website and listening to the generous examples. You can even hire the Sofia session orchestra and choir to record your own compositions. There's a smart, high quality business being run here. I'm sure we will be hearing more of Strezov Sampling & Production and the Sofia Session Orchestra in the future.