Quando Nuendo foi lançado pela primeira vez há vários anos, parecia muito diferente dele
Blood Brothers
Agora, com o Cubase em seu oitavo iterações (Cubase artista e Cubase Pro), Nuendo 7 recebe muitas das mesmas características como VCA Faders, render-in-place, VST baixo Amp, novos e revisados ​​multibanda efeito de plug-ins, ASIO-Guard 2 , VST Conecte SE 3, e muito mais. Mesmo um punhado desses recursos tornaria a atualização para o Nuendo 7 um acéfalo, mas desde que todos eles foram revistas em nosso Cubase Pro 8 avaliação, esta revisão irá se concentrar nas novas Nuendo somente atualizações.
Shuffling the Features
Ao contrário das versões anteriores, Nuendo 7 agora vem com os HALion do Sonic SE2 e Padshop synth plug-ins. Anteriormente, essas ferramentas populares só veio no NEK. No entanto, a NEK 7 adiciona vários recursos poderosos, como pontuação, VST expressão, lista e Tambor Editores, Chord Track and acordes Pads, Groove Agent SE 4 (com acústica Agent), Beat Designer, eo Retrologue, Prologue, Spector, e VST místico instrumentos, todos para o preço muito razoável de US $ 150.00.
Getting in the Game
A indústria de videogames é agora um multi-bilhões (que
Depois de instalar Wwise e Perforce (software de gerenciamento de versão) e conectá-los a Nuendo, as vantagens logo ficou claro.
Então Nuendo 7 tem um novo recurso chamado Jogo Áudio Connect, que facilita a conexão com middleware. Evidentemente, eu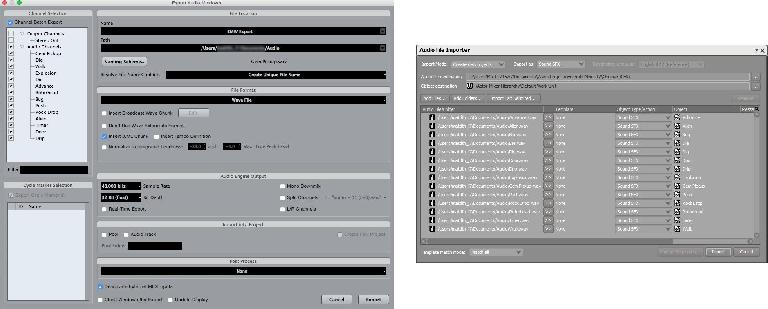 Figura 1. A janela Nuendo Canal exportação Batch (esquerda, Mac), ea janela Importar arquivo Wwise Áudio (direita, do Windows.)
Uma vez eu
Enquanto Wwise é apenas de Windows, ele
Why Conform When You Can ReConform
O cenário é sempre o mesmo: Você recebe o que o editor garante que você vai ser o corte final do projeto, apenas para obter um corte final revisto no dia seguinte, ou mesmo um novo, novo, novos semanas corte finais depois disso. Agora com ReConform, o processo de visualização e adaptar seu projeto Nuendo aos EDLs (Edit decisão enumera) de versões mais recentes é uma brisa. A janela ReConform permite importar os EDLs das edições anteriores e mais recentes, em seguida, compara as diferenças na janela Alterar EDL. Lá
Depois de você
Roll the Sound Effects!
Cada experiente artista de efeitos sonoros, ou terá construído a sua própria biblioteca, ou eles têm acesso a uma fornecida pelo estúdio para os quais trabalham. Mas se você
O robusto Mídia Bay em Nuendo já tem mídia organizada tornando mais fácil para a audição, bem como inserir em seu projeto.
Time to Upgrade?
Como eu mencionei, as características do Cubase Pro 8 que foram infundidos em Nuendo 7 seria o suficiente para justificar um upgrade. Mas
Preço: $ 1.800,00 USD (NEK $ 150,00), atualizar do Nuendo 6.5: $ 150,00, ou Nuendo 6.5 com NEK 6,5 a Nuendo 7 e NEK 7: $ 250,00.
Prós: preço de atualização barato, grande quantidade de novos recursos poderosos, ReConform e Game Áudio Ligue tem que foi visto para ser acreditado, e ASIO-Guard 2 recebe mais potência do computador que você já possui.
Contras: Caro para compradores de primeira vez, a NEK
Web: https://www.steinberg.net/en/products/nuendo_range/nuendo/new_features.html