Quando Nuendo è stato rilasciato diversi anni fa, sembrava molto diverso da esso
Blood Brothers
Ora con Cubase alla sua ottava iterazioni (Cubase Artist e Cubase Pro), Nuendo 7 ottiene molte delle stesse caratteristiche come VCA Fader, rendering-in-place, VST Bass Amp, nuovi e rivisti multibanda plug-in effetti, ASIO-Guard 2 , VST Connect SE 3, e altro ancora. Anche una manciata di queste caratteristiche sarebbe l'aggiornamento a Nuendo 7 un gioco da ragazzi, ma dal momento che tutti loro sono stati esaminati nel nostro Cubase Pro 8 recensione, questa recensione si concentrerà sui nuovi Nuendo-Solo per aggiornamenti.
Shuffling the Features
A differenza delle versioni precedenti, Nuendo 7 ora viene fornito con le HALion di Sonic SE2 e Padshop synth plug-in. In precedenza, questi strumenti popolari venuto solo nel NEK. Tuttavia, la NEK 7 aggiunge molte caratteristiche potenti come punteggio, VST Expression, Lista e del Tamburo editori, traccia Chord e Pad Chord, Groove Agent SE 4 (con l'agente Acoustic), Beat Designer e il Retrologue, Prologue, Spector, e VST Mystic Strumenti, tutto per il prezzo molto ragionevole di $ 150,00.
Getting in the Game
L'industria dei videogiochi è ormai un multi-miliardi (che
Dopo aver installato Wwise e Perforce (software di gestione versione) e collegandoli a Nuendo, i vantaggi divenne ben presto chiaro.
Così Nuendo 7 ha una nuova funzionalità denominata Gioco audio Collegare che facilita la connessione di middleware. Certo, io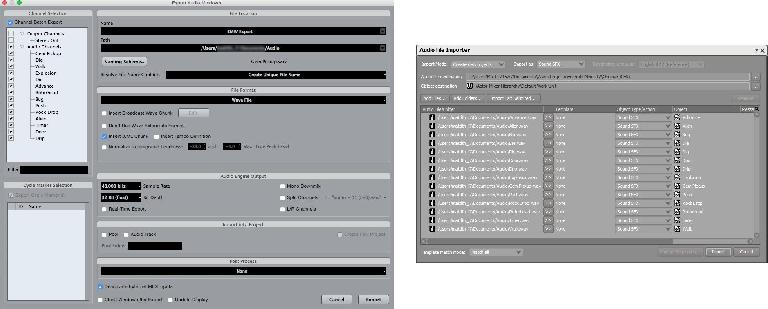 Figura 1. La finestra Nuendo canale di esportazione in batch (a sinistra, Mac), e Wwise audio finestra Import File (a destra, Windows).
Una volta io
Mentre Wwise è solo per Windows, è
Why Conform When You Can ReConform
Lo scenario è sempre lo stesso: Riceverete che cosa l'editor assicura sarà il taglio finale del progetto, solo per ottenere un taglio finale rivisto il giorno dopo, o anche un nuovo, nuovo, nuovo Final Cut settimane dopo. Ora con reconform, il processo di visualizzazione e di adattare il progetto Nuendo le EDL (Edit Decision List) di versioni più recenti è un gioco da ragazzi. La finestra reconform consente di importare le edls dalle modifiche precedenti e più recenti, poi a confronto le differenze nella finestra Cambia EDL. Là
Dopo di te
Roll the Sound Effects!
Ogni esperto artista effetti sonori ha né costruito la propria libreria, oppure avere accesso a quello fornito dallo studio per cui lavorano. Ma se si
Il robusto Media Bay in Nuendo ha già organizzato i media che la rende facile per ascoltare così come inserire nel progetto.
Time to Upgrade?
Come ho già detto, le caratteristiche di Cubase Pro 8 che sono state infuse in Nuendo 7 sarebbe sufficiente a giustificare un aggiornamento. Ma ciò
Prezzo: $ 1,800.00 USD (NEK $ 150.00), aggiornamento da Nuendo 6.5: $ 150.00, o Nuendo 6.5 con NEK 6,5 per Nuendo 7 e NEK 7: 250,00 $.
Pro: prezzo di aggiornamento Economico, un sacco di nuove e potenti funzionalità, reconform e Game audio Collegare devono stato visto per essere creduto, e ASIO-Guard 2 ottiene più potenza dal computer già in vostro possesso.
Contro: Caro per prima volta gli acquirenti, la NEK
Web: https://www.steinberg.net/en/products/nuendo_range/nuendo/new_features.html