Lorsque Nuendo a été libéré il ya plusieurs années, il avait l'air très différent de ce
Blood Brothers
Maintenant, avec Cubase dans ses huitième itérations (Cubase Artist et Cubase Pro), Nuendo 7 obtient beaucoup des mêmes caractéristiques comme VCA faders, de rendu sur place, VST amplis de basse, nouvelles et révisées plug-ins d'effets multibandes, ASIO-Guard 2 , VST Connect SE 3, et plus encore. Même une poignée de ces caractéristiques serait mise à niveau vers Nuendo 7 une évidence, mais puisque chacun d'entre eux ont été examinés dans notre Pro 8 avis Cubase, cet examen se concentrera sur les nouvelles Nuendo-seulement les mises à niveau.
Shuffling the Features
Contrairement aux versions précédentes, Nuendo 7 est désormais livré avec les plug-ins SE2 et Padshop synthé HALion Sonic. Auparavant, ces outils populaires ne sont venus dans la NEK. Cependant, la NEK 7 ajoute de nombreuses fonctionnalités puissantes comme la notation, VST Expression, Liste et tambour rédacteurs, Chord Track and Chord Pads, Groove Agent SE 4 (avec l'Agent acoustique), Beat Designer, et l'Retrologue, Prologue, Spector, et VST Mystic instruments, tous pour le prix très raisonnable de 150,00 $.
Getting in the Game
L'industrie du jeu vidéo est maintenant un multi-milliards (ce
Après l'installation de Wwise et Perforce (logiciel de gestion de version) et les reliant à Nuendo, les avantages est vite devenu clair.
Donc Nuendo 7 a une nouvelle fonctionnalité appelée Jeu Audio Connect qui facilite la connexion au middleware. Certes, je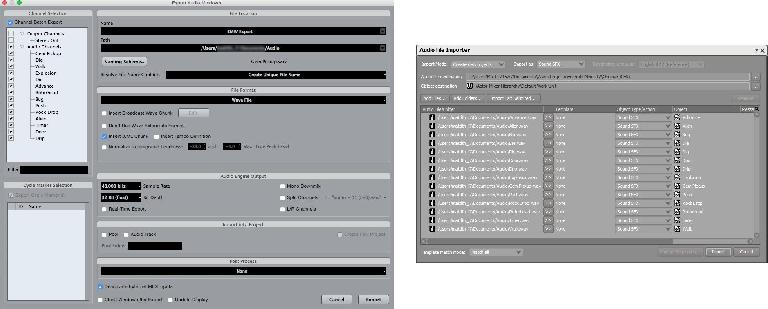 Figure 1. La fenêtre Nuendo Canal lot d'exportation (à gauche, Mac), et Wwise Audio fenêtre d'importation de fichier (à droite, Windows).
Une fois que je
Alors que Wwise est pour Windows uniquement, il
Why Conform When You Can ReConform
Le scénario est toujours le même: vous recevez ce que l'éditeur assure vous serez le montage final du projet, seulement pour obtenir une coupe finale révisée le lendemain, ou même une nouvelle, de nouvelles, de nouvelles semaines finales de coupe après. Maintenant, avec Reconform, le processus de visualisation et d'adapter votre projet Nuendo aux EDL (des listes de décisions) des versions plus récentes est un jeu d'enfant. La fenêtre Reconform vous permet d'importer les listes EDL des modifications antérieures et plus récentes, puis compare les différences dans la fenêtre Modifier l'EDL. Là
Après vous
Roll the Sound Effects!
Chaque artiste effets sonores aguerri a soit construit leur propre bibliothèque, ou ils ont accès à celui fourni par le studio pour qui ils travaillent. Mais si tu
Le robuste Media Bay de Nuendo a déjà organisé les médias rendant facile à l'audition ainsi que d'insérer dans votre projet.
Time to Upgrade?
Comme je l'ai mentionné, les caractéristiques de Cubase Pro 8 qui ont été infusés dans Nuendo 7 suffiraient à justifier une mise à niveau. Mais cela
Prix: 1,800.00 $ USD (NEK 150,00 $), mise à niveau de Nuendo 6.5: 150.00 $, ou Nuendo 6.5 avec NEK 6,5 à Nuendo et NEK 7 7: 250,00 $.
Avantages: bon marché prix de mise à niveau, les charges de nouvelles fonctionnalités puissantes, Reconform et Game Audio Connect doivent être vu pour être cru, et ASIO-Guard 2 obtient plus de puissance de l'ordinateur que vous possédez déjà.
Moins: Cher pour les primo-accédants, la NEK
Web: https://www.steinberg.net/en/products/nuendo_range/nuendo/new_features.html