Cuando Nuendo fue lanzado por primera vez hace varios años, se veía muy diferente de ella
Blood Brothers
Ahora con Cubase en sus octavo iteraciones (Cubase Artist y Cubase Pro), Nuendo 7 consigue muchas de las mismas características como VCA faders, Render en el lugar, VST Bass Amp, nuevos y revisados ​​multibanda plugins de efectos, ASIO-Guard 2 , VST Conectar SE 3, y más. Incluso un puñado de estas características tendría la actualización a Nuendo 7 una obviedad, pero ya que todos ellos fueron revisados ​​en nuestra Cubase Pro 8 opinión, esta revisión se centrará en los nuevos Nuendo de sólo actualizaciones.
Shuffling the Features
A diferencia de versiones anteriores, Nuendo 7 ahora viene con los HALion de Sonic SE2 y Padshop sintetizador plug-ins. Anteriormente, estas herramientas populares sólo se produjo en la NEK. Sin embargo, la NEK 7 agrega muchas características de gran alcance como la puntuación, Expresión VST, Lista y Tambores de Editores, pista de acordes y del acorde Pads, Groove Agent SE 4 (con el Agente acústica), Beat Designer y el Retrologue, Prologue, Spector y VST Mystic Instrumentos, todo por el precio muy razonable de $ 150.00.
Getting in the Game
La industria de los videojuegos es ahora una de miles de millones (que
Después de instalar WWiSE y Perforce (software de gestión de versión) y conectarlos a Nuendo, las ventajas pronto se hicieron evidentes.
Así Nuendo 7 tiene una nueva característica llamada Juego Audio Conecte que facilita la conexión con el middleware. Es cierto, yo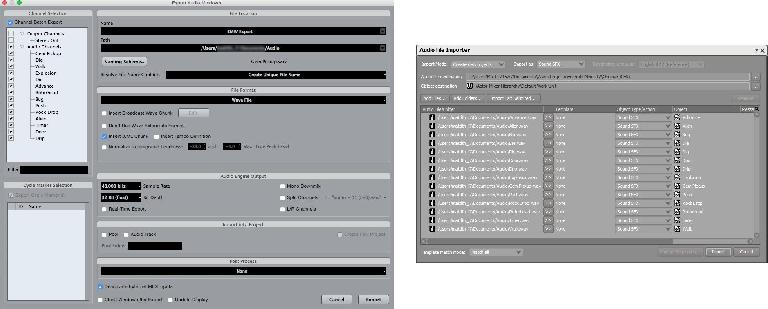 Figura 1. La ventana Nuendo Canal de exportación por lotes (izquierda, Mac), y WWiSE Audio ventana Importar archivo (derecha, Windows.)
Una vez yo
Mientras WWiSE es sólo para Windows, que
Why Conform When You Can ReConform
El escenario es siempre el mismo: Recibe lo que el editor asegura que será la versión final del proyecto, sólo para conseguir un corte final revisado al día siguiente, o incluso un nuevo, nuevo, nuevos semana cortadas finales después de eso. Ahora con reconform, el proceso de visualizar y adaptar su proyecto Nuendo a las listas EDL (Edit Decision Lists) de las versiones más recientes es una brisa. La ventana reconform le permite importar las listas EDL de las ediciones anteriores y más recientes, a continuación, compara las diferencias en la ventana Cambiar EDL. Ya está
Después de usted
Roll the Sound Effects!
Cada artista ha experimentado los efectos de sonido, ya sea construido su propia biblioteca, o tienen acceso a una proporcionada por el estudio para el que trabajan. Pero si usted
La robusta Bay Medios en Nuendo ya cuenta con los medios de comunicación organizan lo que facilita la audición, así como insertar en su proyecto.
Time to Upgrade?
Como ya he mencionado, las características de Cubase Pro 8 que han sido infundidas en Nuendo 7 serían suficientes para justificar una actualización. Pero
Precio: $ 1,800.00 USD (NEK $ 150.00), actualización de Nuendo 6.5: $ 150.00, o Nuendo 6.5 con NEK 6,5 a Nuendo 7 y NEK 7: $ 250.00.
Pros: precios de actualización barato, un montón de nuevas características, reconform y Game Audio Conectar tienen que ha visto para ser creído, y ASIO-Guard 2 consigue más potencia de la computadora que ya posee.
Contras: Caro para compradores por primera vez, la NEK
Web: https://www.steinberg.net/en/products/nuendo_range/nuendo/new_features.html