Wenn Nuendo wurde erstmals vor einigen Jahren veröffentlicht, sah es ganz anders aus ihr
Blood Brothers
Jetzt mit Cubase in der achten Iterationen (Cubase Artist und Cubase Pro), bekommt Nuendo 7 viele der gleichen Funktionen wie VCA-Fader, Render-in-place, VST Bass Amp, neue und überarbeitete Multiband-Effekt-Plug-Ins, ASIO-Guard 2 , VST Connect SE 3, und vieles mehr. Auch eine Handvoll dieser Funktionen würde ein Upgrade auf Nuendo 7 ein Kinderspiel zu machen, aber da alle von ihnen wurden in unserer Bewertung Cubase Pro 8 Überprüfung, wird diese Bewertung auf die neue Nuendo-only-Upgrades zu konzentrieren.
Shuffling the Features
Im Gegensatz zu früheren Versionen, Nuendo 7 kommt nun mit der HALion Sonic SE2 und Padshop Synthesizer-Plug-Ins. Früher kamen diese beliebte Tools nur in der NEK. Allerdings fügt der NEK 7 vielen leistungsstarken Funktionen wie Scoring, VST Expression, List und Drum Editors, Akkordspur und Chord-Pads, Groove Agent SE 4 (mit Acoustic-Agent), Beat Designer und die Retrologue, Prologue, Spector und Mystic VST Instrumente, alle für den sehr günstigen Preis von $ 150,00.
Getting in the Game
Die Videospiel-Industrie ist jetzt ein Multi-Milliarden (das
Nach der Installation von WWiSE und Perforce (Version-Management-Software) und dem Anschluss an Nuendo, wurden die Vorteile schnell klar.
So Nuendo 7 hat ein neues Feature namens Game Audio Connect, die die Verbindung zu Middleware erleichtert. Zugegeben, ich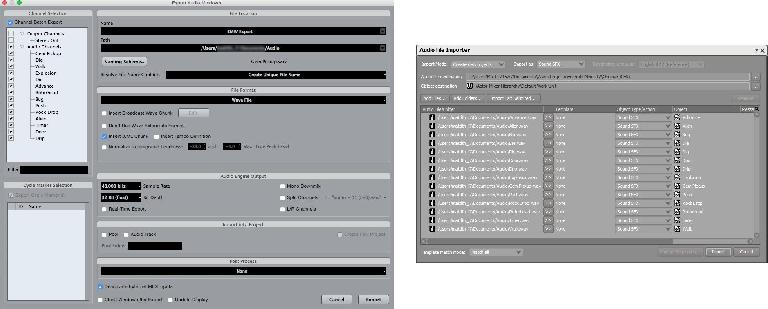 Abbildung 1. Die Nuendo Kanal-Export-Fenster (links, Mac) und WWiSE Audio File Import-Fenster (rechts, Windows.)
Sobald ich
Während WWiSE ist nur für Windows, es
Why Conform When You Can ReConform
Das Szenario ist immer das gleiche: Sie erhalten, was der Herausgeber versichert Ihnen, wird die endgültige Schnitt des Projektes sein, nur um eine überarbeitete Final Cut bekommen am nächsten Tag oder sogar eine neue, neu, neue Final Cut Wochen danach. Jetzt mit Recon, ist der Prozess der Visualisierung und Anpassung Ihrer Nuendo-Projekt auf die EDLs (Edit Decision Lists) von neueren Versionen ein Kinderspiel. Das Fenster Recon können Sie die EDLs von den früheren und letzten Änderungen zu importieren, dann vergleicht die Unterschiede in der Veränderung EDL-Fenster. Dort
Nach Ihnen
Roll the Sound Effects!
Jeder erfahrene Soundeffekte Künstler hat entweder bauten ihre eigenen Bibliothek oder sie Zugang zu einem durch das Studio, für die sie arbeiten, zur Verfügung gestellt haben. Aber wenn Sie
Die robuste Medien Bay in Nuendo bereits Medien organisiert macht es einfach, vorsprechen und legen Sie in Ihr Projekt.
Time to Upgrade?
Wie ich bereits erwähnt, würden die Funktionen von Cubase Pro 8, die in Nuendo 7 infundiert worden sind genug, um ein Upgrade zu rechtfertigen. Aber es
Preis: $ 1,800.00 USD (NEK $ 150,00), Upgrade von Nuendo 6.5: $ 150,00 oder Nuendo 6.5 mit NEK 6,5 bis 7 und Nuendo NEK 7: 250,00 $.
Vorteile: Preiswert Upgrade-Preise, viele leistungsstarke neue Funktionen, Recon und Game Audio Connect muss gesehen werden geglaubt zu und ASIO-Guard 2 erhält mehr Leistung aus dem Computer die Sie bereits besitzen.
Nachteile: Teuer für Erstkäufer, die NEK
Web: https://www.steinberg.net/en/products/nuendo_range/nuendo/new_features.html