Review: Steinberg Cubase Pro 10
Steinberg's flagship DAW turns 30 years old, and it's bigger and better than ever. With a host of new features, tools and technologies, Hollin Jones road tests Cubase Pro 10.
Cubase - in its first years purely a MIDI sequencer - was one of the very first music applications to run on a computer, all the way back in 1989. Since then it has developed and changed beyond all recognition, undergoing huge technological revolutions over the years and embracing, even pioneering, music-making technologies that we take for granted today. Steinberg invented the VST and ASIO formats, and Cubase has been at the forefront of breakthroughs like surround sound, time stretching, virtual synthesis, scoring and much more. Now on the verge of turning 30 years old, Cubase reaches another milestone - version 10.

There simply isn't space here to list everything that Cubase does - you can read our review of version 9.5 here: https://ask.audio/articles/review-steinberg-cubase-95. Put simply, it's a complete music and MIDI recording, editing and production environment for Mac and PC. Available in three versions - Elements, Artist and Pro - all share the same core technology but have different feature sets depending on their price. Here I have reviewed the Pro version, but a detailed feature comparison can be found at https://new.steinberg.net/cubase/compare-editions/. Let's look at what's new.
In With The New
Steinberg typically doesn't overhaul Cubase's look and feel too much between versions but has generally always managed to balance introducing new features and refining workflow with maintaining ease of use - something that's not always easy to do when dealing with such an immensely complex program. And this holds true for version 10. Let's start at the beginning.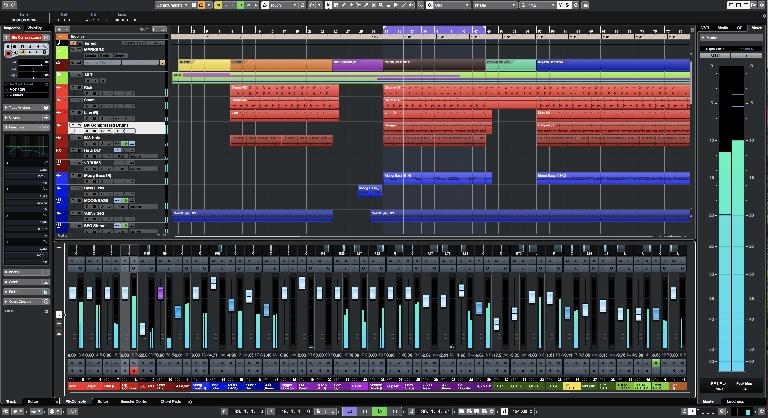 System requirements are still listed as a dual core CPU and 4GB of RAM though as ever (and I do wonder who is really trying to run brand new DAWs on hardware that minimal these days), a multi-core system with 16GB or more of RAM is what most producers should be running as a minimum for any kind of serious production work. If you're reading this, your computer is more than likely much more powerful than the basic requirements anyway.

Under the hood, the audio engine has been enhanced and now delivers 64-bit floating point resolution at up to 192kHz, with true surround capability and each track able to offer up to 6 discreet channels for surround mixing. It can record, import and edit audio at extremely high quality settings and although I've never found the audio quality in Cubase particularly wanting, there's now more headroom than ever. (It sounds fantastic, as you'd expect).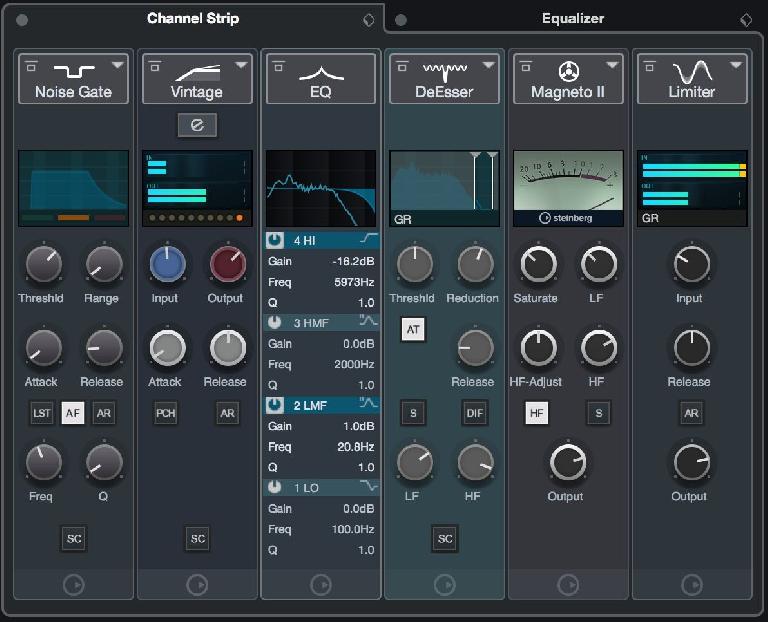 There's also full support for high resolution displays, meaning Retina screens on Mac OS, and Hi-DPI on Windows 10, with the caveat that Windows' graphics hardware landscape is much more fragmented than the Mac, so it's worth checking to see if your specific hardware is supported. MPE - an expanded and more versatile MIDI protocol used most notably by ROLI in its controllers and software - is now supported, and there's support forthcoming for ARA plug-ins to enable enhanced communication between compatible plugins and Cubase. Overall the interface has been tweaked, refined and smoothed down in ways that are subtle but certainly do enhance usability.
Go Bigger
That's the nuts and bolts stuff, but there are some big new user-facing features too. VariAudio, Cubase's time and pitch stretching system, is updated to version 3 and has been made significantly easier to use. It adds new smart tools, letting you get control of every parameter in each segment of audio when in VariAudio edit mode. It's still best suited to monophonic vocal lines, but Steinberg's claim that editing vocal audio tracks is now as easy as working with MIDI data is justified. You can pick up pitch and micro pitch, select points in a sound at which you want transitions and changes to start, make smooth changes or dramatically change formants for a robot effect. It's all still integrated with the Chord Track too, so generating harmonies is straightforward.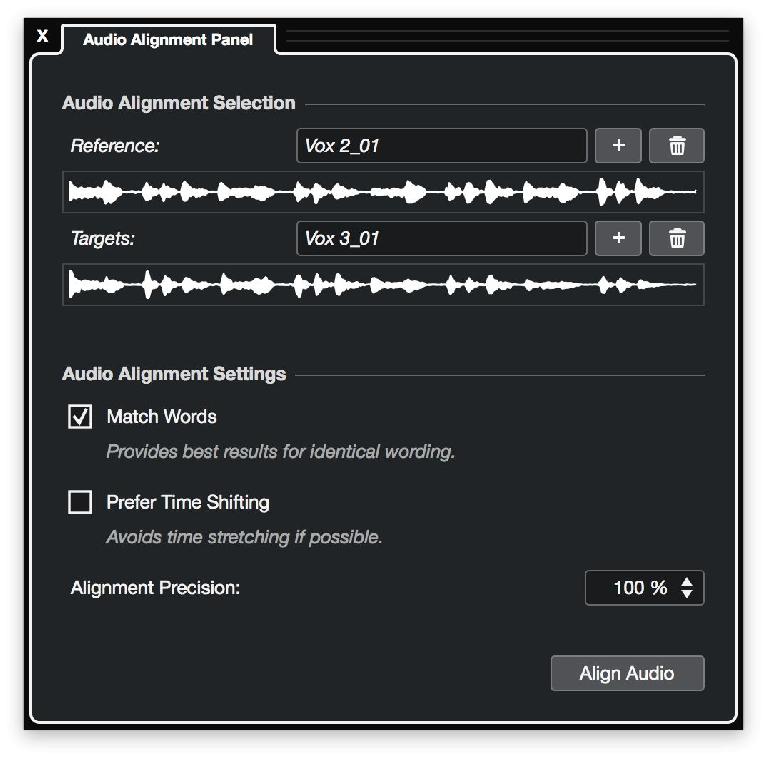 Cubase has been able to edit groups of audio files for a while - multitracked drums for example - but now it gains a much-requested new feature, Audio Alignment. With a new dedicated window, this tool allows you to match multiple tracks to a reference track in just a few seconds. A good example would be backing vocals - select the lead vocal as the reference, then the backing vocals as the targets. Cubase analyses the audio and auto-aligns them, with a variable control if you want a snap value other than 100% to maintain a more natural feel. This is designed to work on tracks where the content of the audio takes is the same or very similar, such as vocals, since it's by analysing the waveforms that it does its magic. But it makes dealing with stacked or doubled vocals incredibly easy. You won't believe how much time it will save nudging tracks back and forth by tiny increments to line them up. This one is a big win for vocal producers.
Mixer Snapshots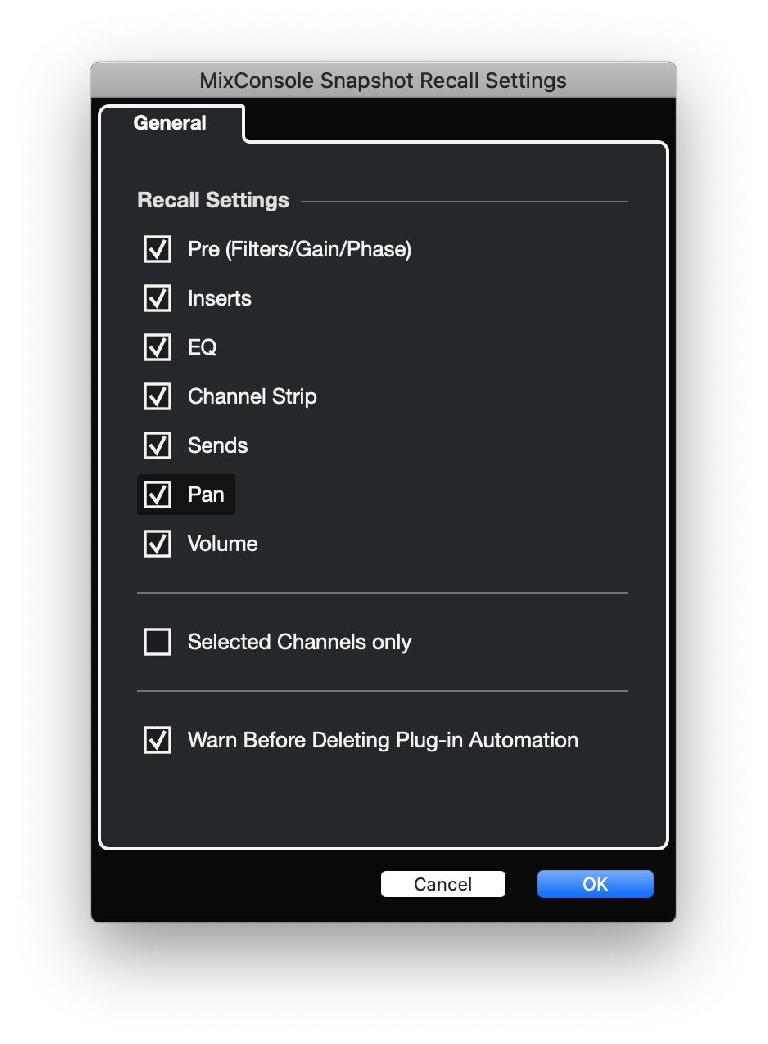 MixConsole goes from strength to strength in Cubase, and the improvements continue in version 10. Channel strips have been simplified and streamlined, offering a more hardware-like experience than ever before. You can still call up multiple of Cubase's processors onto any channel but now you get a metering screen that shows the behaviour of each one when selected. It's a small change but lovely, and makes Cubase feel at once more pro and more friendly.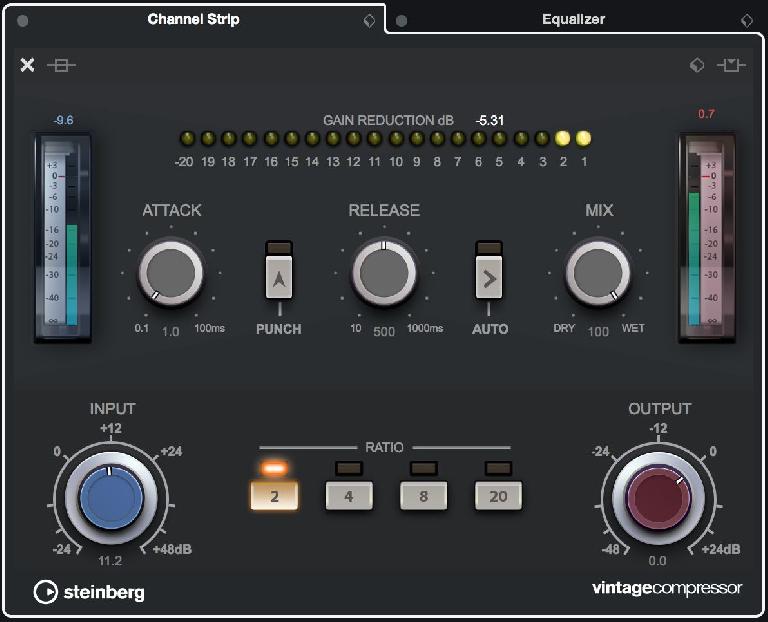 MixConsole itself gets a new Snapshots feature, which I already can't imagine being without. Essentially this lets you save mixer states, name them, add notes and then flip between them to test different mix treatments. Even better, you can recall only specific parts of a setup, or just the settings for an individual track. Snapshots are found in some other creative software (I use them in Adobe Lightroom all the time) and they are insanely helpful. No more long-winded tweaking, the process here is quick and easy.
Drag And Drop Plugs
Another major new workflow enhancement, and something else that I welcome with open arms is a new way to work with plug-ins in the Browser. We all have a lot of plug-ins, and they can become tedious to scroll through while you work. Now, Cubase has the option to view them in the Browser using GUI icons or in a list, and they can be dragged and dropped into a project. There's a search field of course, and loops and samples, presets, favourites and more can also be found here. This kind of system has existed in some other DAWs for a while so it's great to see it now made a part of Cubase.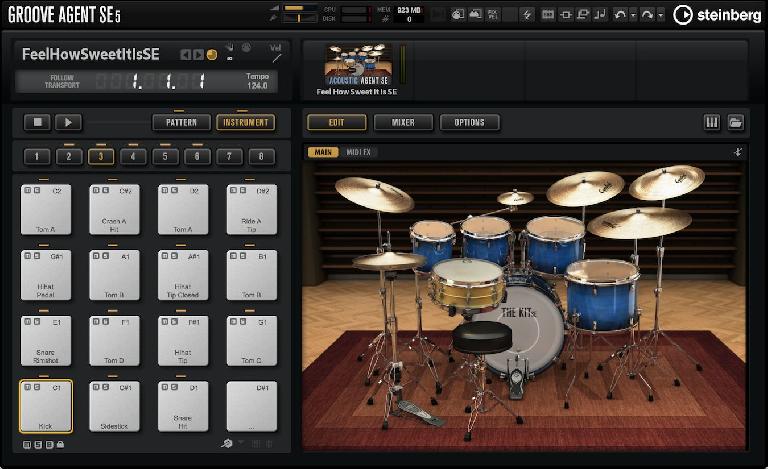 Speaking of content, there's a new Groove Agent SE 5, with a reworked and resizable (finally!) interface as well as numerous new tools and features, not least a very cool new trick where you can click a button to transfer the entire GA mixer setup from the plug-in into Cubase's mixer for advanced mixing control. You also get 5GB of sounds and loops as well as the new Distroyer analog warming effect, easier sidechaining in compatible plugs and 20 new impulse responses for the REVerence reverb - all this in addition to Cubase's formidable existing set of instruments, FX and sounds.
Grab Bag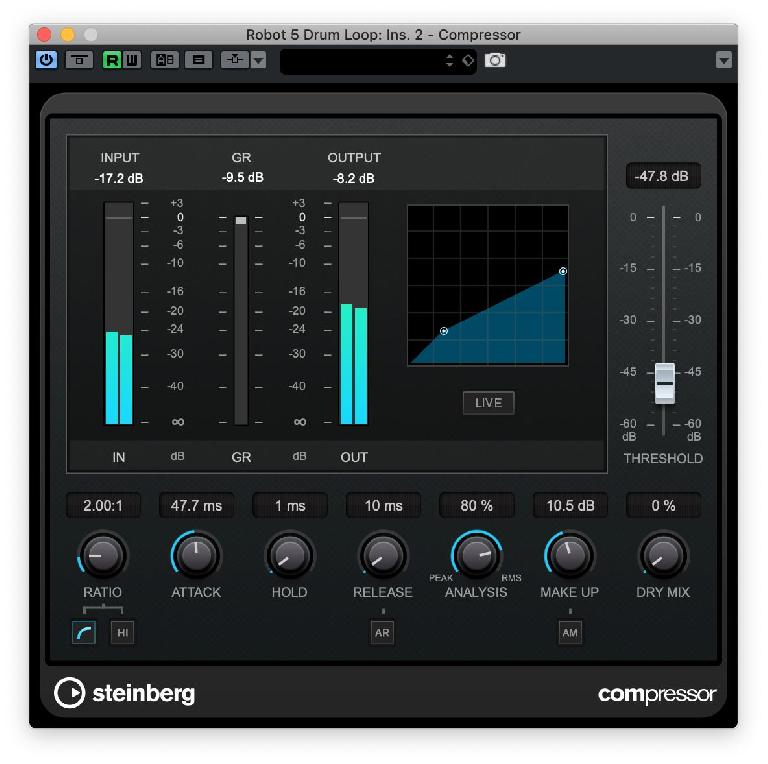 That's not all, there's a few more nuggets to mention. You get a new latency monitor option, which shows you which plugs are causing latency when in use. Cubase compensates for this anyway, but it's useful for identifying culprits, say when tweaking buffer sizes for latency-free recording, or disabling a problem plug. There's a VR production suite, comprising a fully integrated Binauralizer and a VR panning device (included in the VST Multipanner), an HMD connector for head tracking and a third order Ambisonics bus for working with VR audio. I'll admit to having little experience of VR production, but you can find more on the website about it. There are enhanced sound-to-picture tools, and though video editing is still limited to quite basic cuts, that's true of pretty much all DAWs.
Conclusion
Cubase 10 is a true powerhouse of music recording and production. It's bigger now that it has ever been, embracing every aspect of the production process - this is especially true of the Pro version. True, Nuendo deals more specifically with audio post production, but that's not really what Cubase is for - it's for musicians. Despite taking on so many features it remains friendly and intuitive to use, although of course features like VariAudio and surround mixing are advanced, professional tools. Cubase will reward the time you spend learning to use it.

The new features are welcome, especially drag and drop of plugins, mixer snapshots and Groove Agent SE5, which everyone will love. These alone justify the upgrade in my opinion. The other additions and improvements - VariAudio, audio alignment, MPE, VR - will appeal in some combination to almost every Cubase user since we all have to deal with some of these, or will in future. In addition to all the new stuff you still of course get Cubase's towering feature set and content bundle that it's been building for many years. Whichever version best suits your needs, Cubase comes thoroughly recommended.
Price: Pro £480. Artist £265. Elements £85.
Upgrade and crossgrade pricing available on Steinberg web shop.
Pros: Beautiful, friendly and refined interface and workflow. New mixer snapshots as well as drag and drop of plugins are insanely useful. Groove Agent SE5 and new content and plugin features are great. Audio alignment works brilliantly. VariAudio now even more powerful, easier to use. Overall a supremely talented DAW.
Cons: Still uses USB e-licenser. No AU support for Mac users.
Web: www.steinberg.net
Videos: https://ask.audio/academy?nleloc=category/audio/application/cubase