When I was given the opportunity to glance at the AXR4 in action at Winter NAMM, I was incredibly excited about the prospect of getting some quality time with one down the road. Now that I've had a few weeks with the AXR4 at the hub of my studio, I'm ready to expand on my impressions of Steinberg's newest audio interface.
A LOT Of Specs
The AXR4 makes no bones about its main focus - audio quality. The interface can record up to a 384kHz sample rate, and process audio at a depth of up to 32 bits. The AXR4 comes with its own version of Cubase (the 'AI' variant) that fully maximizes the integration between interface and software, but to be clear - this interface works with ANY digital audio workstation you throw at it.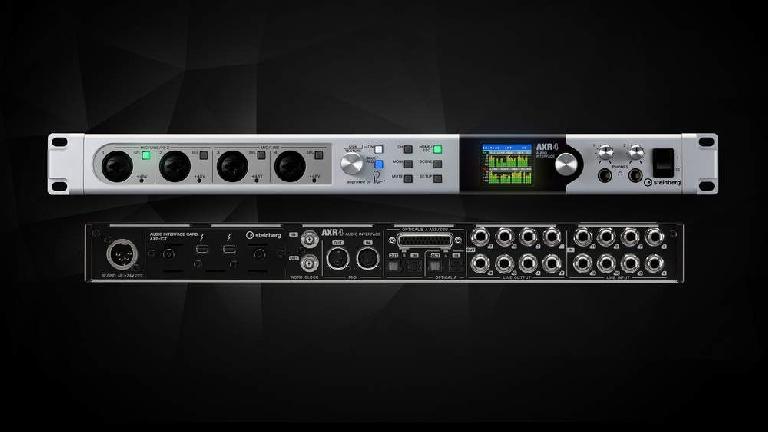 The mic preamps are AXR hybrid, the same models you would find in Yamaha's high end digital mixing consoles. They also have a 'silk circuit with 2 different modes, courtesy of Rupert Neve designs. By utilizing the silk emulation, the silk blue mode will saturate your lower frequencies more, while the silk red mode gives you more detail in the upper range. The silk emulation is able to be bypassed, and the amount of it completely adjustable.
AXR4 uses Thunderbolt 2, so it's able to keep latency extremely low as well as daisy chain other devices. Of course, if your machine is utilizing USB-C you'll need to use a Thunderbolt to USB-C adapter. The Thunderbolt interface portion is separate from the rest of the device, so it looks like there may also be future connectivity options down the road (not an official statement from Steinberg, but just an educated guess from me). Steinberg is also touting SSPLL jitter reduction technology, again putting the focus on the converter/preamp/internal processing portion of the interface.
Connectivity wise, you get 4 of the hybrid preamps, two banks of ADAT optical (reconfigurable as S/PDIF via software), world clock in and out, MIDI in and out, 8 line inputs (separate from the 4 hybrid pres - a total of 12 analog ins), and 8 line outputs.
The Sound
I was very interested to hear the preamps themselves, as well as the silk emulation as I'm a big fan of Neve pres in general. These are, of course, kind of a hybrid of Yamaha and Neve, so I expected a bit of 'new ground' to be broken here.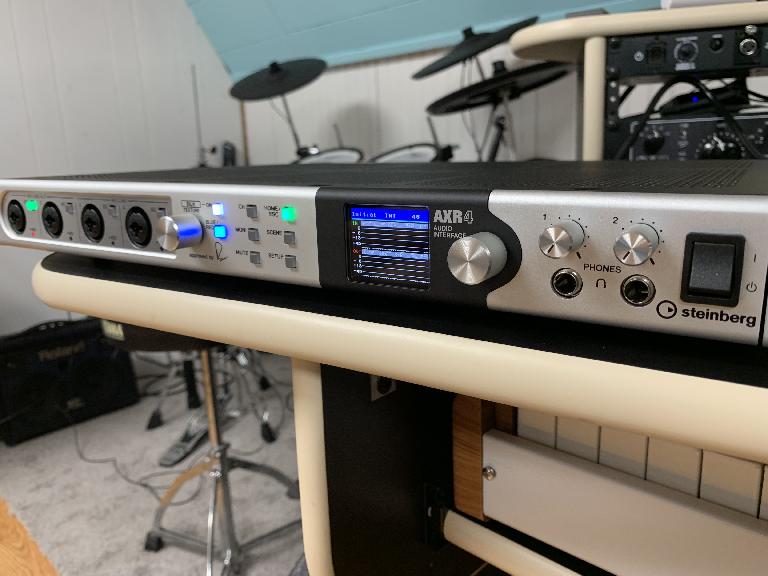 I plugged an AKG C414 directly into the first preamp and tracked a simple strumming pattern with my Taylor. I was quite pleased with the sound, it definitely didn't 'feel' like a direct-to-interface type of preamp. It sounded like I was plugging into one of my higher end rack units. Plenty of detail.

Plain mic pre
Next, I engaged the 'silk' switch and set it to 'Red' mode at 50% saturation. I found that I liked what it did to the acoustic quite a bit. This would definitely save me quite a bit of time on the EQ side.
Red - 50%
Generally, to fit an acoustic in the mix I would shy away a bit from the lower end, but just out of curiosity I engaged the 'Blue' side and put that up to 50%. It definitely brought out the lower end quite a bit, but not too much! For a solo acoustic recording I would probably use a touch of this for sure.
Blue - 50%
Just for fun, I flipped it back to 'Red' and put the Silk at 100%. This sound would probably cut through a mix like a razor.
Red - 100%
Finally, in the interest of equity, I flipped back to 'Blue' and left silk at 100%. Far more bass-happy than I would ever use for an acoustic, but it gave me a good idea of what area the 'Blue' emulation was sweetening.
Blue - 100%
In Use

Using the AXR4 was a pleasure. The dspMixFX companion software was easy enough to figure out without delving into the manual too much. The interface is highly configurable, so you can hide what you don't need to see (much appreciated). The knobs rotate in a bit of an odd fashion by default, but you can change their behavior to linear in the menu (I don't know what kind of absolute maniac uses circular motion). The routing matrix is a tad convoluted to understand, but after a few minutes I got the hang of it. The screen on the AXR4 may be on the small side, but it is incredibly useful - giving quite a bit more control over the interface without software than most competitors.
Conclusion
I can definitely say that the preamps and the 'Silk' feature on these pres are both the real deal. Achieving what engaging the silk switch gives you would not be as simple as EQing - there's a saturation and detail that it provides that would take quite a bit of time with several dynamic EQs to achieve. I'm always down with anything that would save me a bunch of time. The AXR4 sounds truly spectacular - it's a real accomplishment for Steinberg and would make an excellent centerpiece for any audio professional.
Price: $2,799
Pros: Stellar sound quality, great control without software, low latency, silk preamp emulation is incredibly useful, sturdy construction, dual headphone ports, sleek design and look, extremely high resolution audio processing.
Cons: I'm not a big fan of eLicense control center, but you'll only have to run it once to get things up and running.
Web: https://new.steinberg.net/axr4/
Learn more about Cubase and audio recording: https://ask.audio/academy?nleloc=category/audio/application/cubase