Spitfire Audios BML (British Modular Library) range is starting to expand quite nicely. BML Horns is the second release in the series after Sable Strings with Flutes and Low Brass being released recently.
BML Horns gives you access to a very nice French Horn section recorded at Air Studios by the best players in London. Let's have a look at what you get.
After downloading with the Continua Connect app the library the installation is roughly 21gig uncompressed. You'll find the library under 'Files' tab in the Kontakt browser by navigating to the destination that you used for the install.
You'll find two folders in the 'Instruments main mics' folder. 'Horns a2' features a two player section and 'Solo Horn' is as the name suggests a single player. The dual player set is ideal for building larger more robust parts while the solo player is perfect for more intimate moments. Of course you can blend both if you like. The idea is to keep the player count down so when say a three note chord is played the overall player count remains realistic (in this case six).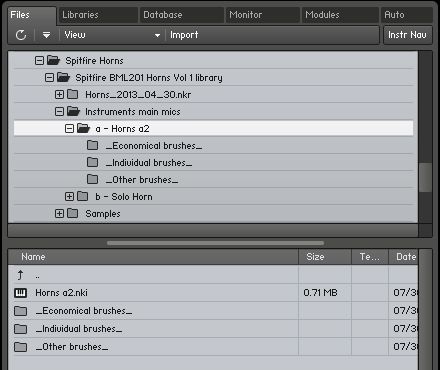 There are four microphone positions included. Close, Tree, Ambient and Outrigger. This enables you to go from an upfront dry mix to a very spacious wet mix that captures the full ambience of Lyndhurst Hall. There are further downloads for Stereo (Three mixes by engineer Jake Jackson) and Alt mic positions (Alt stereo, Gallery and Close Ribbon). The three 'Stereo' mixes are very useful for cutting RAM overheads.

The sound of the recordings are as you might expect fantastic and need very little tweaking.

Articulations
Loading 'Horns a2' will give you a patch that contains all available articulations (with more scheduled for Vol 2). These range from Legato (two types), Longs (also Stopped and Cuivre), Shorts (Marcato, Tenuto and Staccato) and a range of effects like Multi-tongued (rapid successions), Rips, Falls and Trills.

There are also three 'Bells Up' articulations which provide a strong bright tone (normally the French Horn bell faces away from the listener giving a mellower tone). These come in Long, Quaver and Staccato. Once loaded any articulation can be easily keyswitched.


Some of these articulations have multiple variations inside them which I'll discuss later. The Legato patch is superb and very expressive when used with the dynamic control (CC1) on both the dual and single player.

You can load articulations into RAM as needed and there are also extra patches that will load individual articulations or special patches like the Punch Cog (see manual).

Ostinatum Engine
The Ostinatum engine provides you with the ability to sequence patterns when using the short articulations. You can think of this like a programable arpeggiator. There are controls for Note Length, Note Selection and Velocity Offset.


This feature can yield some very realistic results when programming rhythmic passages and ostinatos (plenty of round robins) and can be very cool when utilizing some of the more advances MIDI velocity switching. It can be used in both mono and poly (chord) mode.Patterns can also be keyswitched.

Advanced MIDI Control
BML Horns implements some clever MIDI control options to get the most out of the provided articulations.

First off you have simple velocity crossfading on all the long note via CC1 (Modwheel). On Legato patches the speed of the transition is controlled by CC16 by default and there is also control for overall volume via CC11 (expression).

All the short note dynamics are triggered via velocity but this can be overridden via the 'CC1 mapped vel' switch and allows for crossfading dynamics with the wheel.

There is also a lot of dynamic articulation switching based on velocity. For example: In Legato mode higher velocities trigger a more 'Detache' version of legato while retaining control of actual dynamics via the wheel. This gives you a lot of expressive control without the need to tweak too many controllers.

The Multi-tongued articulations takes this Modwheel/Velocity idea even further. In this case the Modwheel gives you access to three versions. Double (0-41), Triple (42-84) and Quad (85-127) tonguing. Velocity controls two versions of each. Lower values produce a tight finish while higher values give a longer more pronounced end. Check the example below.

You'll also find this velocity trick with the Rips and Falls and also the Trills (giving a faster start at higher velocities).

These little tricks really provide a manageable way to access a lot of variation in the sounds and once learnt are easy to play in real time.

You can also switch articulations via velocity in a more radical way too using some helpful scripting features. By control-clicking on on the articulation button you can program the patch to say trigger various Shorts depending on velocity. Maybe Staccato between 0-64 and Tenuto 65-127. A very useful performance tool!


In Use
The French horn is an essential part of the orchestral palette. It can anything provide mellow chordal beds to the most soaring or emotive melody. Having a good library that does the Horn justice is also essential. BML Horns is one of those libraries.

The instruments (both dual and solo) are very playable and expressive and will compliment any score or mockup you throw at it. This has already become my go to library for French Horns. It also integrates very well with any other Spitfire libraries as they are all recorded in the same venue.

If your looking for a good Horn sample then you should probably do yourself a favor and check out this library. The many mic positions give you a lot of variety in where you place the sound and the quality of the samples are top notch.

Price: $200 US

Pros: A fantastic library that gives you access to a highly realistic and playable French Horn section at a reasonable price. Plenty of useful articulations with more on the way!
Cons: Umm.... Struggling to think of any!