Spitfire Audio's Symphonic Strings collection has received a new installment in the shape of Vol. 3 which is dedicated to some of the lesser sampled articulations found in orchestral music. Formerly know as Mural and part of the BML (British Modular Library) Symphonic Strings features a huge 60 piece string section (16,14,12,10,8) recorded at Air Studios in London.
While the first two volumes center around the most common techniques used in the day to day sting sections life, Vol. 3 takes this library to a slightly more niche realm by diving deeper into the color palette of the string section.
Now I say niche but many of the techniques here are super useful and really effective in arrangements bringing a new level of dynamics and expression to the library.
Core Palette
The Core Palette articulations remain consistent from the 1st Violins to the Cello sections and feature
Marcato Attack - Long note with a pronounced Marcato Attack.
Short Brushed - A softer spiccato sound.
Short Brushed Con Sordino - A more muted version of the above
Short Harmonics - Short harmonic stroke.
Short Con Sordino - Muted Staccato
Sul ('G' V1,V2 - 'C' Va, VC, CB) - Long notes played on the lowest string of the section.
The Basses have less articulations. Short harmonics and Marcato Attack make an appearance with the addition of Short Spiccato/Pizz which is split between the section and a nice Col Legno struck with the hard edge of the bow.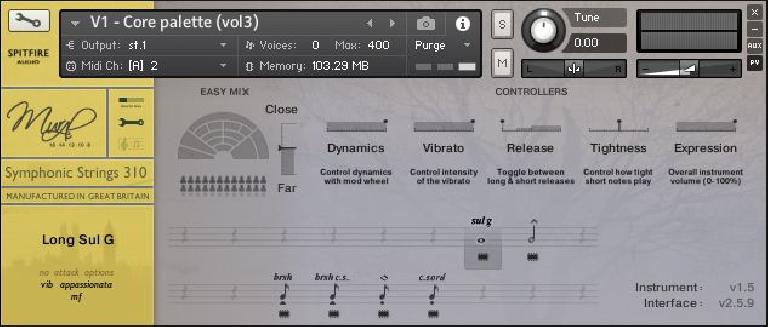 All of these techniques will come in handy. The Sul G/C is particularly nice with a lovely round and warm tone. The Marcato Attack really adds some punch to big tutti chords while the Brushed CS is perfect in passages that require a soft tone while keeping the movement going. All in all a nice bunch of techniques.
Decorative Palette
Again the articulations are mostly the same from V1 to Cello in the Decorative palette which includes :
Super Sul Tasto - About as quite as you can get on each section played over the fingerboard.
Rachmaninov Long - Big expressive longs.
Long CS Blend - Half normal and half Con Sordino split section.
Sul Ponticello Trem - Tremolo played at the bridge
Measured CS Trem 150 BPM - Muted tremolo at tempo
Minor 3rd/Major 3rd Trills - Extended range trills.
Other techniques are added depending on the section.
CS Sul Pont Long (V2, Va) - Muted longs played at the bridge.
Con Sord Trem (V2, Va, VC) - Muted Tremolo.
Measured CS Trem 180 BPM (V2, Va) - Muted tremolo at tempo
Basses only get the Super Sul Tasto articulation here.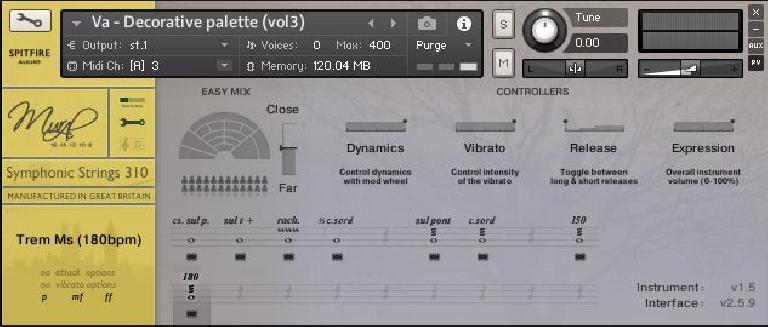 Some very useful and sonically pleasing patches here. The Super Sul Tasto is barely audible but creates some lovely wispy textures. If you're looking for big lines then the Rach longs are very nice too. The standouts are the Sul Pont Trems which have a lovely scratchy harmonic tone. I'm currently working on a TV fantasy drama and these have been getting a 'lot' of use!! Some interesting tonal variations from the split section combinations too.
Legato Performance Palette
These feature Legato Run articulations for all sections and sound very convincing across the board. Perfect for fast lines and flourishes.

Conclusion
Volume 3 is a very nice addition to the Symphonic Strings range. Plenty of new colors and useful dynamic sounds to add to your orchestral arrangements. The new v2.5 interface has some nice improvements like the simplified Close/Far blend slider allowing you to control the room mix very easily. All articulations are of course available as individual instrument patches. Dynamic layer control via the Modwheel as well as vibrato (where appropriate) make these patches very playable and fun to use.
If you have Volumes 1 & 2 then you'll find this a very useful and welcomed palette of sounds to add to your Spitfire arsenal.
Price: £399
Pros: A collection of hard to find techniques that are both useful and sound great. Integrates sonically with the whole Spitfire orchestral range.
Cons: If you're not doing detailed string arrangements in the box it might be a bit over the top for some.