If there was one thing in 2013 that had every film and game composer (and those aspiring to be) all in a fizz, it was the run up to the release of Spitfire Audio's HZ01 percussion library. This is part of Spitfire's 'Signature' range and what better personality to kick it off with than the ubermeister himself, Hans Zimmer.
Recorded at Lyndhurst Hall (Air Studios) using the best gear, the best instruments and the best percussion players in the business will probably give you an idea about how this product has turned out!
Paul Clarvis, Stephen Henderson, Gary Kettel and Frank Ricotti who performed this library are the same guys that have played on a major chunk of Hans' scores in the same room that the original scores (The Dark Knight, Inception to name a few) were recorded! What you're actually getting with this library is years of experience (from all parties) in what instruments work best together and where best to place them in the space through trial and error whilst actually making film scores.
The Library
Contrary to what you might think, this is in no way an 'effecty' library. Whilst the choice of drums is esoteric at times this is straight down the line solid cinematic percussion. Most of the drums are performed in ensembles with a few in solo.
Once downloaded, installed and authorized, you'll find HZ01 in the Kontakt 'Library' browser. Inside the Instruments tab, you'll see a folder named 'Artist Elements' (There are separate downloads for extra mic positions and mixes which will show up in the root too).

These contain three separate folders where you'll find three different mixes of the library from Hans, Geoff Foster and Alan Meyerson. Both Geoff and Alan have worked with Hans for twenty years with Geoff being the engineer behind the recordings. This in itself is quite interesting as you get quite a diverse take on one library. Of the three, Hans' mixes are the most upfront and in your face!
Inside each folder are the main patches for the instrument groupings. There are also folders for the individual drum patches and another called 'Other Patches' that contains the usual Spitfire 'Punch Cog' patches.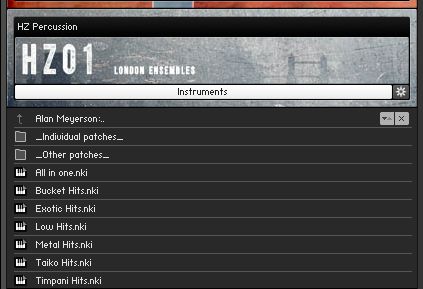 There are seven main patches for all mixes:
All In One: All the drums in one huge patch!

Bucket Hits: Crashers, Darabuka and Snares mixed with a bucket!

Exotic Hits: Bombos, Boobams, Dohls, Paper Djuns and Tombeks.

Low Hits: Bass Drum Gallery, Low Booms Gallery, Low Booms and Surdo.

Metal Hits: Anvils, Gong Drums Gallery, Piatti and Tam Tams.

Taiko Hits: Hitaiko Solo, Lo Taiko Solo, Taiko Ensemble and Large Taiko Solo.

Timpani Hits: Hard, Soft and Rods.
All this gives you a diverse and highly usable array of percussion sounds. Probably the first thing you'll load is the Taiko patch as this is the sound of most huge percussion tracks. They don't disappoint either! Using the various microphone positions (on all patches) will give you anything from dry upfront to really mammoth sounding drums!
The Exotic Hits are a great mid range collection of drums with the Paper Djun being a personal favorite. The Bucket hits add a nice top end element while the Low hits bring the thunder! The Timpani are especially nice and will probably replace your previous go-to Timpani library from now on!
Currently HZ01 has shipped the Artist Elements and Stereo Mixes from Hans, Geoff and Alan. There is however more on the way with mixes from Junkie XL and Steve Lipsom and a bunch more Surround and Stereo mixes too. All this will weigh in at 200 GB compressed!! And this is is just the first of three different libraries that will complete the Hans Zimmer Set! So order that new hard drive now!!
The Interface
HZ01 sees the familiar Spitfire interface style with the addition of some new features that are now starting to make their way into all the new Spitfire libraries.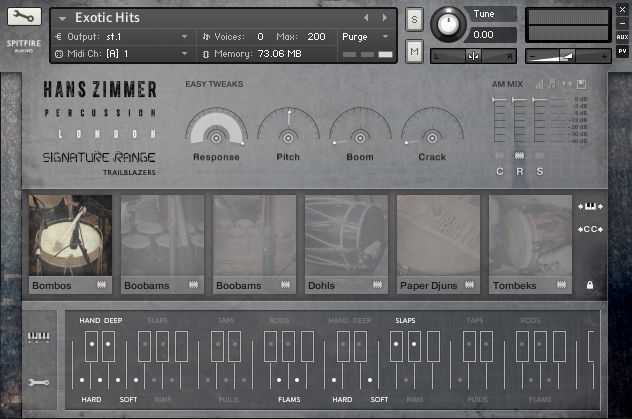 Each patch has image selectors for the various drums. There's the familiar microphone levels and a mapping key to show you where the various articulations are placed. Most drums are mapped in a similar fashion which makes trying out new sounds with recorded MIDI quite easy.
There's a new 'Easy Tweaks' section that has four controls:
Response: Normalizes the dynamic range of the soft and loud hits.

Pitch: Tune the drums

Boom: A low pass filter

Clack: A high pass filter
These filters are actually pretty useful for placing drums in a dense mix and can give you quite a lot of variation in timbre.
Hitting the spanner will show you the more advanced parameters for MIDI control and round robin stuff.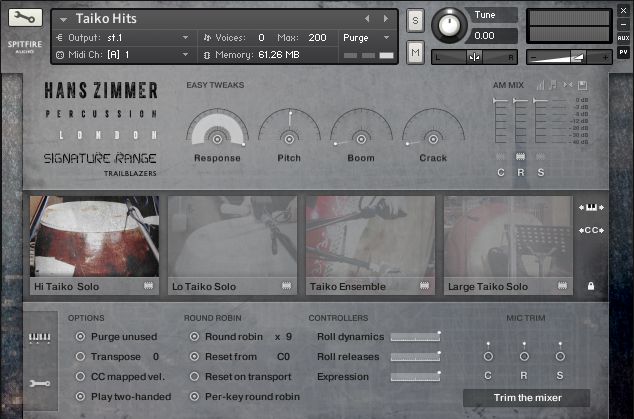 You can select more than one drum by Shift-clicking to layer sounds which is really cool. Since most sounds have the same mapping you can create some really dense sounds.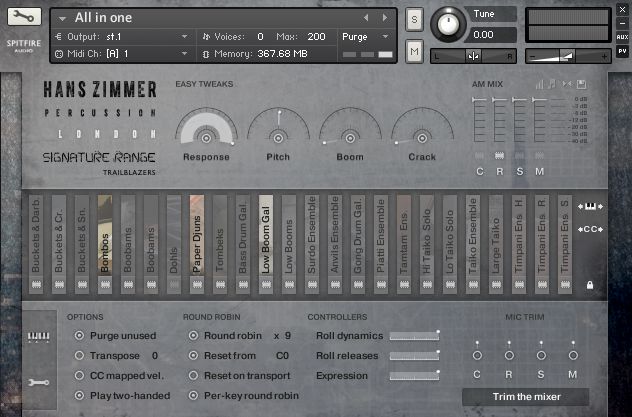 When layering sounds you can create different mixes and levels for each drum by selecting the little musical note above the mixer which is a very useful feature.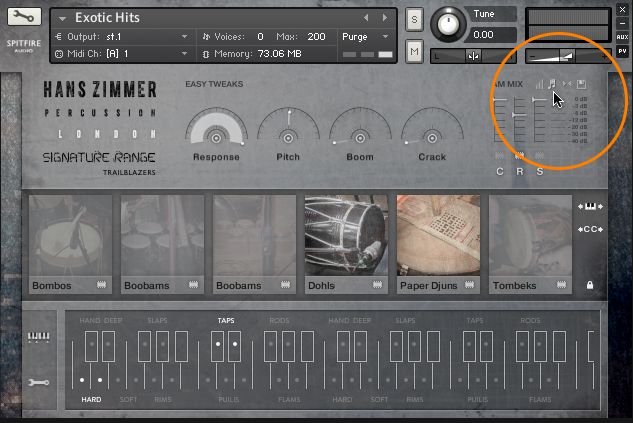 There is also control here for Velocity Curve, Stereo Width and Pan and Preset Saving.
In Use
I got this library around the time I was working on 'Hidden Kingdoms' for the BBC. As soon as I got this library it went straight into the workflow and performed admirably inside the huge orchestral compositions.
I found myself using the Individual Patches a lot (one drum) as they give you more overall control when layering and programming. I generally break sounds out into my DAW from Kontakt for more mix control so these patches worked well for me.
I'd say if your making music for TV, Games or Film this is a great weapon to have in your arsenal and will stand up against any other pro library in the genre.
It doesn't claim to do absolutely everything but what it does offer it does very well indeed!!