If you are an avid AskAudio reader, you likely already know that Keyscape from Spectrasonics is a beloved instrument here at AskAudio HQ. The fact that you could access the Keyscape preset and sample library from inside of Omnisphere 2 has always been a plus, because Omnisphere 2 is also amongst our top ways of making cool sounds. It was only a matter of time before Spectrasonics made the link between these two instruments even more attractive - enter "Keyscape Creative".
What's the Deal?
Keyscape Creative is a pre-programmed collection of about 1200 Omnisphere 2 patches that all utilize the Keyscape library as their primary sound source. Every single preset was designed by the team that recorded and created these instruments, and you can bet that there are few people on this earth who can leverage the power of the STEAM engine—the engine behind Omnisphere 2 and Keyscape—with Keyscape's sound sources better than the good folks at Spectrasonics.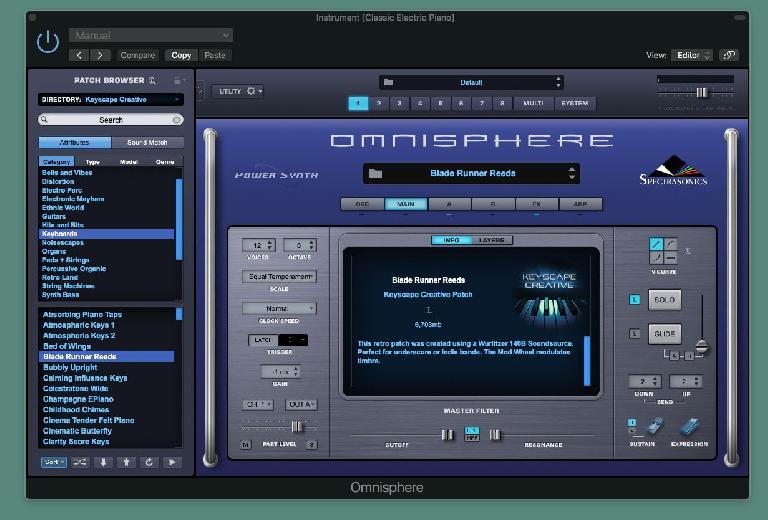 This collection is free to folks who own both instruments, so if you already own both Omnisphere 2 and Keyscape it's rather silly not to simply download the latest version of both libraries and open your gift of 1200 new patches. After digging around in the latest offering, I'm happy to report that the update is definitely worth your time.
Wide Range
With the sheer number of sounds available in this update, it's pretty much impossible to pin down a 'sound' that Keyscape Creative has. There are atmospheric pianos that swirl into the void, aggressive clavs layered with synths that don't just bite — they devour. The gospel-inspired patches that meld Wurlitzer and Hammond with a touch of synth brought a smile to my face.
It's not just the sound sources that shine here. The effects engine of Omnisphere 2 has been leveraged to the max, as has the programming aspect. The mod wheel brings in a preset-altering effect on nearly every patch. There are patches with motion, and there are a slew of patches that use synth layers not for effect, but in subtle ways that enhance the realism of the acoustic sound source.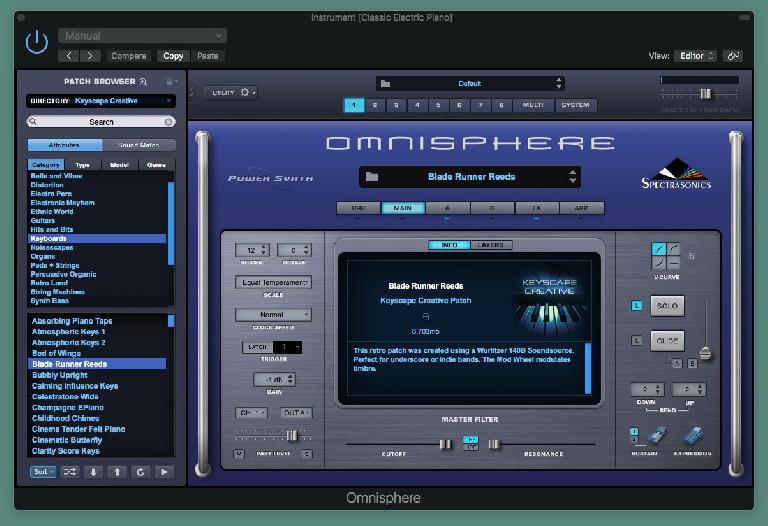 Getting it On
Installing Keyscape Creative can be a little daunting if you aren't a frequent updater of your Spectrasonics instruments. For those who don't update regularly as recommended you've got three updates per virtual instrument to do. Each instrument has an update for the software itself, a patch library update, and a sound source library update. It's not particularly complicated to download each and install them, but it would be nice if there were a more automatic update mechanism.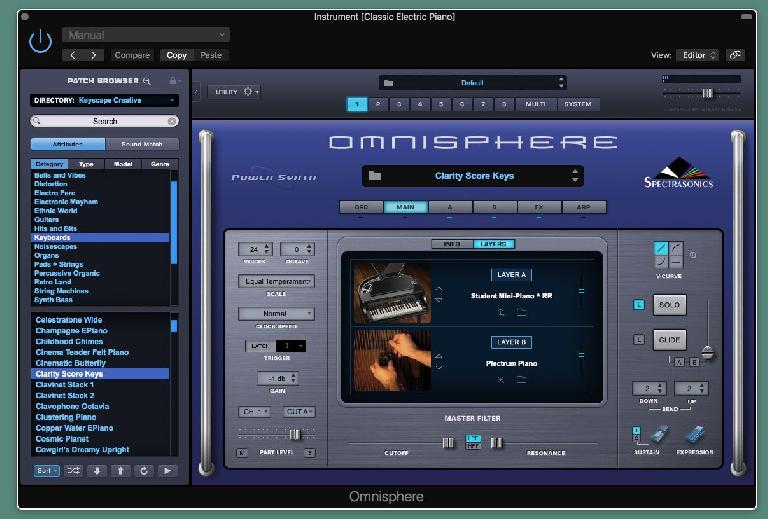 That being said, this library is the perfect excuse for you to start keeping your Spectrasonics instruments current. Also, if you happen to own one instrument and not the other, the value of purchasing the one you don't currently own (which is likely a big reason why this library was designed in the first place) just doubled. If you're an Omnisphere 2 owner and you've been sitting on the fence about Keyscape, there's never been a better time to pick it up.
Conclusion
It's a massive update, and it's a free update. What's not to love? It's probably one of the largest preset drops I've ever seen in a virtual instrument post-release. There's a ton of sounds, and the patches are fantastic.
Price: Free for owners of Keyscape and Omnisphere 2
Pros: Massive library of new patches, both instruments pushed to the max, meticulously programmed, well documented, extremely useful, doesn't increase the size of either library appreciably.
Cons: 3 updates per instrument means 6 separate installers to download, if you haven't updated regularly. But it's well worth it!
Web: https://www.spectrasonics.net/products/keyscape/keyscape-creative.php#creative